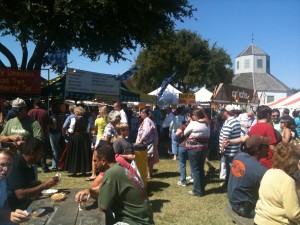 I knew we would set a new record for Oktoberfest attendance at 3 pm on Saturday afternoon when the line for the German Beer tent and the line for beer tickets were so intermingled, no one could get through.  Some vendors ran out of food.  The Boy Scouts always sell Dr. Pepper at Oktoberfest, and they ran out twice.
The organizers say that over the weekend 21,000 people attended Oktoberfest. A couple of times on Saturday, I think they might have all been on Marktplatz.  In my ten years of volunteering for the festival, I have never seen it that busy for all three days.
The weather was perfect for it, certainly.  We might have had more people visit if a cool front hadn't come through late Saturday night dropping the temperatures into lower 60s.  Even Sunday, traditionally a much quieter day, was busy.
As usual there was a lot of good food, and my favorite this year was the crawfish sausage.  Very spicy, and very good.
Remember that next year, Oktoberfest will be September 30, October 1 and 2.  If you want to attend, you might consider making your reservations now.  If you wait too long, you might miss out on all the fun!
We charge a one night, refundable deposit for a reservation more than six months in advance.  If you don't want to pay the deposit, we will drop the requirement in April. You can also make reservations online, 24 hours a day.
/wp-content/uploads/logo-new4.png
0
0
Jeff
/wp-content/uploads/logo-new4.png
Jeff
2010-10-06 14:31:37
2015-04-21 17:30:53
Biggest Oktoberfest on Record