anderson-603
Anderson 603
https://www.fbglodging.com/fredericksburg-rentals/properties/anderson-603/
Anderson 603 | Fredericksburg Vacation Rental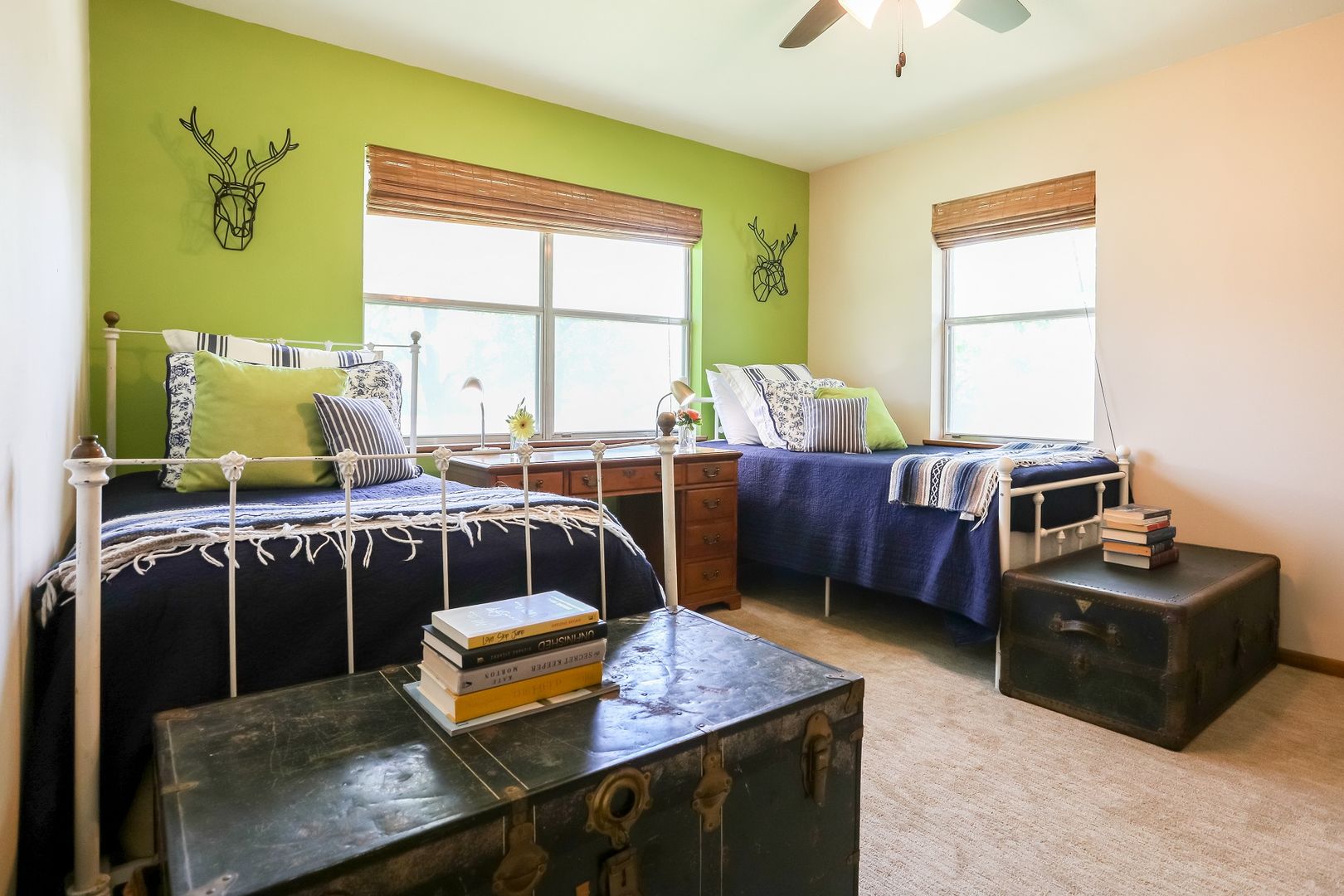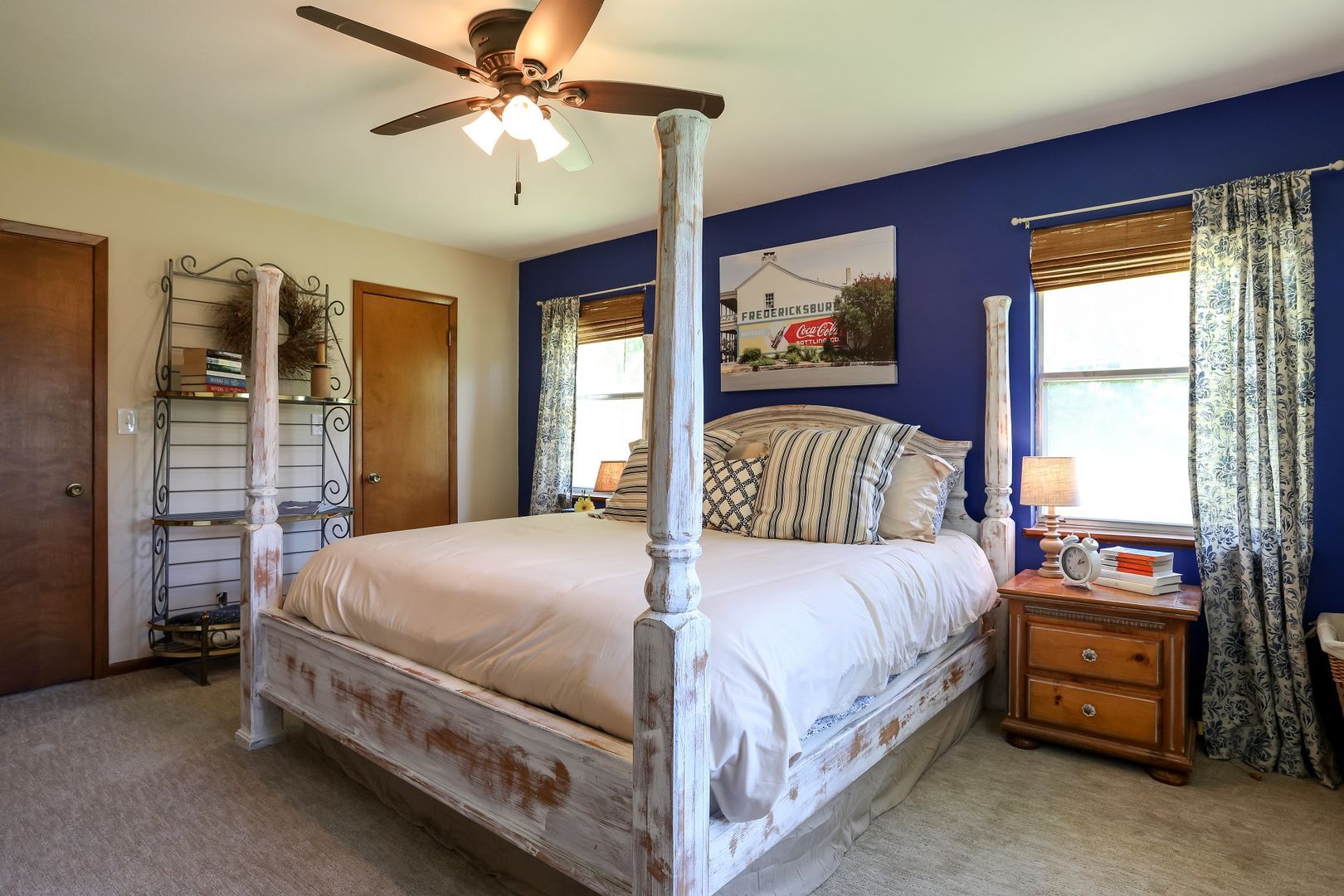 LOCATION - 5 blocks North of Main Street
HOSTS - Home to yourselves
SLEEPS - Up to 7 people in 3 bedrooms; King bedroom, Queen bedroom, 2 Twins in 3rd bedroom & Queen memory foam sleeper sofa in living room
BATH - 2 baths; Master has large tile walk-in shower and 2nd bath has tub/shower
KITCHEN - Fully-equipped kitchen with
Keurig
and regular coffeemaker
BREAKFAST - No breakfast. Coffee and teas provided
AMENITIES - Smart flat screen TV in living with Spectrum Cable, DVD/
BluRay
, WiFi, washer/dryer, patio with outdoor seating and market lights (on a timer), outdoor seating, off-street parking
CHILDREN - YES
INFANTS - YES
PETS - NO
SMOKING - NO
WIFI - YES
| | Daily |
| --- | --- |
| 9/16/21 - 9/16/21 | $195 |
| 9/17/21 - 9/17/21 | $276 |
| 9/18/21 - 9/18/21 | $293 |
| 9/19/21 - 9/23/21 | $195 |
| 9/24/21 - 9/25/21 | $345 |
| 9/26/21 - 9/30/21 | $195 |
| 10/1/21 - 10/2/21 | $474 |
| 10/3/21 - 10/5/21 | $208 |
| 10/6/21 - 10/7/21 | $245 |
| 10/8/21 - 10/9/21 | $454 |
| 10/10/21 - 10/10/21 | $395 |
| 10/11/21 - 10/13/21 | $245 |
| 10/14/21 - 10/14/21 | $257 |
| 10/15/21 - 10/16/21 | $474 |
| 10/17/21 - 10/20/21 | $245 |
| 10/21/21 - 10/21/21 | $257 |
| 10/22/21 - 10/23/21 | $494 |
| 10/24/21 - 10/28/21 | $245 |
| 10/29/21 - 10/30/21 | $395 |
| 10/31/21 - 11/4/21 | $245 |
| 11/5/21 - 11/6/21 | $454 |
| 11/7/21 - 11/7/21 | $257 |
| 11/8/21 - 11/10/21 | $245 |
| 11/11/21 - 11/11/21 | $257 |
| 11/12/21 - 11/13/21 | $454 |
| 11/14/21 - 11/18/21 | $245 |
| 11/19/21 - 11/19/21 | $415 |
| 11/20/21 - 11/20/21 | $435 |
| 11/21/21 - 11/21/21 | $395 |
| 11/22/21 - 11/23/21 | $415 |
| 11/24/21 - 11/24/21 | $435 |
| 11/25/21 - 11/26/21 | $454 |
| 11/27/21 - 11/27/21 | $435 |
| 11/28/21 - 12/1/21 | $245 |
| 12/2/21 - 12/2/21 | $270 |
| 12/3/21 - 12/4/21 | $415 |
| 12/5/21 - 12/8/21 | $245 |
| 12/9/21 - 12/9/21 | $257 |
| 12/10/21 - 12/11/21 | $395 |
| 12/12/21 - 12/16/21 | $245 |
| 12/17/21 - 12/18/21 | $454 |
| 12/19/21 - 12/19/21 | $270 |
| 12/20/21 - 12/21/21 | $245 |
| 12/22/21 - 12/22/21 | $270 |
| 12/23/21 - 12/23/21 | $282 |
| 12/24/21 - 12/25/21 | $397 |
| 12/26/21 - 12/30/21 | $435 |
| 12/31/21 - 12/31/21 | $435 |
| 1/1/22 - 1/1/22 | $395 |
| 1/2/22 - 1/6/22 | $245 |
| 1/7/22 - 1/8/22 | $345 |
| 1/9/22 - 1/13/22 | $245 |
| 1/14/22 - 1/16/22 | $395 |
| 1/17/22 - 1/20/22 | $245 |
| 1/21/22 - 1/22/22 | $345 |
| 1/23/22 - 1/27/22 | $245 |
| 1/28/22 - 1/29/22 | $345 |
| 1/30/22 - 2/3/22 | $245 |
| 2/4/22 - 2/5/22 | $345 |
| 2/6/22 - 2/10/22 | $245 |
| 2/11/22 - 2/12/22 | $345 |
| 2/13/22 - 2/17/22 | $245 |
| 2/18/22 - 2/20/22 | $395 |
| 2/21/22 - 2/24/22 | $245 |
| 2/25/22 - 2/26/22 | $345 |
| 2/27/22 - 3/3/22 | $245 |
| 3/4/22 - 3/5/22 | $395 |
| 3/6/22 - 3/10/22 | $245 |
| 3/11/22 - 3/12/22 | $395 |
| 3/13/22 - 3/17/22 | $395 |
| 3/18/22 - 3/19/22 | $395 |
| 3/20/22 - 3/24/22 | $245 |
| 3/25/22 - 3/26/22 | $395 |
| 3/27/22 - 3/31/22 | $245 |
| 4/1/22 - 4/2/22 | $395 |
| 4/3/22 - 4/7/22 | $245 |
| 4/8/22 - 4/9/22 | $395 |
| 4/10/22 - 4/14/22 | $245 |
| 4/15/22 - 4/17/22 | $395 |
| 4/18/22 - 4/21/22 | $245 |
| 4/22/22 - 4/23/22 | $395 |
| 4/24/22 - 4/28/22 | $245 |
| 4/29/22 - 4/30/22 | $395 |
| 5/1/22 - 5/5/22 | $245 |
| 5/6/22 - 5/7/22 | $395 |
| 5/8/22 - 5/12/22 | $245 |
| 5/13/22 - 5/14/22 | $395 |
| 5/15/22 - 5/19/22 | $245 |
| 5/20/22 - 5/21/22 | $395 |
| 5/22/22 - 5/26/22 | $245 |
| 5/27/22 - 5/29/22 | $395 |
| 5/30/22 - 6/2/22 | $245 |
| 6/3/22 - 6/4/22 | $345 |
| 6/5/22 - 6/9/22 | $245 |
| 6/10/22 - 6/11/22 | $345 |
| 6/12/22 - 6/16/22 | $245 |
| 6/17/22 - 6/18/22 | $345 |
| 6/19/22 - 6/23/22 | $245 |
| 6/24/22 - 6/25/22 | $345 |
| 6/26/22 - 6/30/22 | $245 |
| 7/1/22 - 7/3/22 | $395 |
| 7/4/22 - 7/7/22 | $245 |
| 7/8/22 - 7/9/22 | $345 |
| 7/10/22 - 7/14/22 | $245 |
| 7/15/22 - 7/16/22 | $345 |
| 7/17/22 - 7/21/22 | $245 |
| 7/22/22 - 7/23/22 | $345 |
| 7/24/22 - 7/28/22 | $245 |
| 7/29/22 - 7/30/22 | $345 |
| 7/31/22 - 8/4/22 | $245 |
| 8/5/22 - 8/6/22 | $345 |
| 8/7/22 - 8/11/22 | $245 |
| 8/12/22 - 8/13/22 | $345 |
| 8/14/22 - 8/18/22 | $245 |
| 8/19/22 - 8/20/22 | $345 |
| 8/21/22 - 8/25/22 | $245 |
| 8/26/22 - 8/27/22 | $345 |
| 8/28/22 - 9/1/22 | $245 |
| 9/2/22 - 9/4/22 | $395 |
| 9/5/22 - 9/8/22 | $245 |
| 9/9/22 - 9/10/22 | $345 |
| 9/11/22 - 9/16/22 | $245 |
Thank you for entering your review. The review will become available to the system shortly.
2
2
Overall Rating:
5
5
Incredible stay!
Rating:
1
5
5
The house was perfect for a getaway with friends! So convenient, comfortable, and cute. Everything was clean and organized and we felt right at home. Thanks for this wonderful stay!
Fantastic!!
Rating:
1
5
5
This was the CUTEST little house on the inside. The house was fully stocked and has a warm sense of hospitality. Thank you for letting us stay!
Your request has been sent. We look forward to meeting all your vacation needs!
| | |
| --- | --- |
| Sleeps | 7 |
| Bedrooms | 3 |
| Bathrooms | 2 |
Gästehaus Schmidt
231 West Main Street
Fredericksburg, Texas 78624
Monday – Friday 9am to 6pm
Saturday 10am to 5pm
Sunday 10am to 4pm
Lodging & Vacation Rentals In Fredericksburg, TX
Gästehaus Schmidt offers reservation services for Texas Hill Country lodging, bed and breakfasts, and country inns. Choose from a variety of lodging options in several local towns, including Fredericksburg, Comfort, Kerrville, and Hunt, TX. All of our properties are researched and handpicked to bring you only the best accommodations
in the area.