anderson-603
Anderson 603
https://www.fbglodging.com/fredericksburg-rentals/properties/anderson-603/
Anderson 603 | Fredericksburg Vacation Rental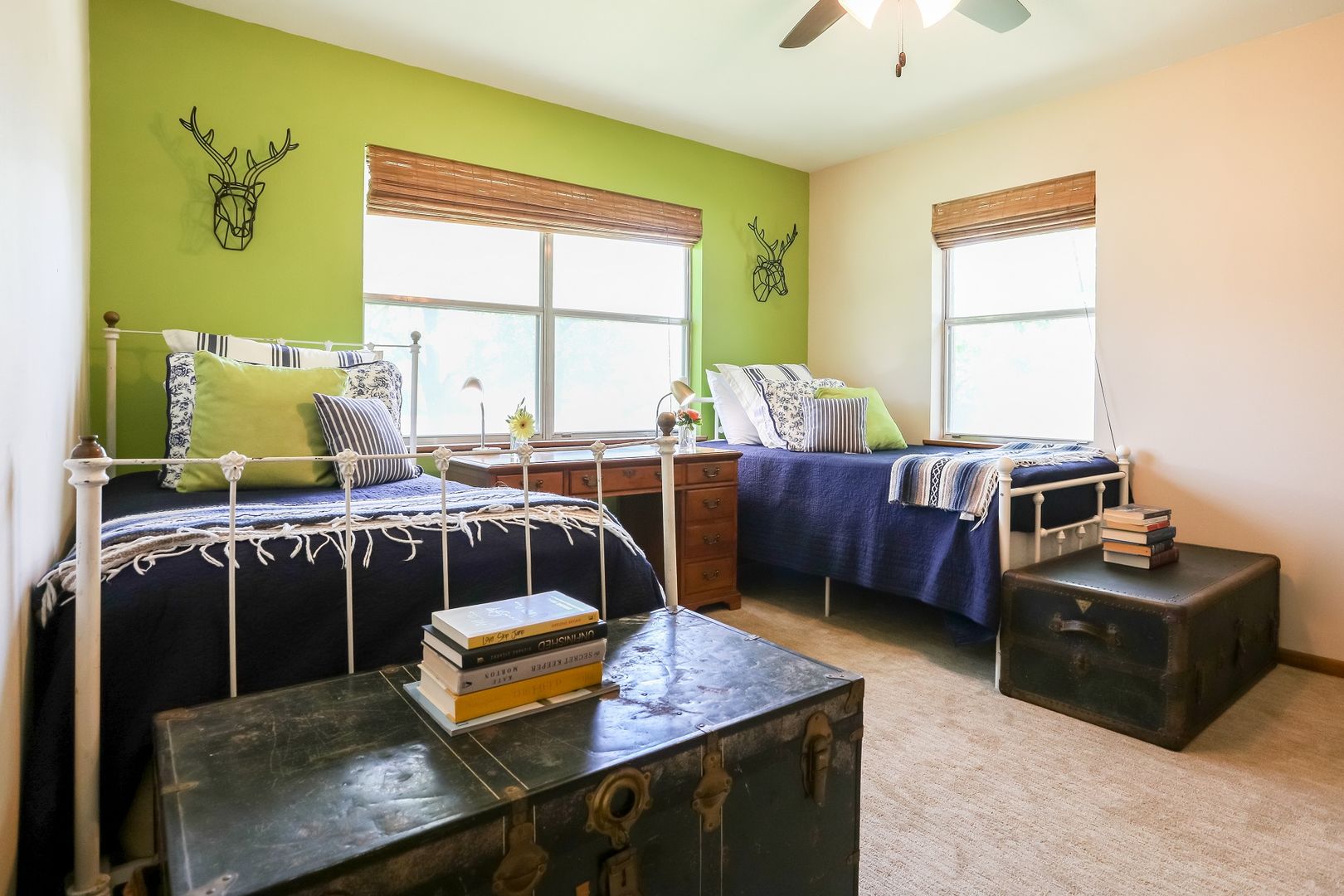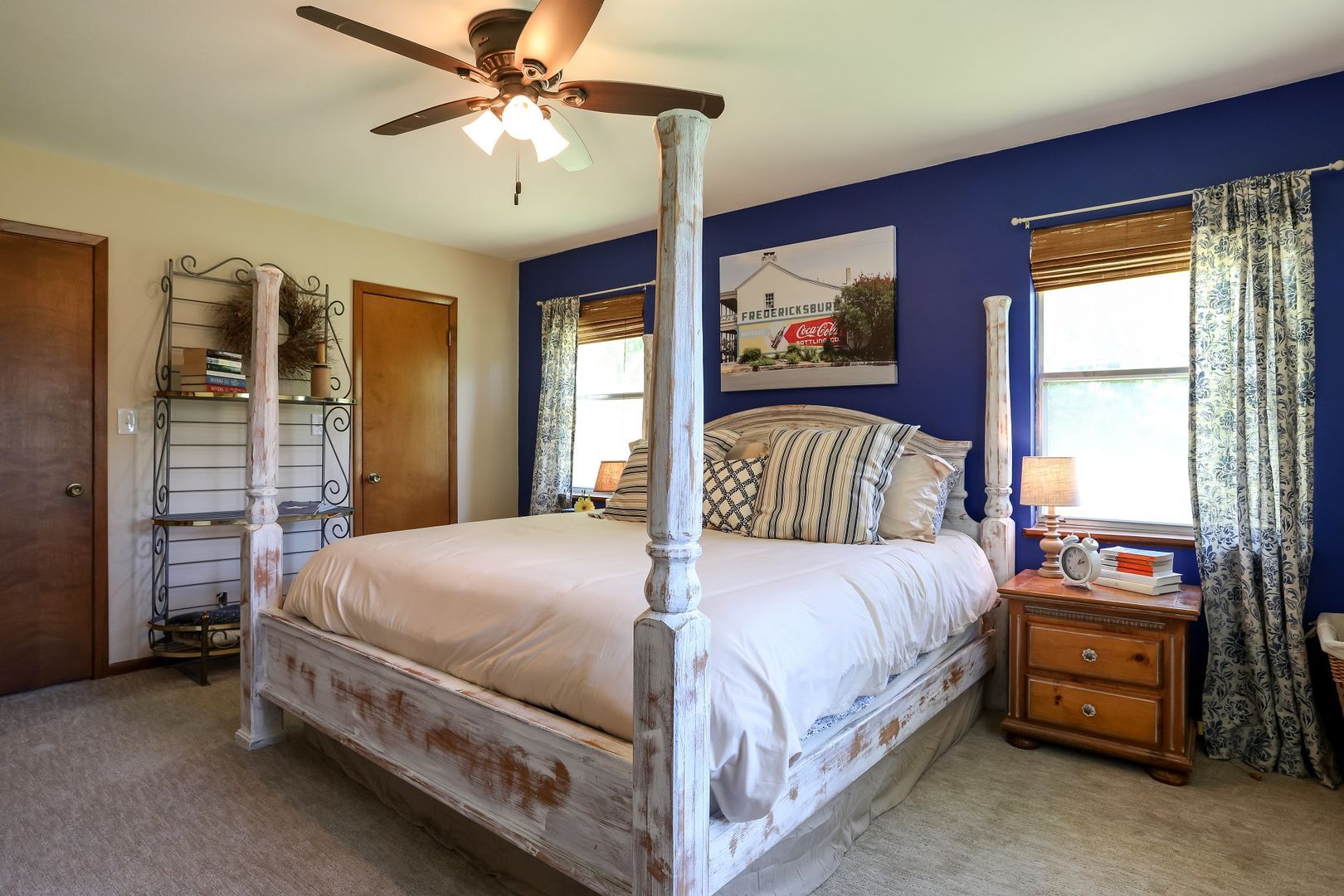 LOCATION - 5 blocks North of Main Street
HOSTS - Home to yourselves
SLEEPS - Up to 7 people in 3 bedrooms; King bedroom, Queen bedroom, 2 Twins in 3rd bedroom & Queen memory foam sleeper sofa in living room
BATH - 2 baths; Master has large tile walk-in shower and 2nd bath has tub/shower
KITCHEN - Fully-equipped kitchen with
Keurig
and regular coffeemaker
BREAKFAST - No breakfast. Coffee and teas provided
AMENITIES - Smart flat screen TV in living with Spectrum Cable, DVD/
BluRay
, WiFi, washer/dryer, patio with outdoor seating and market lights (on a timer), outdoor seating, off-street parking
CHILDREN - YES
INFANTS - YES
PETS - NO
SMOKING - NO
WIFI - YES
| | Daily |
| --- | --- |
| 7/12/20 - 7/15/20 | $150 |
| 7/16/20 - 7/16/20 | $196 |
| 7/17/20 - 7/18/20 | $266 |
| 7/19/20 - 7/21/20 | $184 |
| 7/22/20 - 7/22/20 | $196 |
| 7/23/20 - 7/23/20 | $208 |
| 7/24/20 - 7/25/20 | $266 |
| 7/26/20 - 7/30/20 | $196 |
| 7/31/20 - 7/31/20 | $266 |
| 8/1/20 - 8/1/20 | $295 |
| 8/2/20 - 8/6/20 | $245 |
| 8/7/20 - 8/8/20 | $295 |
| 8/9/20 - 8/13/20 | $245 |
| 8/14/20 - 8/15/20 | $295 |
| 8/16/20 - 8/20/20 | $245 |
| 8/21/20 - 8/22/20 | $295 |
| 8/23/20 - 8/27/20 | $245 |
| 8/28/20 - 8/29/20 | $295 |
| 8/30/20 - 9/3/20 | $245 |
| 9/4/20 - 9/6/20 | $295 |
| 9/7/20 - 9/10/20 | $245 |
| 9/11/20 - 9/12/20 | $295 |
| 9/13/20 - 9/17/20 | $245 |
| 9/18/20 - 9/19/20 | $295 |
| 9/20/20 - 9/24/20 | $245 |
| 9/25/20 - 9/26/20 | $295 |
| 9/27/20 - 10/1/20 | $245 |
| 10/2/20 - 10/3/20 | $325 |
| 10/4/20 - 10/8/20 | $245 |
| 10/9/20 - 10/12/20 | $295 |
| 10/13/20 - 10/15/20 | $245 |
| 10/16/20 - 10/17/20 | $295 |
| 10/18/20 - 10/22/20 | $245 |
| 10/23/20 - 10/24/20 | $325 |
| 10/25/20 - 10/29/20 | $245 |
| 10/30/20 - 10/31/20 | $295 |
| 11/1/20 - 11/5/20 | $245 |
| 11/6/20 - 11/7/20 | $295 |
| 11/8/20 - 11/12/20 | $245 |
| 11/13/20 - 11/14/20 | $295 |
| 11/15/20 - 11/19/20 | $245 |
| 11/20/20 - 11/21/20 | $295 |
| 11/22/20 - 11/24/20 | $245 |
| 11/25/20 - 11/28/20 | $295 |
| 11/29/20 - 12/3/20 | $245 |
| 12/4/20 - 12/5/20 | $295 |
| 12/6/20 - 12/10/20 | $245 |
| 12/11/20 - 12/12/20 | $295 |
| 12/13/20 - 12/17/20 | $245 |
| 12/18/20 - 12/19/20 | $295 |
| 12/20/20 - 12/24/20 | $245 |
| 12/25/20 - 12/25/20 | $295 |
| 12/26/20 - 12/26/20 | $295 |
| 12/27/20 - 12/30/20 | $295 |
| 12/31/20 - 1/1/21 | $295 |
| 1/2/21 - 1/2/21 | $295 |
| 1/3/21 - 1/7/21 | $245 |
| 1/8/21 - 1/9/21 | $295 |
| 1/10/21 - 1/14/21 | $245 |
| 1/15/21 - 1/17/21 | $295 |
| 1/18/21 - 1/21/21 | $245 |
| 1/22/21 - 1/23/21 | $295 |
| 1/24/21 - 1/28/21 | $245 |
| 1/29/21 - 1/30/21 | $295 |
| 1/31/21 - 2/4/21 | $245 |
| 2/5/21 - 2/6/21 | $295 |
| 2/7/21 - 2/11/21 | $245 |
| 2/12/21 - 2/15/21 | $295 |
| 2/16/21 - 2/18/21 | $245 |
| 2/19/21 - 2/20/21 | $295 |
| 2/21/21 - 2/25/21 | $245 |
| 2/26/21 - 2/27/21 | $295 |
| 2/28/21 - 3/4/21 | $245 |
| 3/5/21 - 3/6/21 | $295 |
| 3/7/21 - 3/10/21 | $245 |
| 3/11/21 - 3/13/21 | $295 |
| 3/14/21 - 3/18/21 | $295 |
| 3/19/21 - 3/20/21 | $295 |
| 3/21/21 - 3/25/21 | $295 |
| 3/26/21 - 3/27/21 | $295 |
| 3/28/21 - 4/1/21 | $245 |
| 4/2/21 - 4/4/21 | $295 |
| 4/5/21 - 4/8/21 | $245 |
| 4/9/21 - 4/10/21 | $295 |
| 4/11/21 - 4/15/21 | $245 |
| 4/16/21 - 4/17/21 | $295 |
| 4/18/21 - 4/22/21 | $245 |
| 4/23/21 - 4/24/21 | $295 |
| 4/25/21 - 4/29/21 | $245 |
| 4/30/21 - 5/1/21 | $295 |
| 5/2/21 - 5/6/21 | $245 |
| 5/7/21 - 5/8/21 | $295 |
| 5/9/21 - 5/13/21 | $245 |
| 5/14/21 - 5/15/21 | $295 |
| 5/16/21 - 5/20/21 | $245 |
| 5/21/21 - 5/22/21 | $295 |
| 5/23/21 - 5/27/21 | $245 |
| 5/28/21 - 5/30/21 | $295 |
| 5/31/21 - 6/3/21 | $245 |
| 6/4/21 - 6/5/21 | $295 |
| 6/6/21 - 6/10/21 | $245 |
| 6/11/21 - 6/12/21 | $295 |
| 6/13/21 - 6/17/21 | $245 |
| 6/18/21 - 6/19/21 | $295 |
| 6/20/21 - 6/24/21 | $245 |
| 6/25/21 - 6/26/21 | $295 |
| 6/27/21 - 7/1/21 | $245 |
| 7/2/21 - 7/4/21 | $295 |
| 7/5/21 - 7/8/21 | $245 |
| 7/9/21 - 7/10/21 | $295 |
| 7/11/21 - 7/12/21 | $245 |
Thank you for entering your review. The review will become available to the system shortly.
2
2
Overall Rating:
5
5
Incredible stay!
Rating:
1
5
5
The house was perfect for a getaway with friends! So convenient, comfortable, and cute. Everything was clean and organized and we felt right at home. Thanks for this wonderful stay!
Fantastic!!
Rating:
1
5
5
This was the CUTEST little house on the inside. The house was fully stocked and has a warm sense of hospitality. Thank you for letting us stay!
Your request has been sent. We look forward to meeting all your vacation needs!
| | |
| --- | --- |
| Sleeps | 7 |
| Bedrooms | 3 |
| Bathrooms | 2 |