das-liebe-haus
Das Liebe Haus
https://www.fbglodging.com/fredericksburg-rentals/properties/das-liebe-haus/
Das Liebe Haus | Fredericksburg Vacation Rental
A lovely wraparound porch greets you upon arrival
From the porch, you'll enjoy great views of the surrounding pastures
Stepping inside, you'll be captivated by the wonderful woodwork
Relax on the sofa- perfectly situated in front of the fireplace
The living/dining area is a large and inviting space
Seating for up to four at the dining table
The kitchen is nicely-equipped with everything necessary to make great meals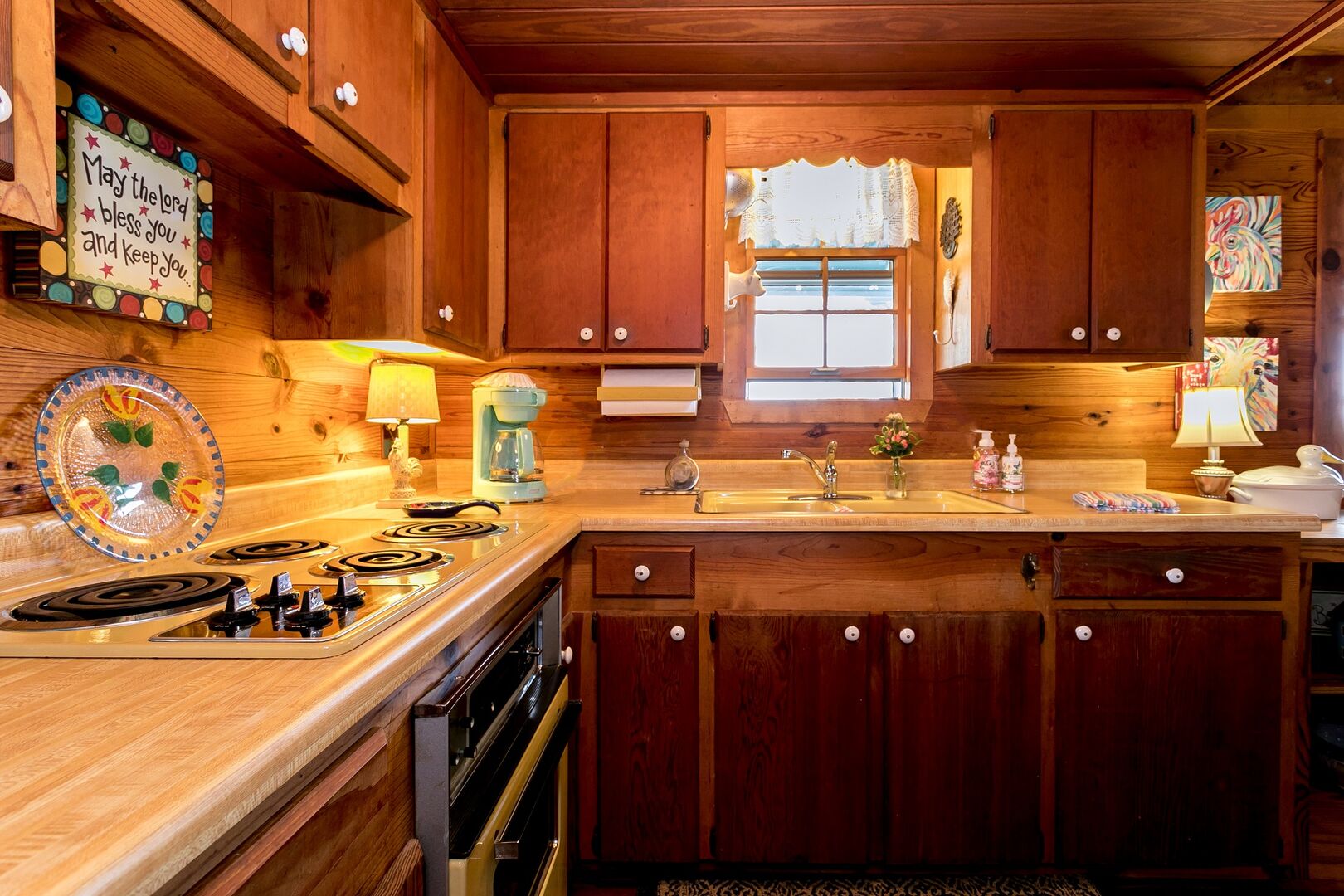 The master bedroom is upstairs and includes a terrific king bed
Also upstairs is a full bathroom with a tub/shower
Two lovely twin beds occupy the downstairs bedroom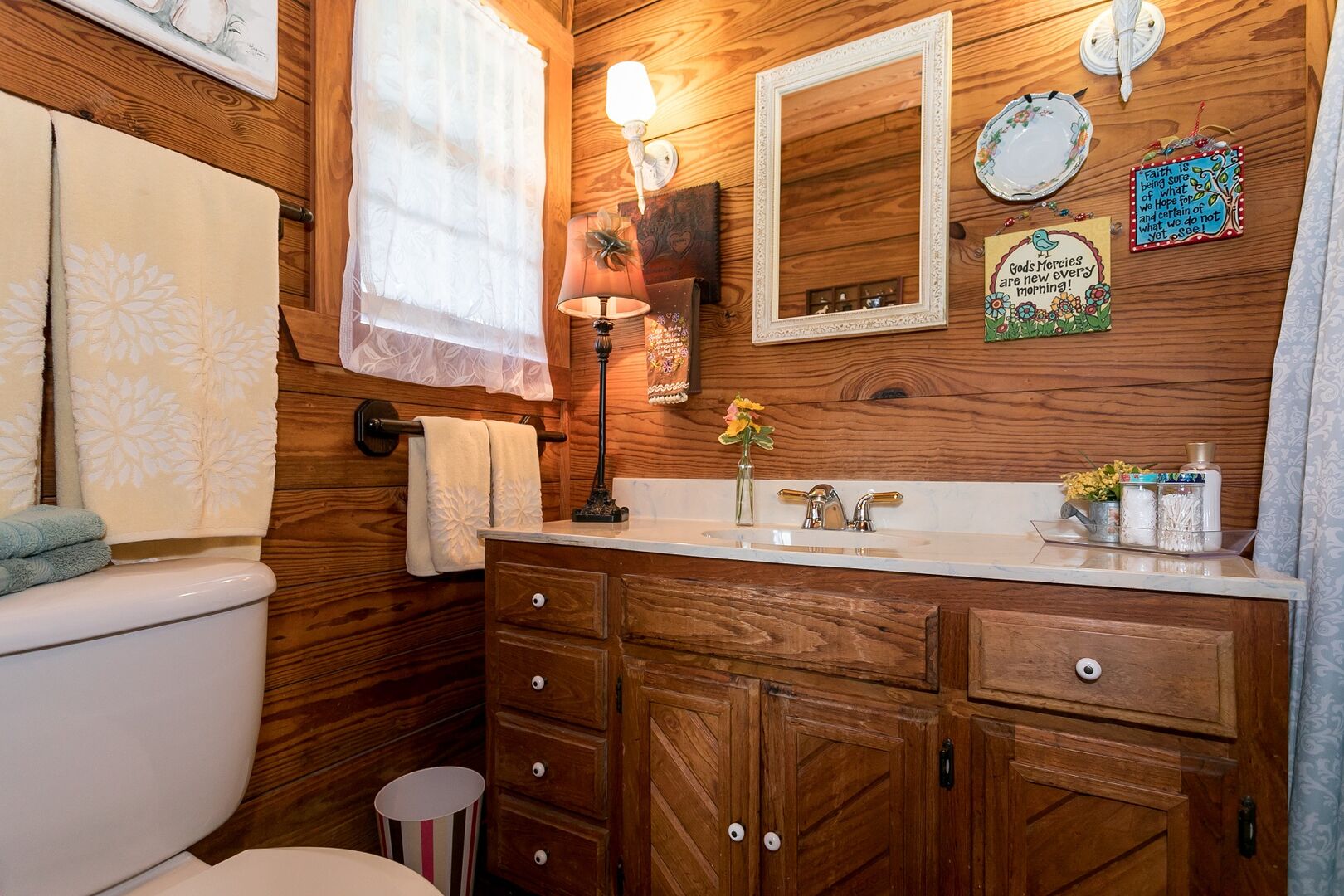 The downstairs bathroom includes a tub/shower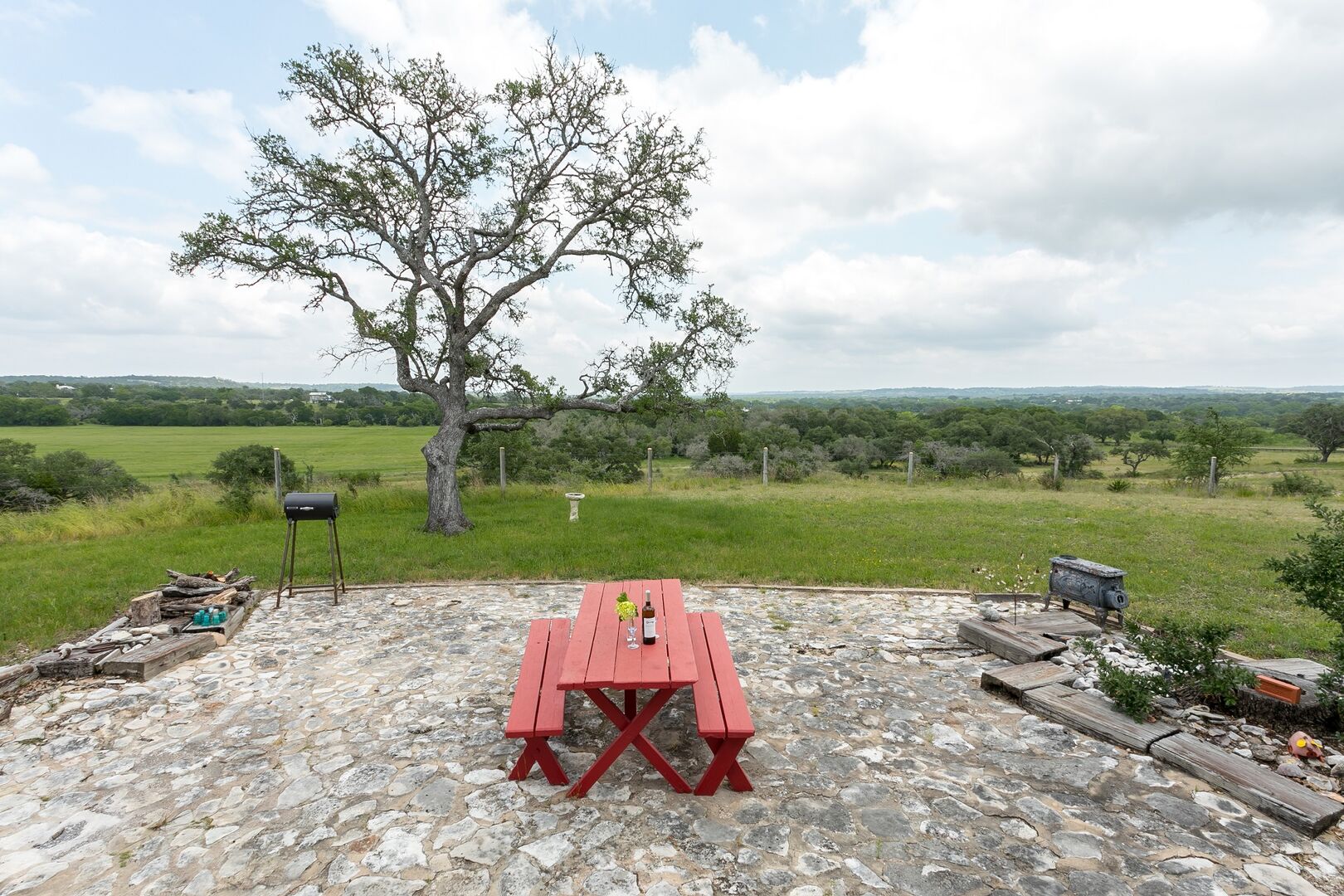 The large outdoor patio has a great view of the valley below
Seating under the oak tree always proves popular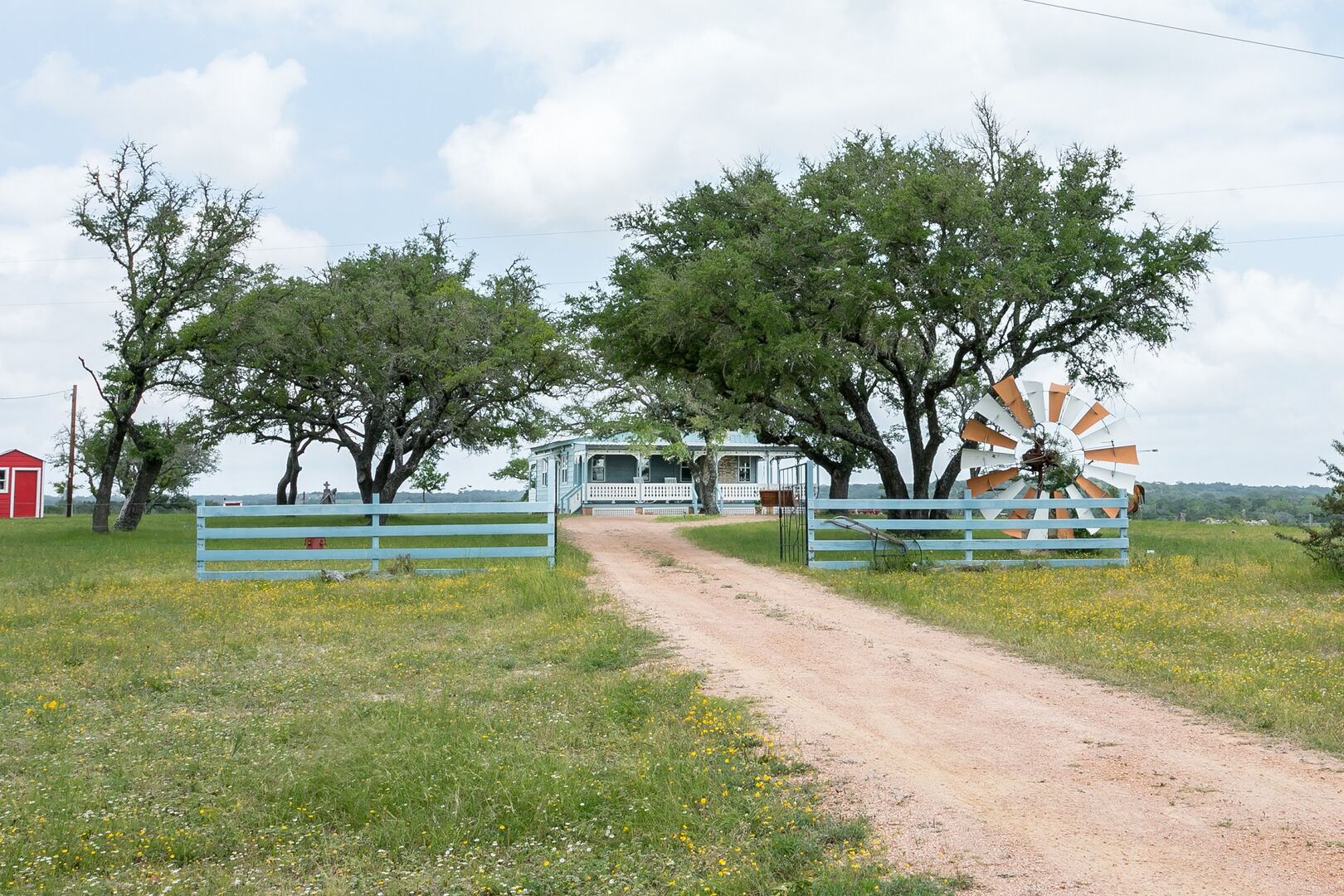 We look forward to welcoming you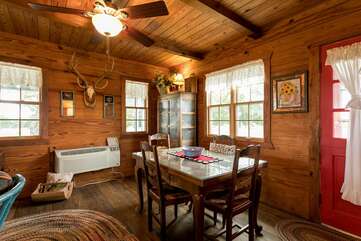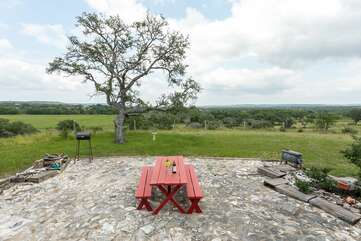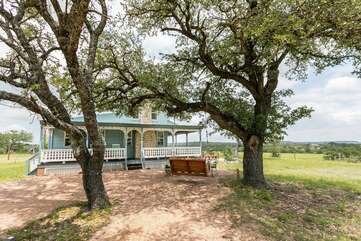 LOCATION - 12 miles west of Fredericksburg
HOSTS - Your host lives on the property, but you have the home all to yourselves
SLEEPS - 4 persons; Queen bedroom upstairs & 2 twins downstairs
BATH - 2 bathrooms; one upstairs and one downstairs, both are full baths w/ a tub/shower combo
KITCHEN - Fully equipped kitchen
BREAKFAST - No Breakfast; coffee and teas are left
AMENITIES - 32" flat screen TV in living room w/ cable, covered wrap around porch with rockers to enjoy hill country views, charcoal grill (charcoal not provided), picnic table, acreage to roam along designated walking areas of the ranch
CHILDREN - Ages 12+
INFANTS - NO
PETS - NO
SMOKING - NO
TWO NIGHT MINIMUM ALWAYS
FOUR NIGHT MINIMUM REQUIRED DEC 16-JAN 31
No Daily Housekeeping
| | Daily |
| --- | --- |
| 1/26/22 - 1/27/22 | $159 |
| 1/28/22 - 1/29/22 | $194 |
| 1/30/22 - 2/3/22 | $159 |
| 2/4/22 - 2/5/22 | $194 |
| 2/6/22 - 2/10/22 | $159 |
| 2/11/22 - 2/12/22 | $194 |
| 2/13/22 - 2/17/22 | $159 |
| 2/18/22 - 2/20/22 | $219 |
| 2/21/22 - 2/24/22 | $159 |
| 2/25/22 - 2/26/22 | $194 |
| 2/27/22 - 3/3/22 | $159 |
| 3/4/22 - 3/5/22 | $219 |
| 3/6/22 - 3/10/22 | $159 |
| 3/11/22 - 3/12/22 | $219 |
| 3/13/22 - 3/17/22 | $219 |
| 3/18/22 - 3/19/22 | $219 |
| 3/20/22 - 3/24/22 | $159 |
| 3/25/22 - 3/26/22 | $219 |
| 3/27/22 - 3/31/22 | $159 |
| 4/1/22 - 4/2/22 | $219 |
| 4/3/22 - 4/7/22 | $159 |
| 4/8/22 - 4/9/22 | $219 |
| 4/10/22 - 4/14/22 | $159 |
| 4/15/22 - 4/17/22 | $219 |
| 4/18/22 - 4/21/22 | $159 |
| 4/22/22 - 4/23/22 | $219 |
| 4/24/22 - 4/28/22 | $159 |
| 4/29/22 - 4/30/22 | $219 |
| 5/1/22 - 5/5/22 | $159 |
| 5/6/22 - 5/7/22 | $219 |
| 5/8/22 - 5/12/22 | $159 |
| 5/13/22 - 5/14/22 | $219 |
| 5/15/22 - 5/19/22 | $159 |
| 5/20/22 - 5/21/22 | $219 |
| 5/22/22 - 5/26/22 | $159 |
| 5/27/22 - 5/29/22 | $219 |
| 5/30/22 - 6/2/22 | $159 |
| 6/3/22 - 6/4/22 | $194 |
| 6/5/22 - 6/9/22 | $159 |
| 6/10/22 - 6/11/22 | $194 |
| 6/12/22 - 6/16/22 | $159 |
| 6/17/22 - 6/18/22 | $194 |
| 6/19/22 - 6/23/22 | $159 |
| 6/24/22 - 6/25/22 | $194 |
| 6/26/22 - 6/30/22 | $159 |
| 7/1/22 - 7/3/22 | $219 |
| 7/4/22 - 7/7/22 | $159 |
| 7/8/22 - 7/9/22 | $194 |
| 7/10/22 - 7/14/22 | $159 |
| 7/15/22 - 7/16/22 | $194 |
| 7/17/22 - 7/21/22 | $159 |
| 7/22/22 - 7/23/22 | $194 |
| 7/24/22 - 7/28/22 | $159 |
| 7/29/22 - 7/30/22 | $194 |
| 7/31/22 - 8/4/22 | $159 |
| 8/5/22 - 8/6/22 | $194 |
| 8/7/22 - 8/11/22 | $159 |
| 8/12/22 - 8/13/22 | $194 |
| 8/14/22 - 8/18/22 | $159 |
| 8/19/22 - 8/20/22 | $194 |
| 8/21/22 - 8/25/22 | $159 |
| 8/26/22 - 8/27/22 | $194 |
| 8/28/22 - 9/1/22 | $159 |
| 9/2/22 - 9/4/22 | $219 |
| 9/5/22 - 9/8/22 | $159 |
| 9/9/22 - 9/10/22 | $194 |
| 9/11/22 - 9/15/22 | $159 |
| 9/16/22 - 9/17/22 | $194 |
| 9/18/22 - 9/22/22 | $159 |
| 9/23/22 - 9/24/22 | $194 |
| 9/25/22 - 9/29/22 | $159 |
| 9/30/22 - 10/1/22 | $219 |
| 10/2/22 - 10/6/22 | $159 |
| 10/7/22 - 10/10/22 | $219 |
| 10/11/22 - 10/13/22 | $159 |
| 10/14/22 - 10/15/22 | $219 |
| 10/16/22 - 10/20/22 | $159 |
| 10/21/22 - 10/22/22 | $219 |
| 10/23/22 - 10/27/22 | $159 |
| 10/28/22 - 10/29/22 | $219 |
| 10/30/22 - 11/3/22 | $159 |
| 11/4/22 - 11/5/22 | $219 |
| 11/6/22 - 11/10/22 | $159 |
| 11/11/22 - 11/13/22 | $219 |
| 11/14/22 - 11/17/22 | $159 |
| 11/18/22 - 11/19/22 | $219 |
| 11/20/22 - 11/22/22 | $219 |
| 11/23/22 - 11/26/22 | $219 |
| 11/27/22 - 12/1/22 | $159 |
| 12/2/22 - 12/3/22 | $219 |
| 12/4/22 - 12/8/22 | $159 |
| 12/9/22 - 12/10/22 | $219 |
| 12/11/22 - 12/15/22 | $159 |
| 12/16/22 - 12/17/22 | $219 |
| 12/18/22 - 12/22/22 | $159 |
| 12/23/22 - 12/24/22 | $219 |
| 12/25/22 - 12/25/22 | $159 |
| 12/26/22 - 12/29/22 | $219 |
| 12/30/22 - 12/31/22 | $219 |
| 1/1/23 - 1/5/23 | $159 |
| 1/6/23 - 1/7/23 | $194 |
| 1/8/23 - 1/12/23 | $159 |
| 1/13/23 - 1/15/23 | $219 |
| 1/16/23 - 1/19/23 | $159 |
| 1/20/23 - 1/21/23 | $194 |
| 1/22/23 - 1/26/23 | $159 |
Fredericksburg Country Homes
Thank you for entering your review. The review will become available to the system shortly.
13
13
Overall Rating:
4.7692
4.7692
Love Das Liebe Haus!
Rating:
1
5
5
This was our second stay at Das Liebe Haus - we love staying there! It's a beautiful setting and wonderful cabin, with everything we could possibly want. Hosts are very friendly and cabin is very comfortable. We will be back!
Cozy Home with Incredible Views
Rating:
1
4
5
Das Liebe Haus was the perfect place to stay in the hills. The home was extremely cozy and the view of the hills couldn't be better! The ONLY negative thing was that the AC wasn't very strong in some parts of the home, but there are plenty of fans. As well as a fireplace for the wintertime! We'll definitely have to return!
Das Liebe Haus
Rating:
1
5
5
We enjoyed our stay so very much. The home is decorated with such love and devotion. The view is stunning, and the accommodations where very comfortable. We plan to visit this cabin again!!
Perfect!
Rating:
1
5
5
This place is perfect for a weekend getaway. This was our second stay in 3 1/2 months. The house is very clean and has everything that you need, and the owners are very helpful. They even left us a lovely bottle of wine. We will be back for a third time soon!
Das Liebe Haus
Rating:
1
4
5
Very nice and a relaxing place to stay. Just far enough out of town but not too far. All aspects of the haus were great. The upstairs bedroom A/C leaves a bit to be desired but was still comfortable, just a bit noisy. The stairs, or rather the ladder, going up made it a little difficult.
Anniversary Perfection at Das Liebe Haus
Rating:
1
5
5
An amazing property with awesome views, set on a hill overlooking a 20acre coastal bermuda field and rolling hill country vistas. Beautiful whitetail and axis deer greet you in the morning. The house is super clean and well-appointed without losing its traditional German appeal. You are far enough from the city lights at night to enjoy seclusion and privacy, with perfect views of a multitude of stars in the dark sky, yet less than 15 minutes from the quaint, historical and now quite eclectic Fredricksburg. What an enjoyable stay. It was one of the best Anniversary vacations we have ever taken. Thanks.
Amazing trip to Das Liebe Haus
Rating:
1
5
5
My husband and I had an amazing get away weekend at Das Liebe Haus! Everything was perfect! We enjoyed the peaceful atmosphere! The house was very clean and the bed super comfy!! We will be back for sure!! Thank you!
Awesome country atmosphere
Rating:
1
4
5
We very much enjoyed our stay. It was not as long as we would have liked but much appreciated our accommodations. Especially enjoyed watching the deer and taking in the quietness of area. Peaceful, serene view from the porch. We spent many hours on that porch rocking and just having an awesome time. Thanks for the memories as been said and we were left an extra nice parting gift from our hosts. Will enjoy sharing it and reminiscing great time on our Fredericksburg trip. Again thanks.
A perfect weekend
Rating:
1
5
5
Such a beautiful and comfortable home set in hills West of Fredericksburg overlooking pastures and miles of hill country Texas. Hosts David and Widney are kind, caring and such good people. So relaxing on the porch with a constant breeze blowing enjoying the view and a perfect spot to jump to all things the area offers. It made for a perfect weekend for us, can't wait to go back.
Best weekend!
Rating:
1
5
5
We visited Fredericksburg for the weekend and we had the best time and most relaxing stay. The hosts were wonderful and the house was beautiful, clean, and felt so homey! We had a great time exploring the town but one of the highlights of my trip was waking up early, drinking coffee on the porch swing, and looking out at the deer in the fields! We're already planning another weekend. Highly recommend this place!
Best Cottage in the Hill Country!
Rating:
1
5
5
This little cottage is perched atop an idyllic hill country view! This is the perfect little country get-away while still having the amenities of home! My favorite part was sitting on the porch in a rocking chair and just soaking in the view and nature around me! You can tell that this retreat was cultivated with love! Very quiet! Very easy to communicate to book this sweet place!
Array
Rating:
1
5
5
Very nice place to stay on a weekend get away.beautiful guest house and land, very relaxing
Rating:
1
5
5
Very nice place to stay on a weekend get away.beautiful guest house and land, very relaxing
Your request has been sent. We look forward to meeting all your vacation needs!
| | |
| --- | --- |
| Sleeps | 4 |
| Bedrooms | 2 |
| Bathrooms | 2 |
Gästehaus Schmidt
231 West Main Street
Fredericksburg, Texas 78624
Monday – Friday 9am to 6pm
Saturday 10am to 5pm
Sunday 10am to 4pm
Lodging & Vacation Rentals In Fredericksburg, TX
Gästehaus Schmidt offers reservation services for Texas Hill Country lodging, bed and breakfasts, and country inns. Choose from a variety of lodging options in several local towns, including Fredericksburg, Comfort, Kerrville, and Hunt, TX. All of our properties are researched and handpicked to bring you only the best accommodations
in the area.