das-liebe-haus
Das Liebe Haus
https://www.fbglodging.com/fredericksburg-rentals/properties/das-liebe-haus/
Das Liebe Haus | Fredericksburg Vacation Rental
A lovely wraparound porch greets you upon arrival
From the porch, you'll enjoy great views of the surrounding pastures
Stepping inside, you'll be captivated by the wonderful woodwork
Relax on the sofa- perfectly situated in front of the fireplace
The living/dining area is a large and inviting space
Seating for up to four at the dining table
The kitchen is nicely-equipped with everything necessary to make great meals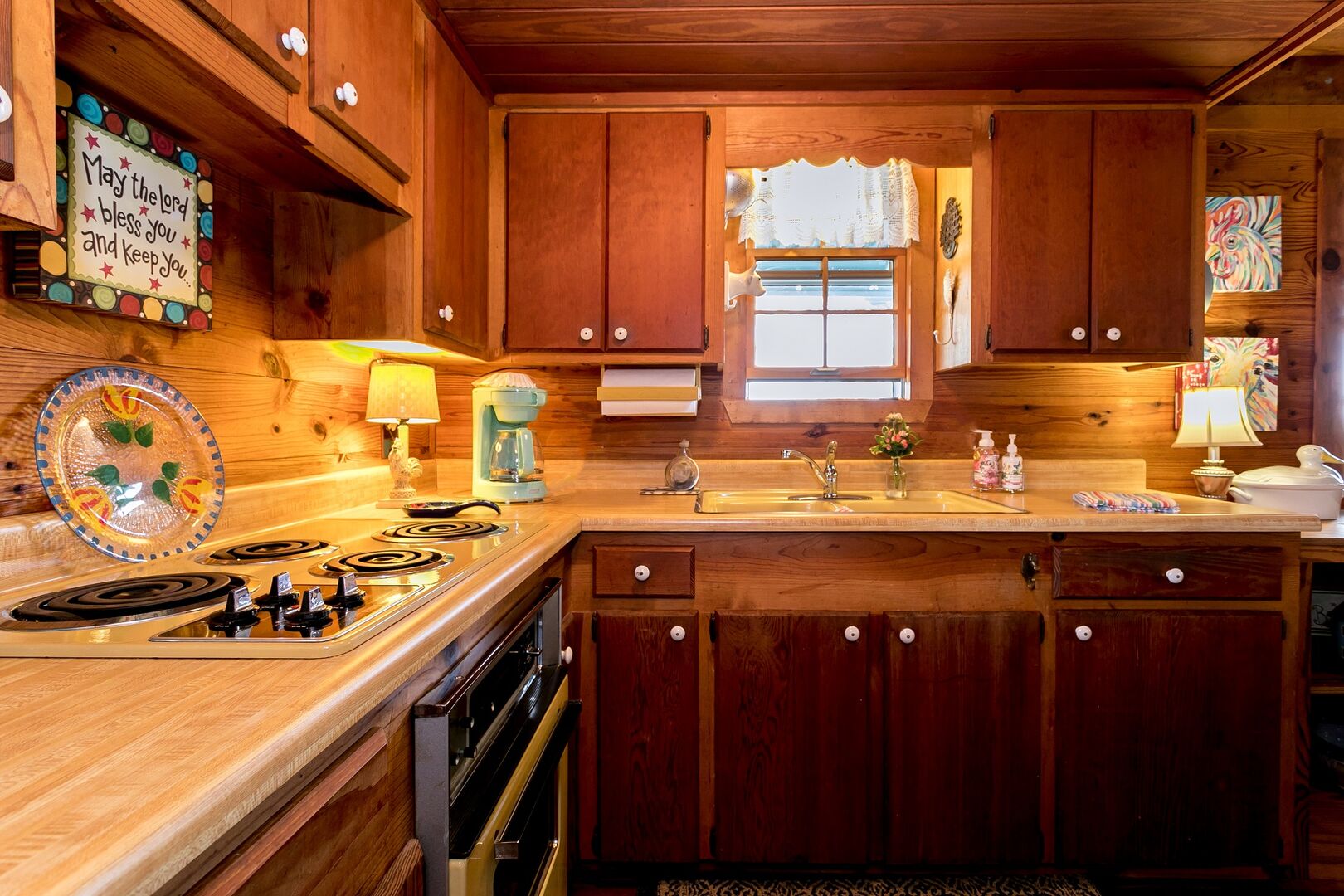 The master bedroom is upstairs and includes a terrific king bed
Also upstairs is a full bathroom with a tub/shower
Two lovely twin beds occupy the downstairs bedroom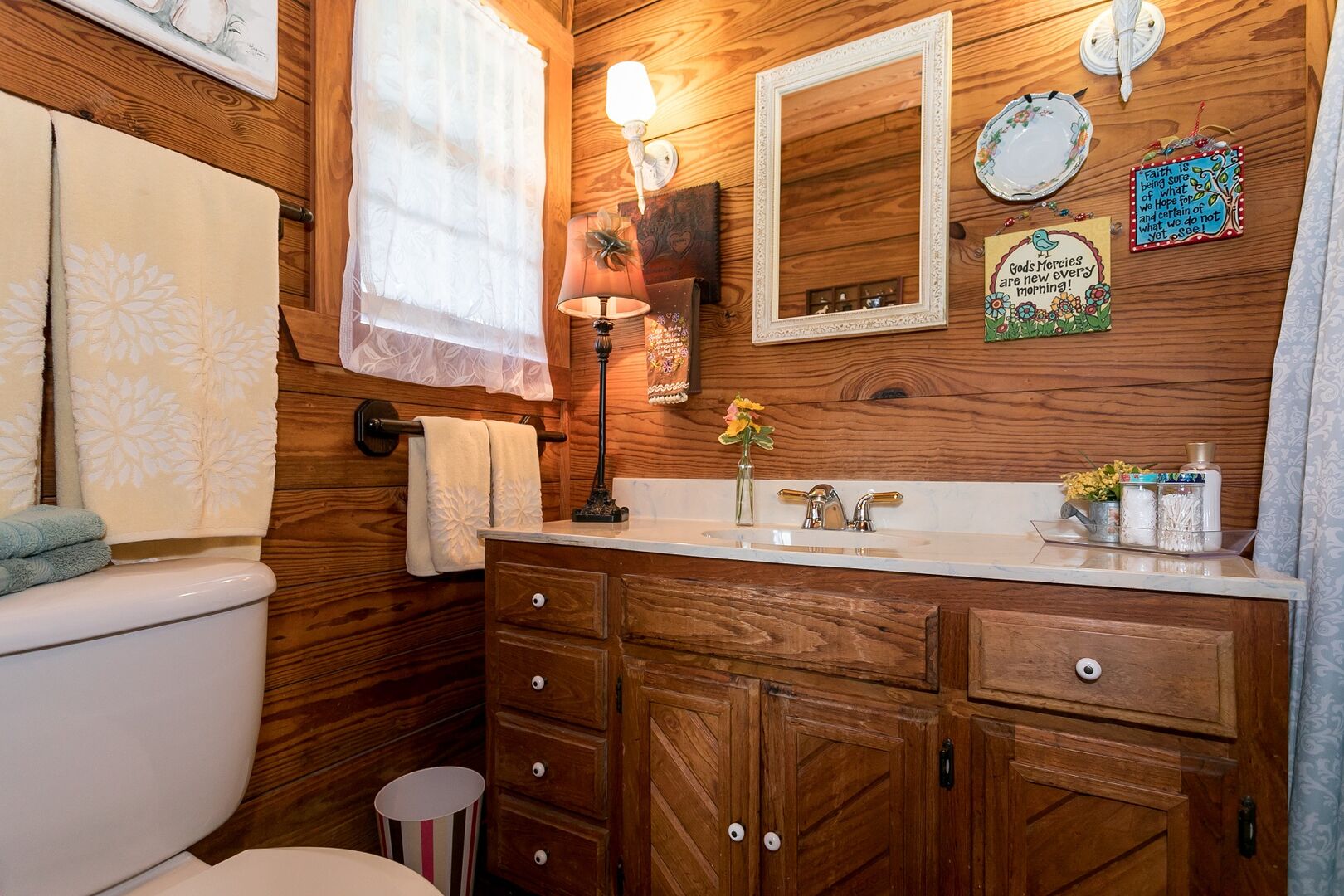 The downstairs bathroom includes a tub/shower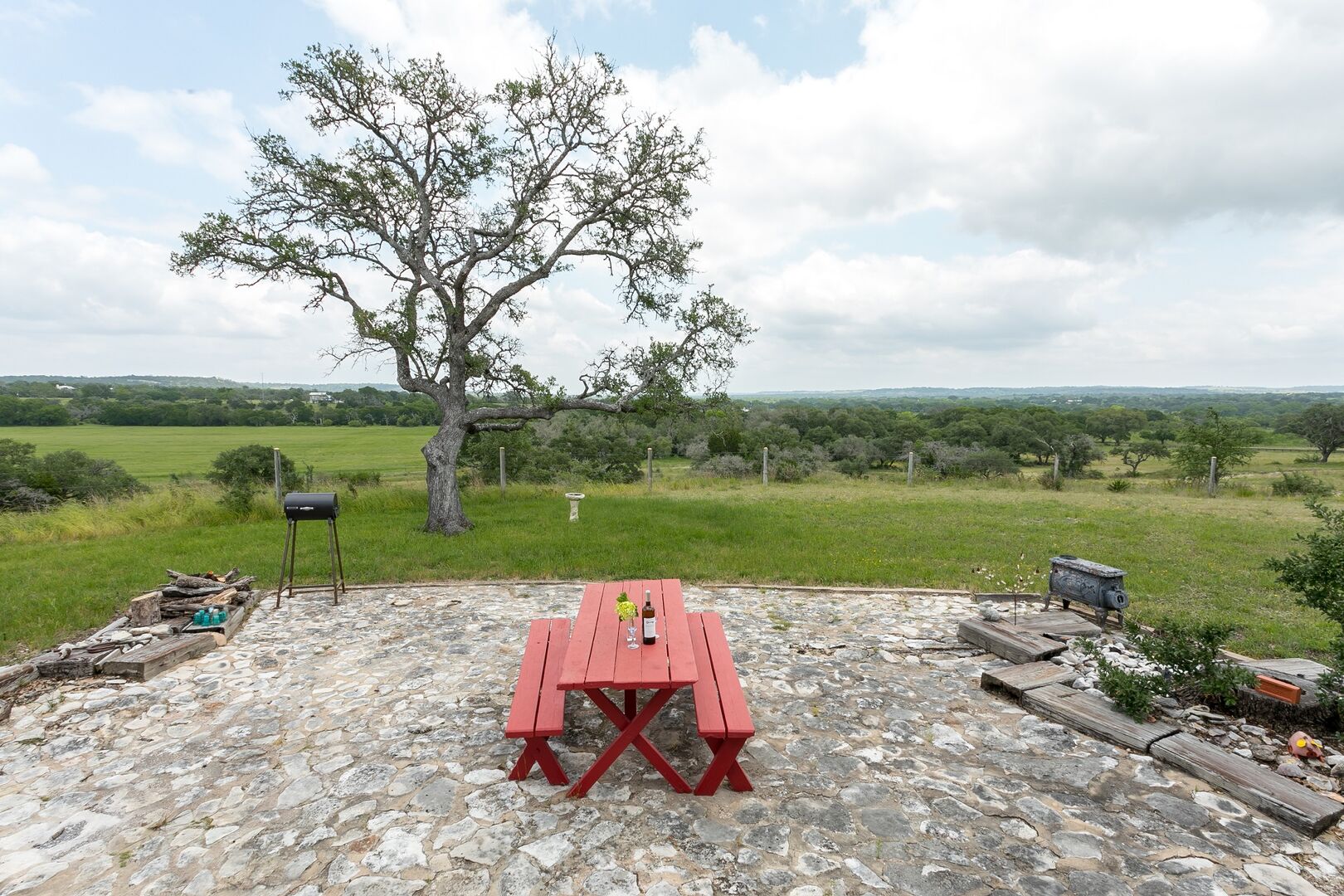 The large outdoor patio has a great view of the valley below
Seating under the oak tree always proves popular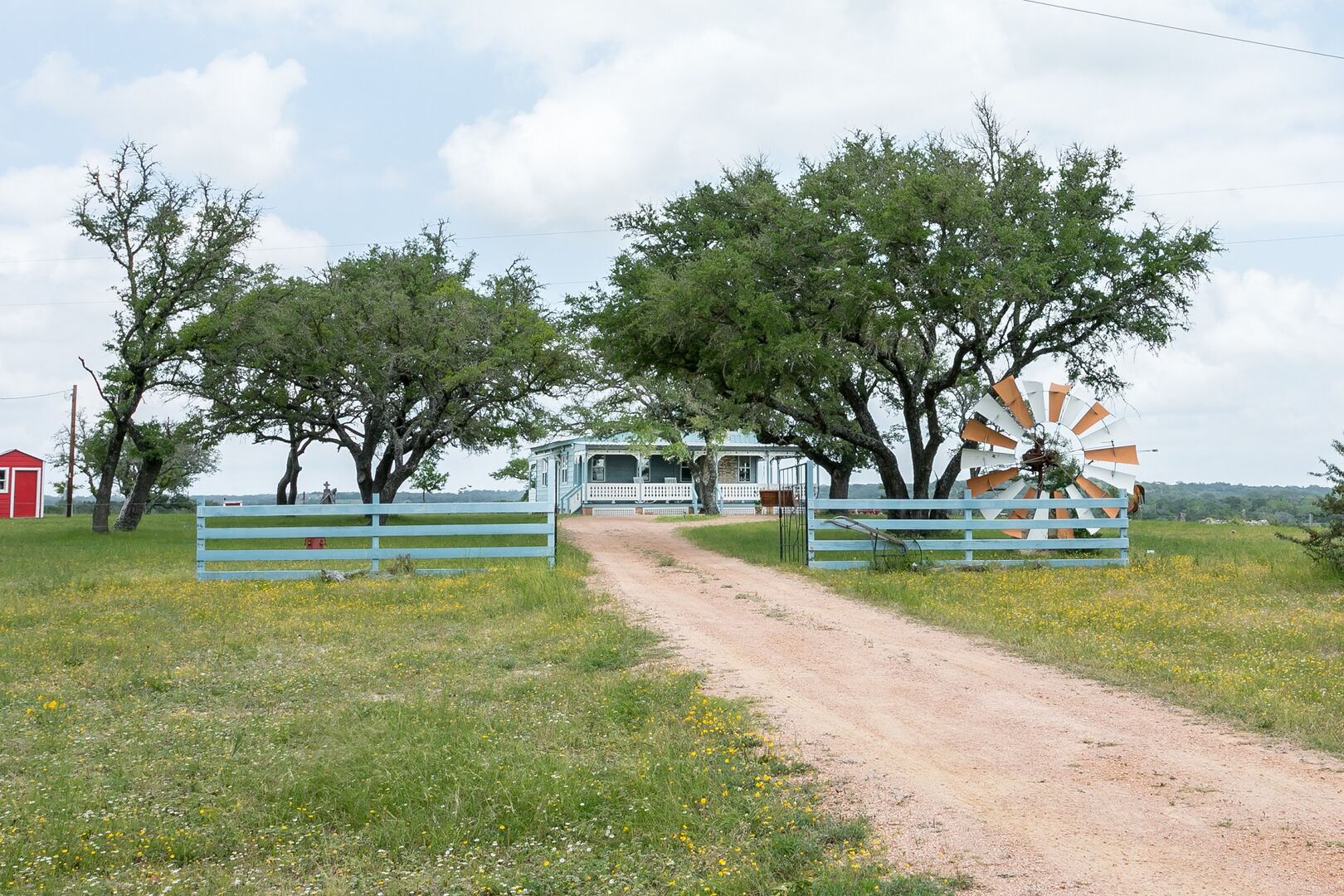 We look forward to welcoming you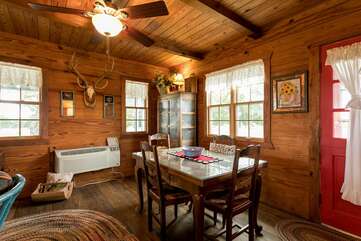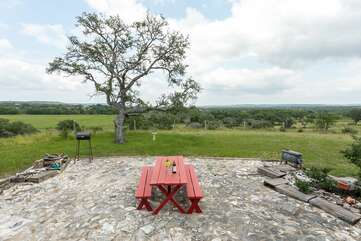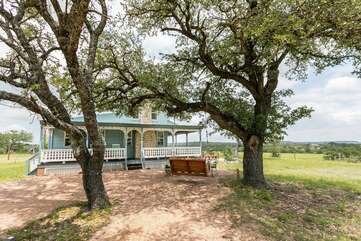 LOCATION - 12 miles west of Fredericksburg
HOSTS - Your host lives on the property, but you have the home all to yourselves
SLEEPS - 4 persons; Queen bedroom upstairs & 2 twins downstairs
BATH - 2 bathrooms; one upstairs and one downstairs, both are full baths w/ a tub/shower combo
KITCHEN - Fully equipped kitchen
BREAKFAST - No Breakfast; coffee and teas are left
AMENITIES - 32" flat screen TV in living room w/ cable, DVD player, woodburning fire place (duralog provided), covered wrap around porch with rockers to enjoy hill country views, charcoal grill (charcoal not provided), picnic table, acreage to roam along designated walking areas of the ranch
CHILDREN - Ages 12+
INFANTS - NO
PETS - NO
SMOKING - NO
WIFI - YES
$150.00*/1-2 persons/night (Sun.-Thurs. and excludes holidays and events)
$175.00*/1-2 persons/night (Fri.-Sat. and includes holidays and events)
$30.00*/additional person/night
*plus 13% tax
TWO NIGHT MINIMUM ALWAYS
FOUR NIGHT MINIMUM REQUIRED DEC 16-JAN 31
No Daily Housekeeping
| | Daily |
| --- | --- |
| 7/12/20 - 8/31/20 | $125 |
| 9/1/20 - 9/3/20 | $150 |
| 9/4/20 - 9/6/20 | $175 |
| 9/7/20 - 9/10/20 | $150 |
| 9/11/20 - 9/12/20 | $175 |
| 9/13/20 - 9/17/20 | $150 |
| 9/18/20 - 9/19/20 | $175 |
| 9/20/20 - 9/24/20 | $150 |
| 9/25/20 - 9/26/20 | $175 |
| 9/27/20 - 10/1/20 | $150 |
| 10/2/20 - 10/3/20 | $175 |
| 10/4/20 - 10/8/20 | $150 |
| 10/9/20 - 10/12/20 | $175 |
| 10/13/20 - 10/15/20 | $150 |
| 10/16/20 - 10/17/20 | $175 |
| 10/18/20 - 10/22/20 | $150 |
| 10/23/20 - 10/24/20 | $175 |
| 10/25/20 - 10/29/20 | $150 |
| 10/30/20 - 10/31/20 | $175 |
| 11/1/20 - 11/5/20 | $150 |
| 11/6/20 - 11/7/20 | $175 |
| 11/8/20 - 11/12/20 | $150 |
| 11/13/20 - 11/14/20 | $175 |
| 11/15/20 - 11/19/20 | $150 |
| 11/20/20 - 11/21/20 | $175 |
| 11/22/20 - 11/24/20 | $150 |
| 11/25/20 - 11/28/20 | $175 |
| 11/29/20 - 12/3/20 | $150 |
| 12/4/20 - 12/5/20 | $175 |
| 12/6/20 - 12/10/20 | $150 |
| 12/11/20 - 12/12/20 | $175 |
| 12/13/20 - 12/17/20 | $150 |
| 12/18/20 - 12/19/20 | $175 |
| 12/20/20 - 12/24/20 | $150 |
| 12/25/20 - 12/25/20 | $175 |
| 12/26/20 - 12/26/20 | $175 |
| 12/27/20 - 12/30/20 | $150 |
| 12/31/20 - 1/1/21 | $175 |
| 1/2/21 - 1/2/21 | $175 |
| 1/3/21 - 1/7/21 | $150 |
| 1/8/21 - 1/9/21 | $175 |
| 1/10/21 - 1/14/21 | $150 |
| 1/15/21 - 1/17/21 | $175 |
| 1/18/21 - 1/21/21 | $150 |
| 1/22/21 - 1/23/21 | $175 |
| 1/24/21 - 1/28/21 | $150 |
| 1/29/21 - 1/30/21 | $175 |
| 1/31/21 - 2/4/21 | $150 |
| 2/5/21 - 2/6/21 | $175 |
| 2/7/21 - 2/11/21 | $150 |
| 2/12/21 - 2/15/21 | $175 |
| 2/16/21 - 2/18/21 | $150 |
| 2/19/21 - 2/20/21 | $175 |
| 2/21/21 - 2/25/21 | $150 |
| 2/26/21 - 2/27/21 | $175 |
| 2/28/21 - 3/4/21 | $150 |
| 3/5/21 - 3/6/21 | $175 |
| 3/7/21 - 3/10/21 | $150 |
| 3/11/21 - 3/13/21 | $175 |
| 3/14/21 - 3/18/21 | $175 |
| 3/19/21 - 3/20/21 | $175 |
| 3/21/21 - 3/25/21 | $175 |
| 3/26/21 - 3/27/21 | $175 |
| 3/28/21 - 4/1/21 | $150 |
| 4/2/21 - 4/4/21 | $175 |
| 4/5/21 - 4/8/21 | $150 |
| 4/9/21 - 4/10/21 | $175 |
| 4/11/21 - 4/15/21 | $150 |
| 4/16/21 - 4/17/21 | $175 |
| 4/18/21 - 4/22/21 | $150 |
| 4/23/21 - 4/24/21 | $175 |
| 4/25/21 - 4/29/21 | $150 |
| 4/30/21 - 5/1/21 | $175 |
| 5/2/21 - 5/6/21 | $150 |
| 5/7/21 - 5/8/21 | $175 |
| 5/9/21 - 5/13/21 | $150 |
| 5/14/21 - 5/15/21 | $175 |
| 5/16/21 - 5/20/21 | $150 |
| 5/21/21 - 5/22/21 | $175 |
| 5/23/21 - 5/27/21 | $150 |
| 5/28/21 - 5/30/21 | $175 |
| 5/31/21 - 6/3/21 | $150 |
| 6/4/21 - 6/5/21 | $175 |
| 6/6/21 - 6/10/21 | $150 |
| 6/11/21 - 6/12/21 | $175 |
| 6/13/21 - 6/17/21 | $150 |
| 6/18/21 - 6/19/21 | $175 |
| 6/20/21 - 6/24/21 | $150 |
| 6/25/21 - 6/26/21 | $175 |
| 6/27/21 - 7/1/21 | $150 |
| 7/2/21 - 7/4/21 | $175 |
| 7/5/21 - 7/8/21 | $150 |
| 7/9/21 - 7/10/21 | $175 |
| 7/11/21 - 7/12/21 | $150 |
Fredericksburg Country Homes
Thank you for entering your review. The review will become available to the system shortly.
6
6
Overall Rating:
4.8333
4.8333
Amazing trip to Das Liebe Haus
Rating:
1
5
5
My husband and I had an amazing get away weekend at Das Liebe Haus! Everything was perfect! We enjoyed the peaceful atmosphere! The house was very clean and the bed super comfy!! We will be back for sure!! Thank you!
Awesome country atmosphere
Rating:
1
4
5
We very much enjoyed our stay. It was not as long as we would have liked but much appreciated our accommodations. Especially enjoyed watching the deer and taking in the quietness of area. Peaceful, serene view from the porch. We spent many hours on that porch rocking and just having an awesome time. Thanks for the memories as been said and we were left an extra nice parting gift from our hosts. Will enjoy sharing it and reminiscing great time on our Fredericksburg trip. Again thanks.
A perfect weekend
Rating:
1
5
5
Such a beautiful and comfortable home set in hills West of Fredericksburg overlooking pastures and miles of hill country Texas. Hosts David and Widney are kind, caring and such good people. So relaxing on the porch with a constant breeze blowing enjoying the view and a perfect spot to jump to all things the area offers. It made for a perfect weekend for us, can't wait to go back.
Best weekend!
Rating:
1
5
5
We visited Fredericksburg for the weekend and we had the best time and most relaxing stay. The hosts were wonderful and the house was beautiful, clean, and felt so homey! We had a great time exploring the town but one of the highlights of my trip was waking up early, drinking coffee on the porch swing, and looking out at the deer in the fields! We're already planning another weekend. Highly recommend this place!
Best Cottage in the Hill Country!
Rating:
1
5
5
This little cottage is perched atop an idyllic hill country view! This is the perfect little country get-away while still having the amenities of home! My favorite part was sitting on the porch in a rocking chair and just soaking in the view and nature around me! You can tell that this retreat was cultivated with love! Very quiet! Very easy to communicate to book this sweet place!
Rating:
1
5
5
Very nice place to stay on a weekend get away.beautiful guest house and land, very relaxing
Your request has been sent. We look forward to meeting all your vacation needs!
| | |
| --- | --- |
| Sleeps | 4 |
| Bedrooms | 2 |
| Bathrooms | 2 |