foxtrot-farm
Foxtrot Farm
https://www.fbglodging.com/fredericksburg-rentals/properties/foxtrot-farm/
Foxtrot Farm | Fredericksburg Vacation Rental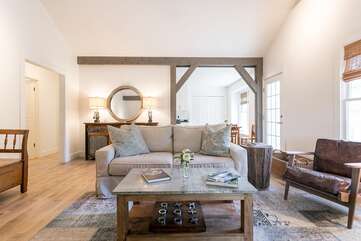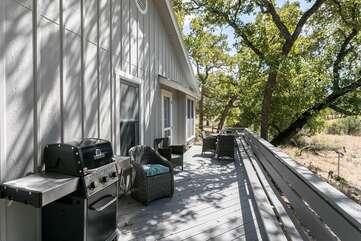 LOCATION - 4.5 miles south of Fredericksburg
HOSTS - No host on premises—cottage all to yourselves
SLEEPS - 4 people; 2 Queen bedrooms
BATH - 2 baths; one bath has a walk-in shower and the other has a bathtub w/a shower
KITCHEN - Fully-equipped updated kitchen w/ a keurig
BREAKFAST - No breakfast. coffee and teas provided
AMENITIES - Flat screen in living area cable & Netflix, WiFi, wood burning stove (available winter months only), washer/dryer, front covered porch w/ seating & a side deck w/ table & chairs & a gas grill, firepit, located on acreage
CHILDREN - NO
INFANTS - YES
SMOKING - NO
PETS - YES (Limit 1)
WIFI - YES
| | Daily |
| --- | --- |
| 1/26/22 - 1/27/22 | $250 |
| 1/28/22 - 1/29/22 | $325 |
| 1/30/22 - 2/3/22 | $250 |
| 2/4/22 - 2/5/22 | $325 |
| 2/6/22 - 2/10/22 | $250 |
| 2/11/22 - 2/12/22 | $325 |
| 2/13/22 - 2/17/22 | $250 |
| 2/18/22 - 2/20/22 | $359 |
| 2/21/22 - 2/24/22 | $250 |
| 2/25/22 - 2/26/22 | $325 |
| 2/27/22 - 3/3/22 | $250 |
| 3/4/22 - 3/5/22 | $359 |
| 3/6/22 - 3/10/22 | $250 |
| 3/11/22 - 3/12/22 | $359 |
| 3/13/22 - 3/17/22 | $359 |
| 3/18/22 - 3/19/22 | $359 |
| 3/20/22 - 3/24/22 | $250 |
| 3/25/22 - 3/26/22 | $359 |
| 3/27/22 - 3/31/22 | $250 |
| 4/1/22 - 4/2/22 | $359 |
| 4/3/22 - 4/7/22 | $250 |
| 4/8/22 - 4/9/22 | $359 |
| 4/10/22 - 4/14/22 | $250 |
| 4/15/22 - 4/17/22 | $359 |
| 4/18/22 - 4/21/22 | $250 |
| 4/22/22 - 4/23/22 | $359 |
| 4/24/22 - 4/28/22 | $250 |
| 4/29/22 - 4/30/22 | $359 |
| 5/1/22 - 5/5/22 | $250 |
| 5/6/22 - 5/7/22 | $359 |
| 5/8/22 - 5/12/22 | $250 |
| 5/13/22 - 5/14/22 | $359 |
| 5/15/22 - 5/19/22 | $250 |
| 5/20/22 - 5/21/22 | $359 |
| 5/22/22 - 5/26/22 | $250 |
| 5/27/22 - 5/29/22 | $359 |
| 5/30/22 - 6/2/22 | $250 |
| 6/3/22 - 6/4/22 | $325 |
| 6/5/22 - 6/9/22 | $250 |
| 6/10/22 - 6/11/22 | $325 |
| 6/12/22 - 6/16/22 | $250 |
| 6/17/22 - 6/18/22 | $325 |
| 6/19/22 - 6/23/22 | $250 |
| 6/24/22 - 6/25/22 | $325 |
| 6/26/22 - 6/30/22 | $250 |
| 7/1/22 - 7/3/22 | $359 |
| 7/4/22 - 7/7/22 | $250 |
| 7/8/22 - 7/9/22 | $325 |
| 7/10/22 - 7/14/22 | $250 |
| 7/15/22 - 7/16/22 | $325 |
| 7/17/22 - 7/21/22 | $250 |
| 7/22/22 - 7/23/22 | $325 |
| 7/24/22 - 7/28/22 | $250 |
| 7/29/22 - 7/30/22 | $325 |
| 7/31/22 - 8/4/22 | $250 |
| 8/5/22 - 8/6/22 | $325 |
| 8/7/22 - 8/11/22 | $250 |
| 8/12/22 - 8/13/22 | $325 |
| 8/14/22 - 8/18/22 | $250 |
| 8/19/22 - 8/20/22 | $325 |
| 8/21/22 - 8/25/22 | $250 |
| 8/26/22 - 8/27/22 | $325 |
| 8/28/22 - 9/1/22 | $250 |
| 9/2/22 - 9/4/22 | $359 |
| 9/5/22 - 9/8/22 | $250 |
| 9/9/22 - 9/10/22 | $325 |
| 9/11/22 - 9/15/22 | $250 |
| 9/16/22 - 9/17/22 | $325 |
| 9/18/22 - 9/22/22 | $250 |
| 9/23/22 - 9/24/22 | $325 |
| 9/25/22 - 9/29/22 | $250 |
| 9/30/22 - 10/1/22 | $359 |
| 10/2/22 - 10/6/22 | $250 |
| 10/7/22 - 10/10/22 | $359 |
| 10/11/22 - 10/13/22 | $250 |
| 10/14/22 - 10/15/22 | $359 |
| 10/16/22 - 10/20/22 | $250 |
| 10/21/22 - 10/22/22 | $359 |
| 10/23/22 - 10/27/22 | $250 |
| 10/28/22 - 10/29/22 | $359 |
| 10/30/22 - 11/3/22 | $250 |
| 11/4/22 - 11/5/22 | $359 |
| 11/6/22 - 11/10/22 | $250 |
| 11/11/22 - 11/13/22 | $359 |
| 11/14/22 - 11/17/22 | $250 |
| 11/18/22 - 11/19/22 | $359 |
| 11/20/22 - 11/22/22 | $359 |
| 11/23/22 - 11/26/22 | $359 |
| 11/27/22 - 12/1/22 | $250 |
| 12/2/22 - 12/3/22 | $359 |
| 12/4/22 - 12/8/22 | $250 |
| 12/9/22 - 12/10/22 | $359 |
| 12/11/22 - 12/15/22 | $250 |
| 12/16/22 - 12/17/22 | $359 |
| 12/18/22 - 12/22/22 | $250 |
| 12/23/22 - 12/24/22 | $359 |
| 12/25/22 - 12/25/22 | $250 |
| 12/26/22 - 12/29/22 | $359 |
| 12/30/22 - 12/31/22 | $359 |
| 1/1/23 - 1/5/23 | $250 |
| 1/6/23 - 1/7/23 | $325 |
| 1/8/23 - 1/12/23 | $250 |
| 1/13/23 - 1/15/23 | $359 |
| 1/16/23 - 1/19/23 | $250 |
| 1/20/23 - 1/21/23 | $325 |
| 1/22/23 - 1/26/23 | $250 |
Fredericksburg Country Homes
Thank you for entering your review. The review will become available to the system shortly.
7
7
Overall Rating:
5
5
Foxtrot Farm - Lovely!
Rating:
1
5
5
We had the most lovely stay at Foxtrot Farm. The design is so thoughtful and it is beautifully located in the hill country away from the sounds of cars. We enjoyed the sound of crickets and the beautiful sunset. Highly recommend!
Foxtrot Farm
Rating:
1
5
5
Fabulous cottage and property! Truly a gem! We will be back!
Hill Country Perfection!
Rating:
1
5
5
Comfy with great decor and very well provisioned with everything we could need. Just the right distance from town, far enough to enjoy wildlife & country peace but just a short drive to town. Gastehaus Schmidt was great too, friendly & helpful. We took a break from burst pipes & Sheetrock repairs in Houston & returned recharged.
Peaceful oasis
Rating:
1
5
5
Foxtrot Farm was like a dream. We stayed right as COVID-19 was making its way through our country, and this beautiful, peaceful house gave us a chance to rest and regroup for the challenges ahead. The house seems to be the guest cottage of the larger house on the property but we never saw anyone and felt like we had the property to ourselves. The furnishings and accessories are all high end, the kitchen is fully stocked with all the plates, glasses, pots and pans you could need and the beds are comfortable and inviting. The owner thoughtfully had all the lights turned on before we arrived - that was a really nice touch. The people at Gastehaus Schmidt were also accommodating and helpful. Despite the craziness, they always answered the phone and were kind and professional. This whole experience was a gift.
Lovely home in beautiful surroundings
Rating:
1
5
5
We've stayed in Fredericksburg many many times and this was one of our favorite places to stay. Beautifully decorated, very thoughtful equipped in every detail. We enjoyed the fire pit in the evening, sitting on the deck with coffee in the morning and the wood burning stove. The beds were very comfortable for both couples. We would recommend this to anyone for a weekend away.
5
Rating:
1
5
5
Great location for a get-away, enjoyed being in rural area but close to town. Wonderful accommodations, modern but rustic. Very cozy and comfortable. We'll be back!
Quiet getaway
Rating:
1
5
5
Beautifully maintained property just a few miles from Main Street activities. The home is so cozy, comfortable and very well furnished. Would definitely recommend this property.
Your request has been sent. We look forward to meeting all your vacation needs!
| | |
| --- | --- |
| Sleeps | 4 |
| Bedrooms | 2 |
| Bathrooms | 2 |
Gästehaus Schmidt
231 West Main Street
Fredericksburg, Texas 78624
Monday – Friday 9am to 6pm
Saturday 10am to 5pm
Sunday 10am to 4pm
Lodging & Vacation Rentals In Fredericksburg, TX
Gästehaus Schmidt offers reservation services for Texas Hill Country lodging, bed and breakfasts, and country inns. Choose from a variety of lodging options in several local towns, including Fredericksburg, Comfort, Kerrville, and Hunt, TX. All of our properties are researched and handpicked to bring you only the best accommodations
in the area.