Francesca's in Fredericksburg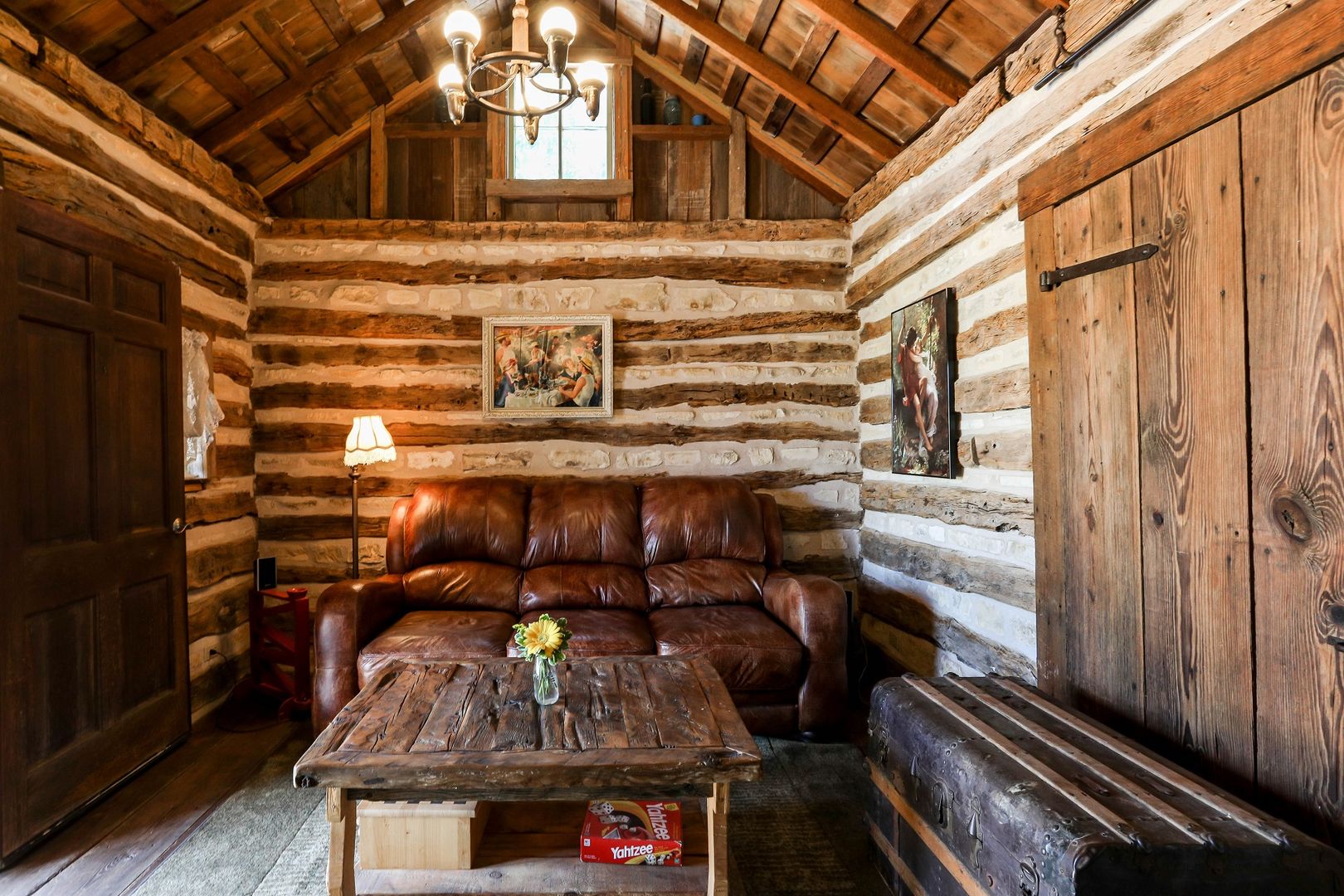 Fredericksburg Country Homes
No fires of any kind outdoors. Failure to comply will result in a $200 fine.
Located only a few miles from town this log cabin dates back 150 years. Built by your host's great grandfather, the log cabin was recently moved to it's new home from the family home-place just a half mile away. The original log cabin is small... a fachwerk addition was added during the restoration. A German style wire fence and gate border the house and yard along with a windmill to create a feeling of days-gone-by.
The wrap around porch begins at the front of the house and goes around to the back overlooking fields and pastures. Inside the living room is the original log cabin. A comfortable leather sofa and chair along with an array of antiques are found. Watch your head as you enter the kitchen through the original log cabin door leading into the kitchen. Stained etched cement floors are found throughout the house. The kitchen provides a coffeebar with a sink, microwave, small refrigerator and coffeemaker.
The distinctive bathroom has rustic cabinets with a leaf print designed sink. Unusual green tiles top the countertop and line the large shower. Interesting features include rope used as molding to join the walls and ceiling and designs of trees and animals on the cabinets and woodwork.
A vaulted ceiling with natural woods showcases the magnificent decorative iron king-size bed. From the bed the open room looks at the whirlpool tub in the adjacent room. The whirlpool tub is rocked with limestone and has a majestic framed mirror on the wall overlooking the tub. Rock floors have a wet, shiny look creating a wonderful glow. Providing a view of the woods and a seasonal creek is a glass door that opens outside onto the back porch.
LOCATION - Approximately 15 minutes east of town
HOSTS - Home to yourselves – no hosts on property
SLEEPS - 2 Persons– King bed
BATH - Bath has large shower, there is also a whirlpool tub
KITCHEN - Coffeebar with small refrigerator, coffeemaker, toaster oven, micro-wave
BREAKFAST - No breakfast – coffee and teas provided
AMENITIES - CH/A, private, wrap around porch, Dish TV, microwave, refrigerator, whirlpool tub, cd and radio, BBQ grill (no charcoal), convenient to Becker Vineyards & 290 Wine Road
PETS - NO
CHILDREN - 10 & over
INFANTS - NO
SMOKING - OUTSIDE
WIFI - NO
$180.00*/1 or 2 persons/night (Friday, Saturday, holidays and events)
$160.00*/1 or 2 persons/night (Weekdays excluding holidays and events)
*Plus 13% tax
TWO NIGHT MINIMUM ON EVENT WEEKENDS
No Daily Housekeeping!
Gästehaus Schmidt
231 West Main Street
Fredericksburg, Texas 78624
Monday – Friday 9am to 6pm
Saturday 10am to 5pm
Sunday 10am to 4pm
Lodging & Vacation Rentals In Fredericksburg, TX
Gästehaus Schmidt offers reservation services for Texas Hill Country lodging, bed and breakfasts, and country inns. Choose from a variety of lodging options in several local towns, including Fredericksburg, Comfort, Kerrville, and Hunt, TX. All of our properties are researched and handpicked to bring you only the best accommodations
in the area.