larkspur
Halo's Garden - Larkspur
https://www.fbglodging.com/fredericksburg-rentals/properties/larkspur/
Halo's Garden - Larkspur | Fredericksburg Vacation Rental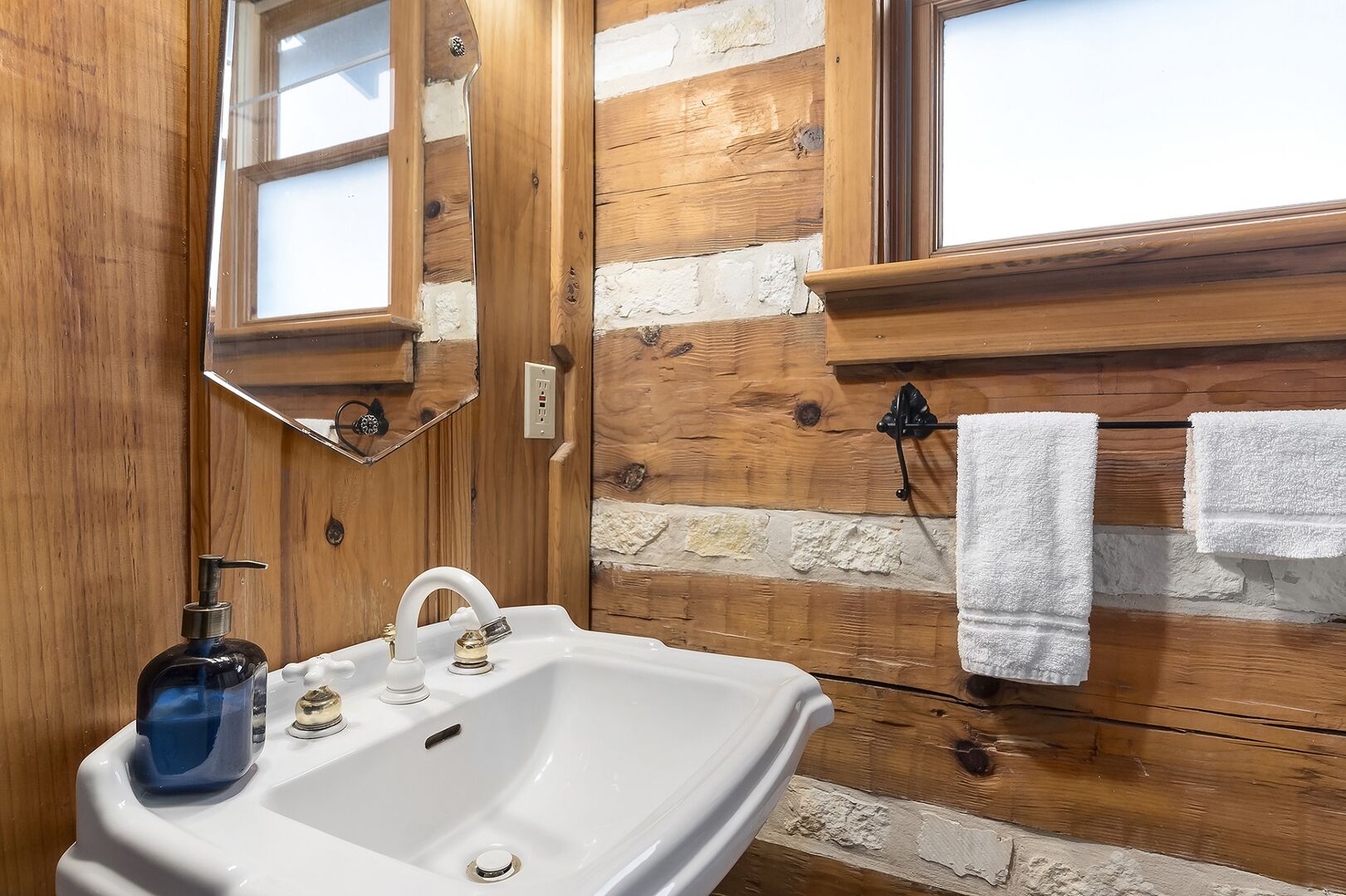 HOSTS - Home to yourselves, but there are other guesthouses to rent on the property
SLEEPS - Up to 4 people; 1 queen bed in loft area upstairs & 2 single beds in downstairs bedroom
BATH - 1 bath; Downstairs has a walk-in shower & toilet & upstairs has a whirlpool tub
KITCHEN - Kitchenette w/ a coffee maker, microwave & mini fridge
BREAKFAST - Breakfast certificates provided at check-in. Coffee & tea also provided
AMENITIES - TV, WiFi, front porch with seating, natural gas stove, next door to Emma & Ollie's Restaurant
CHILDREN - YES
WIFI - YES
SMOKING - OUTSIDE ONLY
PETS - YES (Limit 2 Under 30 lbs each)
Permit ID#8056000407
| | Daily |
| --- | --- |
| 1/26/22 - 1/27/22 | $145 |
| 1/28/22 - 1/29/22 | $225 |
| 1/30/22 - 2/3/22 | $145 |
| 2/4/22 - 2/5/22 | $225 |
| 2/6/22 - 2/10/22 | $145 |
| 2/11/22 - 2/12/22 | $225 |
| 2/13/22 - 2/17/22 | $145 |
| 2/18/22 - 2/20/22 | $255 |
| 2/21/22 - 2/24/22 | $145 |
| 2/25/22 - 2/26/22 | $225 |
| 2/27/22 - 3/3/22 | $145 |
| 3/4/22 - 3/5/22 | $255 |
| 3/6/22 - 3/10/22 | $145 |
| 3/11/22 - 3/12/22 | $255 |
| 3/13/22 - 3/17/22 | $255 |
| 3/18/22 - 3/19/22 | $255 |
| 3/20/22 - 3/24/22 | $145 |
| 3/25/22 - 3/26/22 | $255 |
| 3/27/22 - 3/31/22 | $145 |
| 4/1/22 - 4/2/22 | $255 |
| 4/3/22 - 4/7/22 | $145 |
| 4/8/22 - 4/9/22 | $255 |
| 4/10/22 - 4/14/22 | $145 |
| 4/15/22 - 4/17/22 | $255 |
| 4/18/22 - 4/21/22 | $145 |
| 4/22/22 - 4/23/22 | $255 |
| 4/24/22 - 4/28/22 | $145 |
| 4/29/22 - 4/30/22 | $255 |
| 5/1/22 - 5/5/22 | $145 |
| 5/6/22 - 5/7/22 | $255 |
| 5/8/22 - 5/12/22 | $145 |
| 5/13/22 - 5/14/22 | $255 |
| 5/15/22 - 5/19/22 | $145 |
| 5/20/22 - 5/21/22 | $255 |
| 5/22/22 - 5/26/22 | $145 |
| 5/27/22 - 5/29/22 | $255 |
| 5/30/22 - 6/2/22 | $145 |
| 6/3/22 - 6/4/22 | $225 |
| 6/5/22 - 6/9/22 | $145 |
| 6/10/22 - 6/11/22 | $225 |
| 6/12/22 - 6/16/22 | $145 |
| 6/17/22 - 6/18/22 | $225 |
| 6/19/22 - 6/23/22 | $145 |
| 6/24/22 - 6/25/22 | $225 |
| 6/26/22 - 6/30/22 | $145 |
| 7/1/22 - 7/3/22 | $255 |
| 7/4/22 - 7/7/22 | $145 |
| 7/8/22 - 7/9/22 | $225 |
| 7/10/22 - 7/14/22 | $145 |
| 7/15/22 - 7/16/22 | $225 |
| 7/17/22 - 7/21/22 | $145 |
| 7/22/22 - 7/23/22 | $225 |
| 7/24/22 - 7/28/22 | $145 |
| 7/29/22 - 7/30/22 | $225 |
| 7/31/22 - 8/4/22 | $145 |
| 8/5/22 - 8/6/22 | $225 |
| 8/7/22 - 8/11/22 | $145 |
| 8/12/22 - 8/13/22 | $225 |
| 8/14/22 - 8/18/22 | $145 |
| 8/19/22 - 8/20/22 | $225 |
| 8/21/22 - 8/25/22 | $145 |
| 8/26/22 - 8/27/22 | $225 |
| 8/28/22 - 9/1/22 | $145 |
| 9/2/22 - 9/4/22 | $255 |
| 9/5/22 - 9/8/22 | $145 |
| 9/9/22 - 9/10/22 | $225 |
| 9/11/22 - 9/15/22 | $145 |
| 9/16/22 - 9/17/22 | $225 |
| 9/18/22 - 9/22/22 | $145 |
| 9/23/22 - 9/24/22 | $225 |
| 9/25/22 - 9/29/22 | $145 |
| 9/30/22 - 10/1/22 | $255 |
| 10/2/22 - 10/6/22 | $145 |
| 10/7/22 - 10/10/22 | $255 |
| 10/11/22 - 10/13/22 | $145 |
| 10/14/22 - 10/15/22 | $255 |
| 10/16/22 - 10/20/22 | $145 |
| 10/21/22 - 10/22/22 | $255 |
| 10/23/22 - 10/27/22 | $145 |
| 10/28/22 - 10/29/22 | $255 |
| 10/30/22 - 11/3/22 | $145 |
| 11/4/22 - 11/5/22 | $255 |
| 11/6/22 - 11/10/22 | $145 |
| 11/11/22 - 11/13/22 | $255 |
| 11/14/22 - 11/17/22 | $145 |
| 11/18/22 - 11/19/22 | $255 |
| 11/20/22 - 11/22/22 | $255 |
| 11/23/22 - 11/26/22 | $255 |
| 11/27/22 - 12/1/22 | $145 |
| 12/2/22 - 12/3/22 | $255 |
| 12/4/22 - 12/8/22 | $145 |
| 12/9/22 - 12/10/22 | $255 |
| 12/11/22 - 12/15/22 | $145 |
| 12/16/22 - 12/17/22 | $255 |
| 12/18/22 - 12/22/22 | $145 |
| 12/23/22 - 12/24/22 | $255 |
| 12/25/22 - 12/29/22 | $255 |
| 12/30/22 - 12/31/22 | $255 |
| 1/1/23 - 1/5/23 | $145 |
| 1/6/23 - 1/7/23 | $225 |
| 1/8/23 - 1/12/23 | $145 |
| 1/13/23 - 1/15/23 | $255 |
| 1/16/23 - 1/19/23 | $145 |
| 1/20/23 - 1/21/23 | $225 |
| 1/22/23 - 1/26/23 | $145 |
Thank you for entering your review. The review will become available to the system shortly.
15
15
Overall Rating:
4.9333
4.9333
Larkspur
Rating:
1
5
5
Pleasantly surprised. We really enjoyed our stay. We will definitely try and stay here again.
Rustic Cozy Cabin
Rating:
1
5
5
We had a pleasant stay! The check in process was easy, the location was great, and the place itself was awesome. It has a very cabin homey type of feel. Very calm, clean, and peaceful. We were able to get to just about anything within 5 mins. We would definitely come back. Highly recommended!!
Perfect little cabin
Rating:
1
5
5
Had a wonderful time with my wife and two sons. We spend our days going to some of the state parks near by and come home to the little cabin. Overall it was a very nice stay!
Cute little cabin
Rating:
1
5
5
This was an awesome place to stay for a mother daughter weekend trip to Fredericksburg. It would also be great for a family.
Country birthday girl trip
Rating:
1
5
5
I found the cabin to be very clean. The linens are very important to me and they were of good quality as well as having a pillow protector on the pillows! I love flowers and the grounds were filled with different beautiful species!
Clean and comfortable
Rating:
1
5
5
Very nice and quiet place to stay while visiting Fredericksburg
Girls Weekend!
Rating:
1
5
5
We had a great time and loves this cabin! Everything was clean, comfortable, and cute! We will definitely try to stay here in the future!
Refreshing
Rating:
1
5
5
Online pictures drew us in, but on-site makes us want to come again. Everything was incredibly clean and welcoming. Thank you so much for the best part of our vacation
Great location
Rating:
1
5
5
This is a great property in a wonderful location! Highly recommend for folks visiting the area. The check in/out process was extremely easy as well.
5
Rating:
1
5
5
Wonderful little cabin. We loved it and plan to return soon! Thank you!
Delightful cabin
Rating:
1
5
5
The property offers a lovely garden space with other cabins close enough for a friendly wave, but far enough to offer privacy. We loved the cabin itself, particularly the loft space and the hospitality offerings were a real bonus. We would book the Larkspur again.
Mother's Day Getaway
Rating:
1
5
5
The cabin was very quaint and perfect for us to relax and enjoy time with family. Such cute decor.
Great place for a romantic getaway!
Rating:
1
5
5
We will rent here again
4
Rating:
1
4
5
We loved our stay at the Larkspur cabin. Very convenient to places in the area. The only reason I gave it a four is for the main bedroom being in the loft. I understand it has the big tub in the loft and is decorated very nice but we are in our 60s and the steep narrow stairs were a challenge to navigate. So, just be sure you don't care about stairs....especially if you get up in the middle of the night because the bathroom is on the main floor.
Weekend at Larkspur
Rating:
1
5
5
We had such a great weekend staying at Larkspur this weekend. The cabin was perfect. The staff at Gastehause Schmidt was extremely helpful, we had originally booked with Airbnb and were concerned when the property owner cancelled our reservation to switch to Gastehaus. My boyfriend called Gastehaus Schmidt and they took care of everything for us. We were even able to book a wine tasting tour with Elizabeth Haus wine tours that was absolutely perfect!!
Your request has been sent. We look forward to meeting all your vacation needs!
| | |
| --- | --- |
| Sleeps | 4 |
| Bedrooms | 2 |
| Bathrooms | 1 |
Gästehaus Schmidt
231 West Main Street
Fredericksburg, Texas 78624
Monday – Friday 9am to 6pm
Saturday 10am to 5pm
Sunday 10am to 4pm
Lodging & Vacation Rentals In Fredericksburg, TX
Gästehaus Schmidt offers reservation services for Texas Hill Country lodging, bed and breakfasts, and country inns. Choose from a variety of lodging options in several local towns, including Fredericksburg, Comfort, Kerrville, and Hunt, TX. All of our properties are researched and handpicked to bring you only the best accommodations
in the area.