lazy-k-kabin
Lazy K Kabin
https://www.fbglodging.com/fredericksburg-rentals/properties/lazy-k-kabin/
Lazy K Kabin | Stonewall Vacation Rental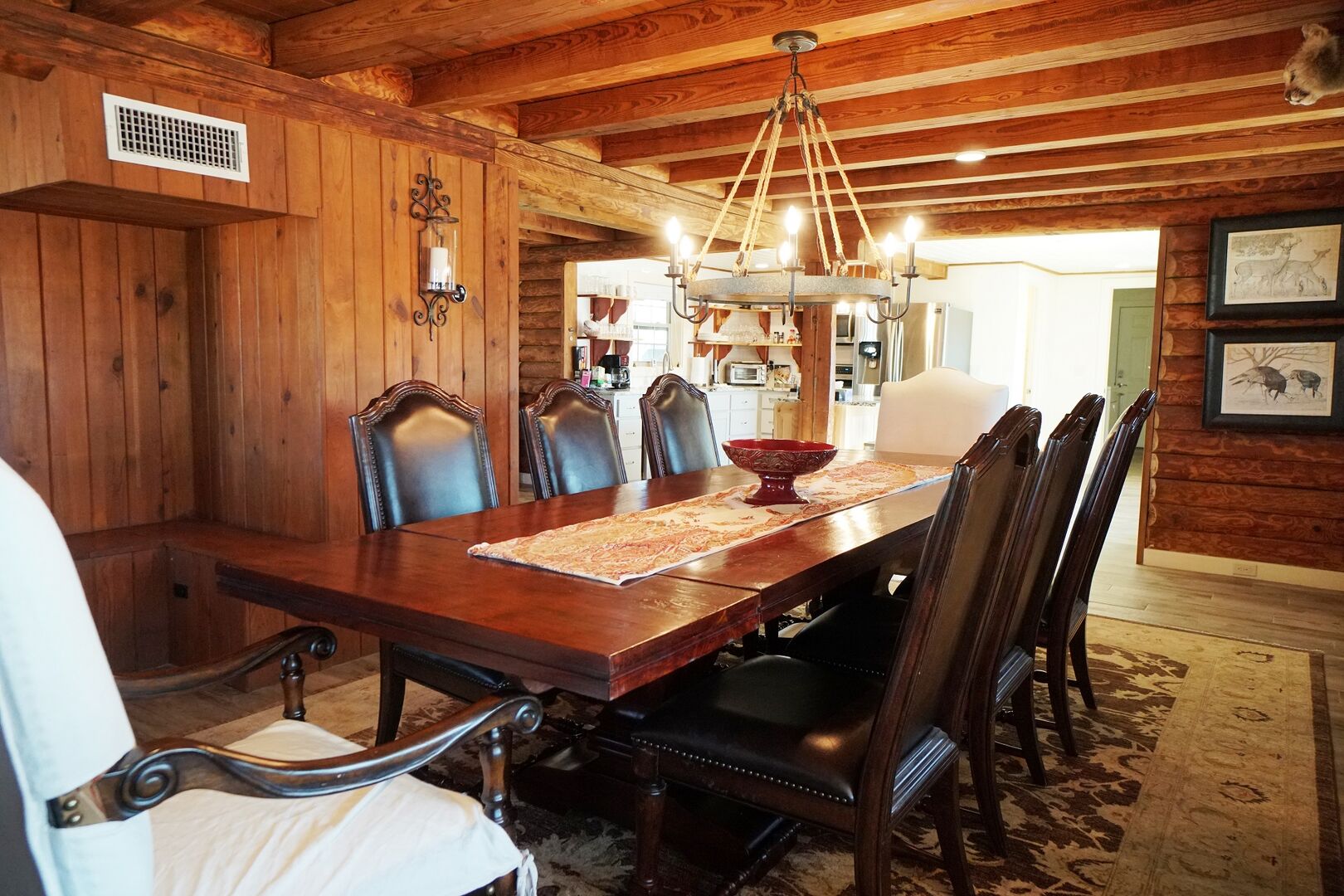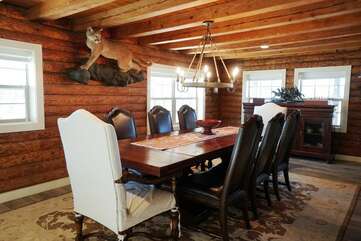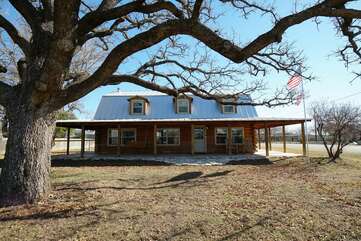 HOSTS - Home to yourselves
SLEEPS - Up to 8 people in 4 bedrooms; 1 King bedrooms downstairs, 2 King bedrooms upstairs & 2 twin beds in another upstairs bedroom
BATH - 3 baths; Downstairs bath has a walk-in shower & two bathrooms upstairs both have walk-in showers
KITCHEN - Fully-equipped kitchen with a regular coffee maker
BREAKFAST - Coffee, tea, and pre-packaged items that may include Pop-tarts, granola bars, or breakfast bars
AMENITIES - 55" Smart Cable TV, WiFi, Sonos music system, Amazon Alexa, washer & dryer, wraparound front porch with rockers & porch swings, back yard, covered patio with outdoor seating, firepit, horseshoe pit, outdoor games
CHILDREN - YES
SMOKING - NO
PETS - NO
WIFI - YES
*Please be aware that due to the historic nature of the cabin, the first floor ceiling is quite low. In particular, if you are tall, please be careful when climbing the stairs.*
| | Daily |
| --- | --- |
| 7/6/22 - 7/7/22 | $299 |
| 7/8/22 - 7/9/22 | $325 |
| 7/10/22 - 7/14/22 | $299 |
| 7/15/22 - 7/16/22 | $325 |
| 7/17/22 - 7/21/22 | $299 |
| 7/22/22 - 7/23/22 | $325 |
| 7/24/22 - 7/28/22 | $299 |
| 7/29/22 - 7/30/22 | $325 |
| 7/31/22 - 8/4/22 | $299 |
| 8/5/22 - 8/6/22 | $329 |
| 8/7/22 - 8/11/22 | $299 |
| 8/12/22 - 8/13/22 | $329 |
| 8/14/22 - 8/18/22 | $299 |
| 8/19/22 - 8/20/22 | $329 |
| 8/21/22 - 8/25/22 | $299 |
| 8/26/22 - 8/27/22 | $329 |
| 8/28/22 - 9/1/22 | $299 |
| 9/2/22 - 9/4/22 | $429 |
| 9/5/22 - 9/8/22 | $339 |
| 9/9/22 - 9/10/22 | $359 |
| 9/11/22 - 9/15/22 | $339 |
| 9/16/22 - 9/17/22 | $359 |
| 9/18/22 - 9/22/22 | $339 |
| 9/23/22 - 9/24/22 | $359 |
| 9/25/22 - 9/29/22 | $339 |
| 9/30/22 - 10/1/22 | $429 |
| 10/2/22 - 10/6/22 | $339 |
| 10/7/22 - 10/10/22 | $429 |
| 10/11/22 - 10/13/22 | $339 |
| 10/14/22 - 10/15/22 | $429 |
| 10/16/22 - 10/20/22 | $339 |
| 10/21/22 - 10/22/22 | $429 |
| 10/23/22 - 10/27/22 | $339 |
| 10/28/22 - 10/29/22 | $429 |
| 10/30/22 - 11/3/22 | $339 |
| 11/4/22 - 11/5/22 | $429 |
| 11/6/22 - 11/10/22 | $339 |
| 11/11/22 - 11/13/22 | $429 |
| 11/14/22 - 11/17/22 | $339 |
| 11/18/22 - 11/19/22 | $429 |
| 11/20/22 - 11/22/22 | $429 |
| 11/23/22 - 11/26/22 | $429 |
| 11/27/22 - 12/1/22 | $339 |
| 12/2/22 - 12/3/22 | $429 |
| 12/4/22 - 12/8/22 | $339 |
| 12/9/22 - 12/10/22 | $429 |
| 12/11/22 - 12/15/22 | $339 |
| 12/16/22 - 12/17/22 | $429 |
| 12/18/22 - 12/22/22 | $339 |
| 12/23/22 - 12/24/22 | $429 |
| 12/25/22 - 12/29/22 | $359 |
| 12/30/22 - 12/31/22 | $429 |
| 1/1/23 - 1/5/23 | $339 |
| 1/6/23 - 1/7/23 | $359 |
| 1/8/23 - 1/12/23 | $339 |
| 1/13/23 - 1/15/23 | $429 |
| 1/16/23 - 1/19/23 | $339 |
| 1/20/23 - 1/21/23 | $359 |
| 1/22/23 - 1/26/23 | $339 |
| 1/27/23 - 1/28/23 | $359 |
| 1/29/23 - 2/2/23 | $339 |
| 2/3/23 - 2/4/23 | $359 |
| 2/5/23 - 2/9/23 | $339 |
| 2/10/23 - 2/11/23 | $359 |
| 2/12/23 - 2/16/23 | $339 |
| 2/17/23 - 2/19/23 | $429 |
| 2/20/23 - 2/23/23 | $339 |
| 2/24/23 - 2/25/23 | $359 |
| 2/26/23 - 3/2/23 | $339 |
| 3/3/23 - 3/4/23 | $429 |
| 3/5/23 - 3/9/23 | $359 |
| 3/10/23 - 3/11/23 | $429 |
| 3/12/23 - 3/16/23 | $359 |
| 3/17/23 - 3/18/23 | $429 |
| 3/19/23 - 3/23/23 | $339 |
| 3/24/23 - 3/25/23 | $429 |
| 3/26/23 - 3/30/23 | $339 |
| 3/31/23 - 4/1/23 | $429 |
| 4/2/23 - 4/6/23 | $339 |
| 4/7/23 - 4/8/23 | $359 |
| 4/9/23 - 4/13/23 | $339 |
| 4/14/23 - 4/15/23 | $429 |
| 4/16/23 - 4/20/23 | $339 |
| 4/21/23 - 4/22/23 | $429 |
| 4/23/23 - 4/27/23 | $339 |
| 4/28/23 - 4/29/23 | $429 |
| 4/30/23 - 5/4/23 | $339 |
| 5/5/23 - 5/6/23 | $429 |
| 5/7/23 - 5/11/23 | $339 |
| 5/12/23 - 5/13/23 | $429 |
| 5/14/23 - 5/18/23 | $339 |
| 5/19/23 - 5/20/23 | $429 |
| 5/21/23 - 5/25/23 | $339 |
| 5/26/23 - 5/28/23 | $429 |
| 5/29/23 - 6/1/23 | $339 |
| 6/2/23 - 6/3/23 | $359 |
| 6/4/23 - 6/8/23 | $339 |
| 6/9/23 - 6/10/23 | $359 |
| 6/11/23 - 6/15/23 | $339 |
| 6/16/23 - 6/17/23 | $359 |
| 6/18/23 - 6/22/23 | $339 |
| 6/23/23 - 6/24/23 | $359 |
| 6/25/23 - 6/29/23 | $339 |
| 6/30/23 - 7/1/23 | $429 |
| 7/2/23 - 7/6/23 | $339 |
Fredericksburg Country Homes
Thank you for entering your review. The review will become available to the system shortly.
1
1
Overall Rating:
5
5
Lazy K Wedding Weekend
Rating:
1
5
5
We were in town for a family wedding. The cabin was perfect and only a ten minute drive from the venue. Bedrooms were all a good size and living spaces were quite accommodating for meals, games, and conversation. We also enjoyed the back porch, fire pit, and yard games. The kitchen had everything we needed for cooking breakfast and dinners. The cabin worked out beautifully, and was so much more accommodating than everyone renting their own hotel room. Definitely recommend!
Your request has been sent. We look forward to meeting all your vacation needs!
| | |
| --- | --- |
| Sleeps | 8 |
| Bedrooms | 4 |
| Bathrooms | 3 |
Gästehaus Schmidt
231 West Main Street
Fredericksburg, Texas 78624
Monday – Friday 9am to 6pm
Saturday 10am to 5pm
Sunday 10am to 4pm
Lodging & Vacation Rentals In Fredericksburg, TX
Gästehaus Schmidt offers reservation services for Texas Hill Country lodging, bed and breakfasts, and country inns. Choose from a variety of lodging options in several local towns, including Fredericksburg, Comfort, Kerrville, and Hunt, TX. All of our properties are researched and handpicked to bring you only the best accommodations
in the area.