run-away-ranch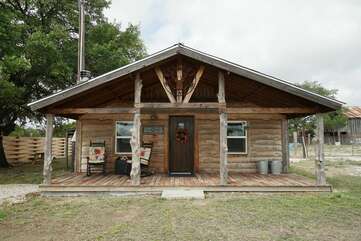 Run Away Ranch
https://www.fbglodging.com/fredericksburg-rentals/properties/run-away-ranch/
Run Away Ranch | Harper Vacation Rental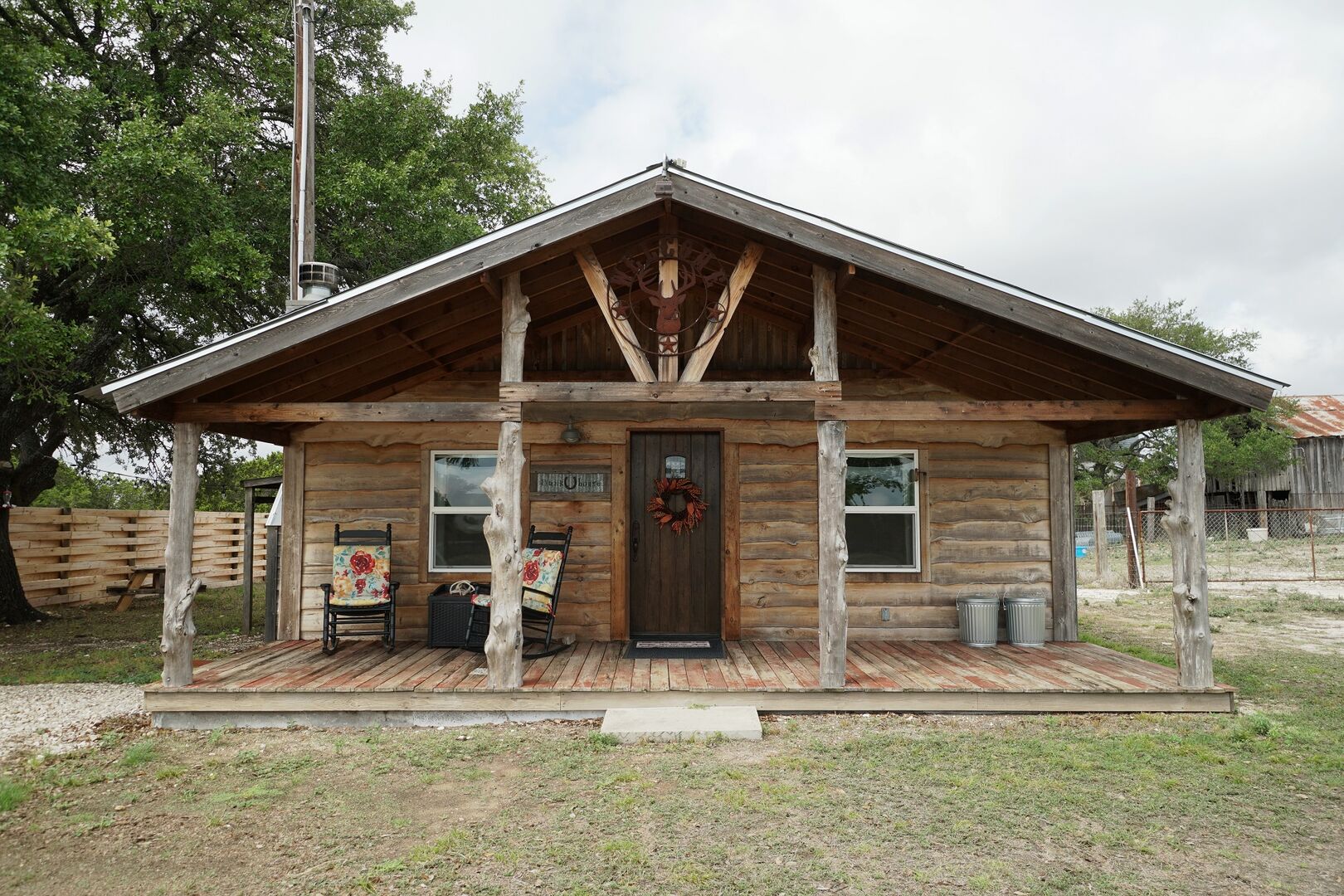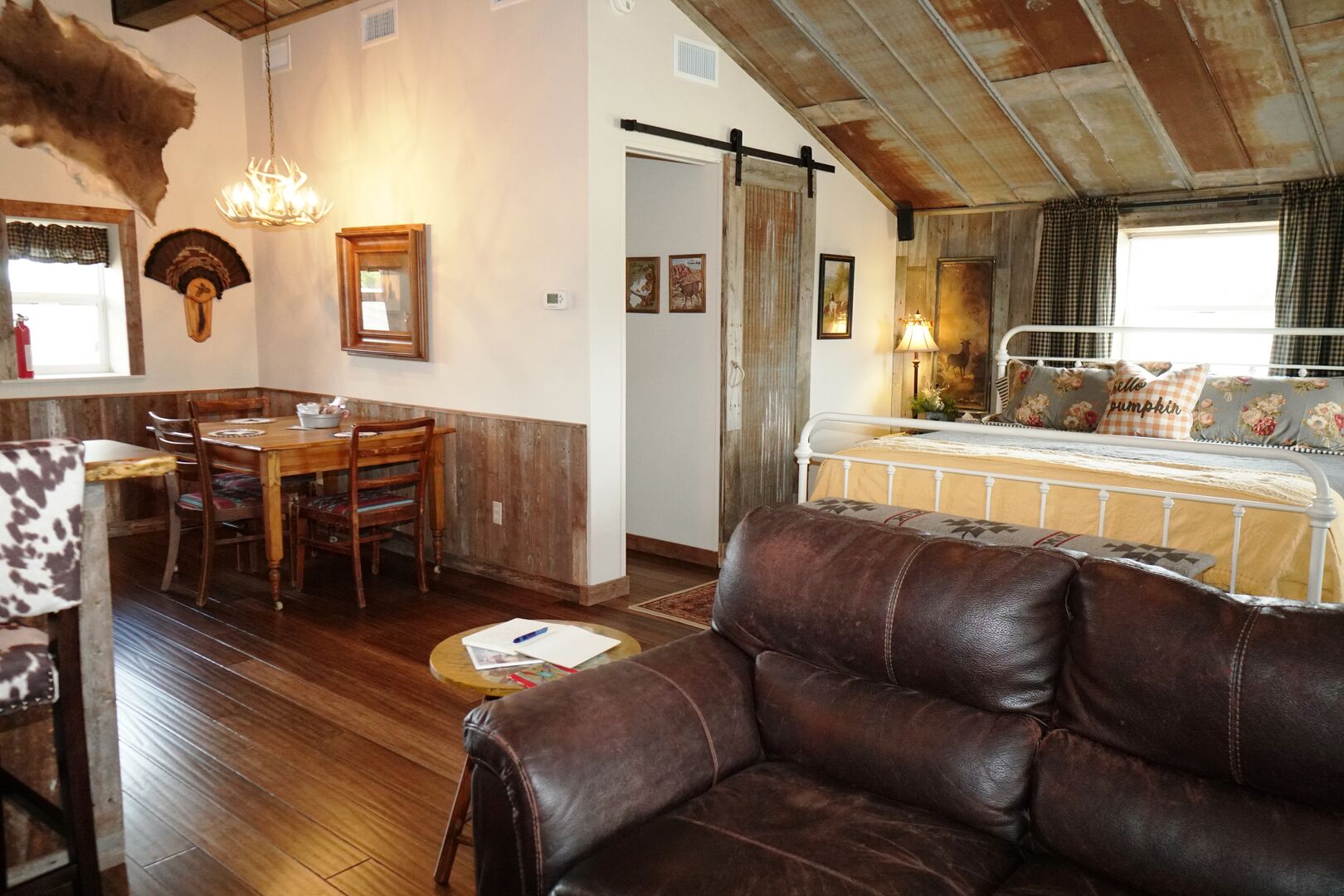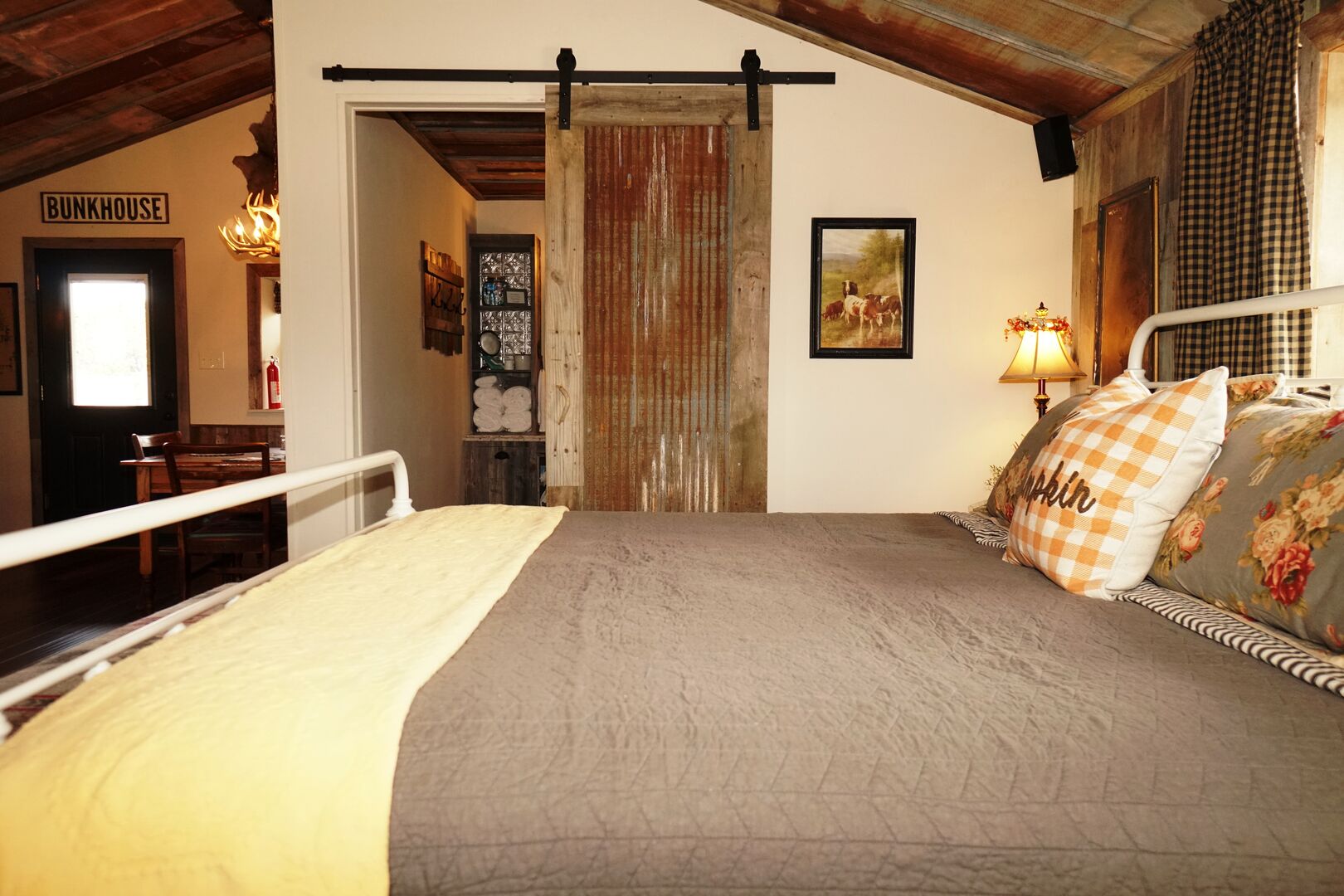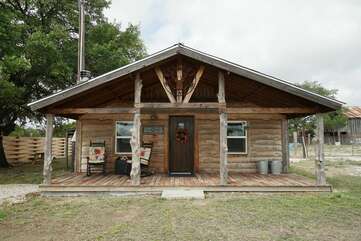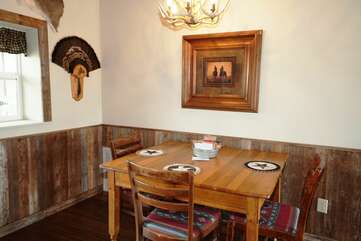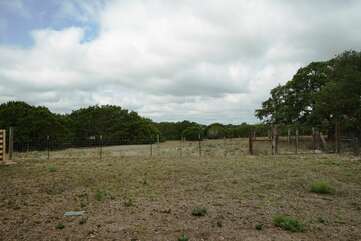 HOSTS - No host on premises—cottage all to yourselves
SLEEPS - 2 people in a king bedroom
BATH - 1 bath w/ a walk in shower
KITCHEN - Fully-equipped kitchen w/ a Keurig Coffeemaker
BREAKFAST - Continental breakfast provided as well as coffee and teas
AMENITIES - Smart TV, DVD player, WiFi, indoor gas fireplace, outdoor seating, picnic table, gas grill, located on a 66 acre ranch w/ 7 longhorns on the property
CHILDREN - NO
SMOKING - OUTSIDE ONLY
PETS - NO
WIFI - YES
ABSOLUTELY NO HUNTING ON THE PROPERTY
TWO NIGHT MINIMUM ON WEEKENDS
No Daily Housekeeping
| | Daily |
| --- | --- |
| 10/20/21 - 10/21/21 | $125 |
| 10/22/21 - 10/23/21 | $160 |
| 10/24/21 - 10/28/21 | $125 |
| 10/29/21 - 10/30/21 | $160 |
| 10/31/21 - 11/4/21 | $125 |
| 11/5/21 - 11/6/21 | $160 |
| 11/7/21 - 11/11/21 | $125 |
| 11/12/21 - 11/13/21 | $160 |
| 11/14/21 - 11/18/21 | $125 |
| 11/19/21 - 11/20/21 | $160 |
| 11/21/21 - 11/23/21 | $160 |
| 11/24/21 - 11/27/21 | $160 |
| 11/28/21 - 12/2/21 | $125 |
| 12/3/21 - 12/4/21 | $160 |
| 12/5/21 - 12/9/21 | $125 |
| 12/10/21 - 12/11/21 | $160 |
| 12/12/21 - 12/16/21 | $125 |
| 12/17/21 - 12/18/21 | $160 |
| 12/19/21 - 12/23/21 | $125 |
| 12/24/21 - 12/25/21 | $145 |
| 12/26/21 - 12/30/21 | $160 |
| 12/31/21 - 1/1/22 | $160 |
| 1/2/22 - 1/6/22 | $125 |
| 1/7/22 - 1/8/22 | $145 |
| 1/9/22 - 1/13/22 | $125 |
| 1/14/22 - 1/16/22 | $160 |
| 1/17/22 - 1/20/22 | $125 |
| 1/21/22 - 1/22/22 | $145 |
| 1/23/22 - 1/27/22 | $125 |
| 1/28/22 - 1/29/22 | $145 |
| 1/30/22 - 2/3/22 | $125 |
| 2/4/22 - 2/5/22 | $145 |
| 2/6/22 - 2/10/22 | $125 |
| 2/11/22 - 2/12/22 | $145 |
| 2/13/22 - 2/17/22 | $125 |
| 2/18/22 - 2/20/22 | $160 |
| 2/21/22 - 2/24/22 | $125 |
| 2/25/22 - 2/26/22 | $145 |
| 2/27/22 - 3/3/22 | $125 |
| 3/4/22 - 3/5/22 | $160 |
| 3/6/22 - 3/10/22 | $125 |
| 3/11/22 - 3/12/22 | $160 |
| 3/13/22 - 3/17/22 | $160 |
| 3/18/22 - 3/19/22 | $160 |
| 3/20/22 - 3/24/22 | $125 |
| 3/25/22 - 3/26/22 | $160 |
| 3/27/22 - 3/31/22 | $125 |
| 4/1/22 - 4/2/22 | $160 |
| 4/3/22 - 4/7/22 | $125 |
| 4/8/22 - 4/9/22 | $160 |
| 4/10/22 - 4/14/22 | $125 |
| 4/15/22 - 4/17/22 | $160 |
| 4/18/22 - 4/21/22 | $125 |
| 4/22/22 - 4/23/22 | $160 |
| 4/24/22 - 4/28/22 | $125 |
| 4/29/22 - 4/30/22 | $160 |
| 5/1/22 - 5/5/22 | $125 |
| 5/6/22 - 5/7/22 | $160 |
| 5/8/22 - 5/12/22 | $125 |
| 5/13/22 - 5/14/22 | $160 |
| 5/15/22 - 5/19/22 | $125 |
| 5/20/22 - 5/21/22 | $160 |
| 5/22/22 - 5/26/22 | $125 |
| 5/27/22 - 5/29/22 | $160 |
| 5/30/22 - 6/2/22 | $125 |
| 6/3/22 - 6/4/22 | $145 |
| 6/5/22 - 6/9/22 | $125 |
| 6/10/22 - 6/11/22 | $145 |
| 6/12/22 - 6/16/22 | $125 |
| 6/17/22 - 6/18/22 | $145 |
| 6/19/22 - 6/23/22 | $125 |
| 6/24/22 - 6/25/22 | $145 |
| 6/26/22 - 6/30/22 | $125 |
| 7/1/22 - 7/3/22 | $160 |
| 7/4/22 - 7/7/22 | $125 |
| 7/8/22 - 7/9/22 | $145 |
| 7/10/22 - 7/14/22 | $125 |
| 7/15/22 - 7/16/22 | $145 |
| 7/17/22 - 7/21/22 | $125 |
| 7/22/22 - 7/23/22 | $145 |
| 7/24/22 - 7/28/22 | $125 |
| 7/29/22 - 7/30/22 | $145 |
| 7/31/22 - 8/4/22 | $125 |
| 8/5/22 - 8/6/22 | $145 |
| 8/7/22 - 8/11/22 | $125 |
| 8/12/22 - 8/13/22 | $145 |
| 8/14/22 - 8/18/22 | $125 |
| 8/19/22 - 8/20/22 | $145 |
| 8/21/22 - 8/25/22 | $125 |
| 8/26/22 - 8/27/22 | $145 |
| 8/28/22 - 9/1/22 | $125 |
| 9/2/22 - 9/4/22 | $160 |
| 9/5/22 - 9/8/22 | $125 |
| 9/9/22 - 9/10/22 | $145 |
| 9/11/22 - 9/15/22 | $125 |
| 9/16/22 - 9/17/22 | $145 |
| 9/18/22 - 9/22/22 | $125 |
| 9/23/22 - 9/24/22 | $145 |
| 9/25/22 - 9/29/22 | $125 |
| 9/30/22 - 10/1/22 | $160 |
| 10/2/22 - 10/6/22 | $125 |
| 10/7/22 - 10/10/22 | $160 |
| 10/11/22 - 10/13/22 | $125 |
| 10/14/22 - 10/15/22 | $160 |
| 10/16/22 - 10/19/22 | $125 |
Thank you for entering your review. The review will become available to the system shortly.
3
3
Overall Rating:
5
5
Fantastic Get Away
Rating:
1
5
5
This little cabin was absolutely perfect. It was perfectly appointed and was by no means "roughing it". Whoever decorated this little gem has such talent! The cabin is completely private - no neighbors other than the longhorns and deer that love to be fed. The town of Harper is about 15 minutes down the road where there are two restaurants - we only ate at The Longhorn Cafe (great food), but the other looked busy. WiFi worked well if you need it. If you want a peaceful get away with all the amenities, this is it!
Great bunkhouse
Rating:
1
5
5
We really enjoyed our stay at the bunkhouse it was well stocked with all we needed We had 30 deer and longhorns greeted us it was great to see them we really enjoyed having the feed there to be able to feed the deer and the cattle. Very nice assortment for the continental breakfast. The owners made it very welcoming and we enjoyed being out away from everything very quiet and very secluded thank you very much
OMG Fantastic
Rating:
1
5
5
This place took my breath away. It is in the middle of nowhere but waking up to longhorn and going to sleep with the stars and the deer made for peaceful surroundings away from everyday life. The decor is outstanding! All the extras make you feel so welcome. The softest fluffy white towels with an amazing shower. So clean and every little detail was picked with love and placed with care. I would go back in a heart beat! Best Birthday Ever!
Your request has been sent. We look forward to meeting all your vacation needs!
| | |
| --- | --- |
| Sleeps | 2 |
| Bedrooms | 1 |
| Bathrooms | 1 |
Gästehaus Schmidt
231 West Main Street
Fredericksburg, Texas 78624
Monday – Friday 9am to 6pm
Saturday 10am to 5pm
Sunday 10am to 4pm
Lodging & Vacation Rentals In Fredericksburg, TX
Gästehaus Schmidt offers reservation services for Texas Hill Country lodging, bed and breakfasts, and country inns. Choose from a variety of lodging options in several local towns, including Fredericksburg, Comfort, Kerrville, and Hunt, TX. All of our properties are researched and handpicked to bring you only the best accommodations
in the area.