bell-haus
Bell Haus
https://www.fbglodging.com/fredericksburg-rentals/properties/bell-haus/
Bell Haus | Fredericksburg Vacation Rental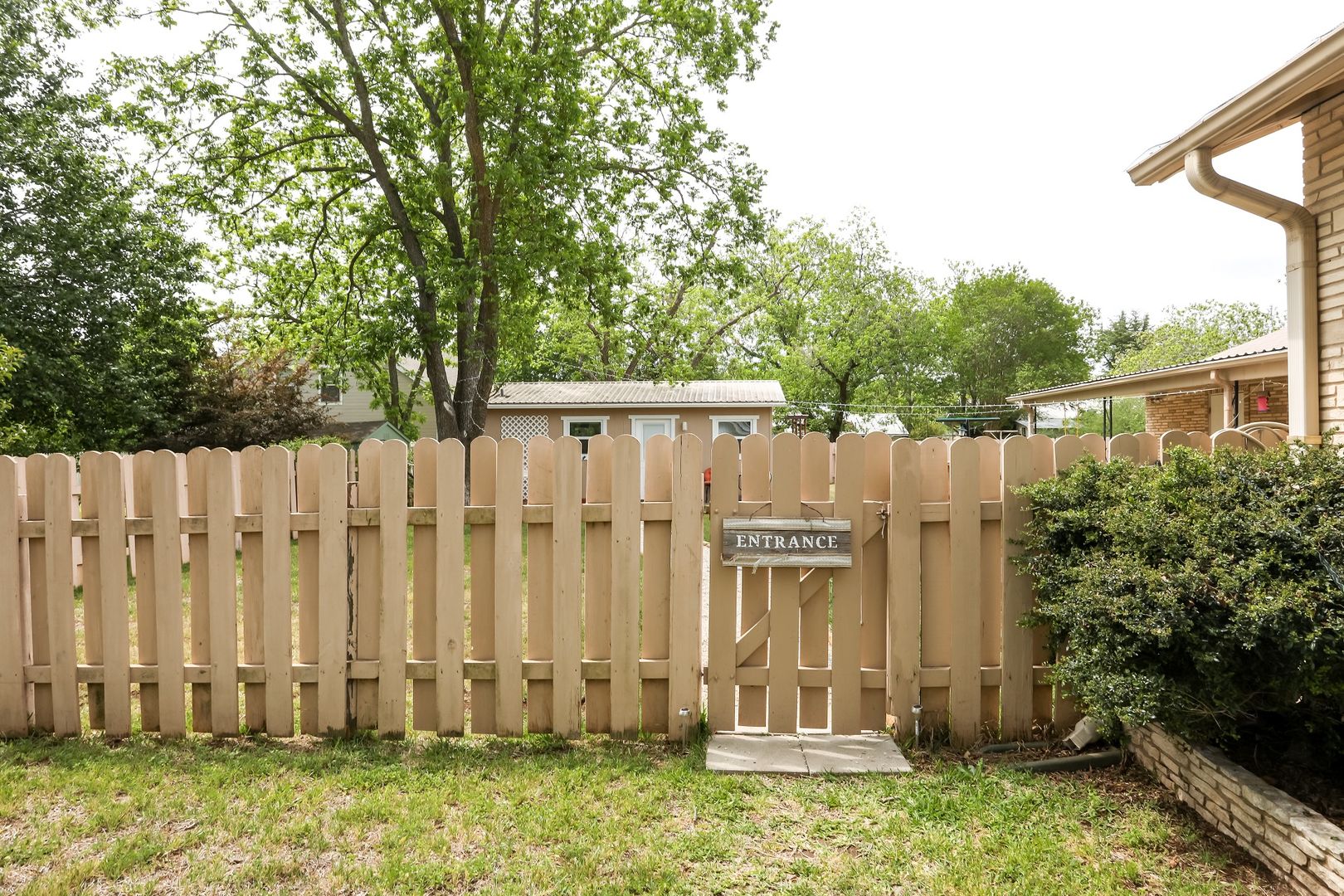 HOSTS – Cottage to Yourselves. Homeowners live on the property
SLEEPS – 2 people in a King bed
BATH – 1 full bath with shower
KITCHEN – Kitchenette
BREAKFAST – No breakfast; coffee and teas provided
AMENITIES – 32" flat screen TV with Netflix and Roku, WiFi, hammock
CHILDREN & INFANTS– YES
SMOKING – NO
WIFI – YES
PETS – YES (Limit 2, small)
$125.00*/1-2 persons/night (Fri-Sat., includes holidays and events)
$99.00*/1-2 persons/night (Sun.-Thurs., excluding holidays and events)
$25.00*/each pet/night
*plus 13% hotel/motel tax
TWO NIGHT MINIMUM ON WEEKENDS
No Daily Housekeeping
FBGTX-17560
| | Daily |
| --- | --- |
| 4/19/21 - 4/22/21 | $99 |
| 4/23/21 - 4/24/21 | $125 |
| 4/25/21 - 4/29/21 | $99 |
| 4/30/21 - 5/1/21 | $125 |
| 5/2/21 - 5/6/21 | $99 |
| 5/7/21 - 5/8/21 | $125 |
| 5/9/21 - 5/13/21 | $99 |
| 5/14/21 - 5/15/21 | $125 |
| 5/16/21 - 5/20/21 | $99 |
| 5/21/21 - 5/22/21 | $125 |
| 5/23/21 - 5/27/21 | $99 |
| 5/28/21 - 5/30/21 | $125 |
| 5/31/21 - 6/3/21 | $99 |
| 6/4/21 - 6/5/21 | $125 |
| 6/6/21 - 6/10/21 | $99 |
| 6/11/21 - 6/12/21 | $125 |
| 6/13/21 - 6/17/21 | $99 |
| 6/18/21 - 6/19/21 | $125 |
| 6/20/21 - 6/24/21 | $99 |
| 6/25/21 - 6/26/21 | $125 |
| 6/27/21 - 7/1/21 | $99 |
| 7/2/21 - 7/4/21 | $125 |
| 7/5/21 - 7/8/21 | $99 |
| 7/9/21 - 7/10/21 | $125 |
| 7/11/21 - 7/15/21 | $99 |
| 7/16/21 - 7/17/21 | $125 |
| 7/18/21 - 7/22/21 | $99 |
| 7/23/21 - 7/24/21 | $125 |
| 7/25/21 - 7/29/21 | $99 |
| 7/30/21 - 7/31/21 | $125 |
| 8/1/21 - 8/5/21 | $99 |
| 8/6/21 - 8/7/21 | $125 |
| 8/8/21 - 8/12/21 | $99 |
| 8/13/21 - 8/14/21 | $125 |
| 8/15/21 - 8/19/21 | $99 |
| 8/20/21 - 8/21/21 | $125 |
| 8/22/21 - 8/26/21 | $99 |
| 8/27/21 - 8/28/21 | $125 |
| 8/29/21 - 9/2/21 | $99 |
| 9/3/21 - 9/5/21 | $125 |
| 9/6/21 - 9/9/21 | $99 |
| 9/10/21 - 9/11/21 | $125 |
| 9/12/21 - 9/16/21 | $99 |
| 9/17/21 - 9/18/21 | $125 |
| 9/19/21 - 9/23/21 | $99 |
| 9/24/21 - 9/25/21 | $125 |
| 9/26/21 - 9/30/21 | $99 |
| 10/1/21 - 10/2/21 | $125 |
| 10/3/21 - 10/7/21 | $99 |
| 10/8/21 - 10/10/21 | $125 |
| 10/11/21 - 10/14/21 | $99 |
| 10/15/21 - 10/16/21 | $125 |
| 10/17/21 - 10/21/21 | $99 |
| 10/22/21 - 10/23/21 | $125 |
| 10/24/21 - 10/28/21 | $99 |
| 10/29/21 - 10/30/21 | $125 |
| 10/31/21 - 11/4/21 | $99 |
| 11/5/21 - 11/6/21 | $125 |
| 11/7/21 - 11/11/21 | $99 |
| 11/12/21 - 11/13/21 | $125 |
| 11/14/21 - 11/18/21 | $99 |
| 11/19/21 - 11/20/21 | $125 |
| 11/21/21 - 11/23/21 | $125 |
| 11/24/21 - 11/27/21 | $125 |
| 11/28/21 - 12/2/21 | $99 |
| 12/3/21 - 12/4/21 | $125 |
| 12/5/21 - 12/9/21 | $99 |
| 12/10/21 - 12/11/21 | $125 |
| 12/12/21 - 12/16/21 | $99 |
| 12/17/21 - 12/18/21 | $125 |
| 12/19/21 - 12/23/21 | $99 |
| 12/24/21 - 12/25/21 | $125 |
| 12/26/21 - 12/30/21 | $125 |
| 12/31/21 - 1/1/22 | $125 |
| 1/2/22 - 1/6/22 | $99 |
| 1/7/22 - 1/8/22 | $125 |
| 1/9/22 - 1/13/22 | $99 |
| 1/14/22 - 1/16/22 | $125 |
| 1/17/22 - 1/20/22 | $99 |
| 1/21/22 - 1/22/22 | $125 |
| 1/23/22 - 1/27/22 | $99 |
| 1/28/22 - 1/29/22 | $125 |
| 1/30/22 - 2/3/22 | $99 |
| 2/4/22 - 2/5/22 | $125 |
| 2/6/22 - 2/10/22 | $99 |
| 2/11/22 - 2/12/22 | $125 |
| 2/13/22 - 2/17/22 | $99 |
| 2/18/22 - 2/20/22 | $125 |
| 2/21/22 - 2/24/22 | $99 |
| 2/25/22 - 2/26/22 | $125 |
| 2/27/22 - 3/3/22 | $99 |
| 3/4/22 - 3/5/22 | $125 |
| 3/6/22 - 3/10/22 | $99 |
| 3/11/22 - 3/12/22 | $125 |
| 3/13/22 - 3/17/22 | $125 |
| 3/18/22 - 3/19/22 | $125 |
| 3/20/22 - 3/24/22 | $99 |
| 3/25/22 - 3/26/22 | $125 |
| 3/27/22 - 3/31/22 | $99 |
| 4/1/22 - 4/2/22 | $125 |
| 4/3/22 - 4/7/22 | $99 |
| 4/8/22 - 4/9/22 | $125 |
| 4/10/22 - 4/14/22 | $99 |
| 4/15/22 - 4/17/22 | $125 |
| 4/18/22 - 4/19/22 | $99 |
Thank you for entering your review. The review will become available to the system shortly.
1
1
Overall Rating:
5
5
Rating:
1
5
5
Visited Fredericksburg with my husband and daughter for a weekend getaway. The Bell Haus was the perfect size for us and was charming and cozy. It came with a kitchenette and refrigerator and it was clear that the owners had put a lot of work into updating the room. The bed was very comfortable and although it only had a wall AC unit, it worked perfectly for our needs. There are dogs on the property but they were friendly and the owner made sure they didn't bother us any. Would definitely recommend to any couple looking for a quiet getaway. We'd stay here again on our next visit!
Your request has been sent. We look forward to meeting all your vacation needs!
| | |
| --- | --- |
| Sleeps | 2 |
| Bedrooms | 1 |
| Bathrooms | 1 |
Gästehaus Schmidt
231 West Main Street
Fredericksburg, Texas 78624
Monday – Friday 9am to 6pm
Saturday 10am to 5pm
Sunday 10am to 4pm
Lodging & Vacation Rentals In Fredericksburg, TX
Gästehaus Schmidt offers reservation services for Texas Hill Country lodging, bed and breakfasts, and country inns. Choose from a variety of lodging options in several local towns, including Fredericksburg, Comfort, Kerrville, and Hunt, TX. All of our properties are researched and handpicked to bring you only the best accommodations
in the area.