clear-springs-log-cabin
Clear Springs Log Cabin
https://www.fbglodging.com/fredericksburg-rentals/properties/clear-springs-log-cabin/
Clear Springs Log Cabin | Fredericksburg Vacation Rental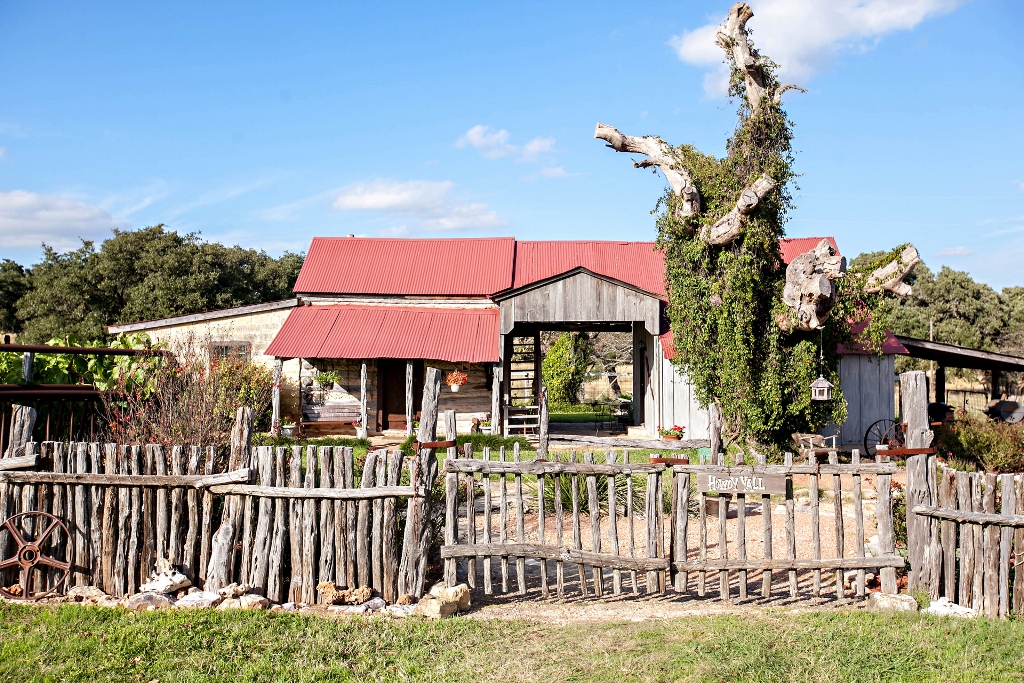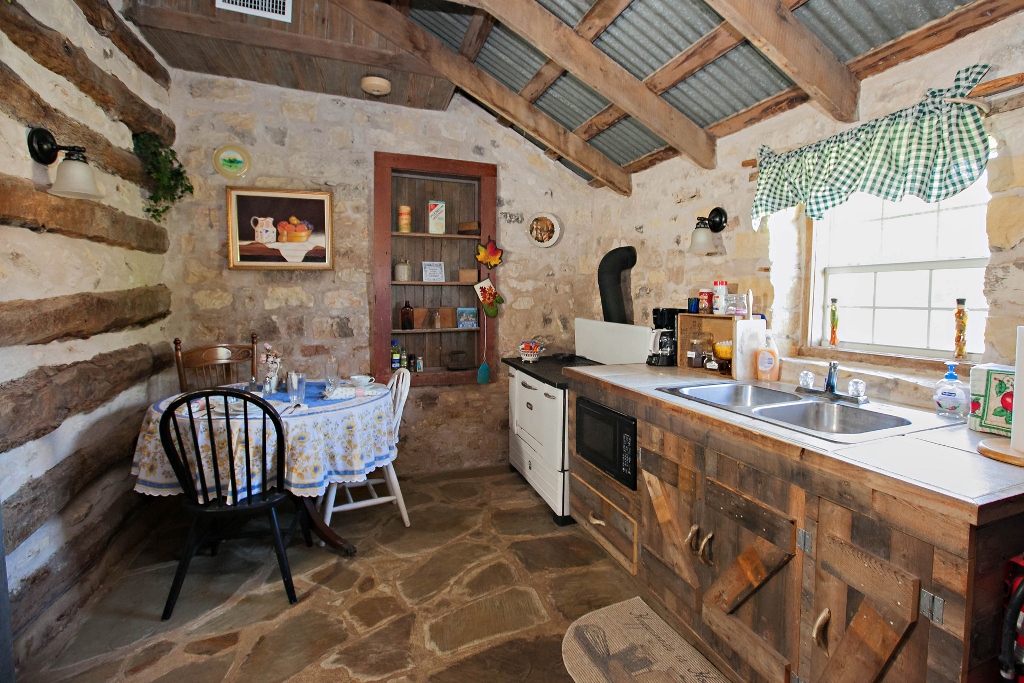 Upstairs loft bedroom
Upstairs loft bedroom
LOCATION - 8 miles from Main Street HOSTS - Guest house to yourselves; Hosts live on the property
SLEEPS - 4 Adults, 2 Children- King bed in Main Cabin; Queen bed in second bedroom; Upstairs area has two twin beds. Guests do have an option to rent the queen bed with shower instead of the Main Cabin, but need to make this request at the time of the reservation. If choosing the second bedroom, the kitchen will not be available in the Main Cabin. If you want to stay in the Main Cabin but also use the shower in the second bedroom, there is an additional $30 per night charge.
KITCHEN - Fully equipped kitchen in main cabin; coffeebar in second bedroom addition
BATH - Large whirlpool tub for two; large tiled shower in second bedroom addition
BREAKFAST - Full hot breakfast delivered each morning at 8:30 a.m. to the main cabin for all guests (Hosts are willing to comply to special requests.)
PETS - YES
CHILDREN - YES
SMOKING - OUTSIDE
AMENITIES - CH/A, TV (satellite), VCR, CD, & DVD player, ceiling fan, small electric fireplace, front porch, picnic area, glider rocker, charcoal grill, fenced yard, fishing (bring your own equipment)- pond could be dry in drought conditions
$165.00*/1-2 persons/night (Main Cabin with King bed and whirlpool tub) (Second bedroom will be locked)
$245.00*/3-4 persons/night (Main Cabin and Second bedroom with Queen bed and shower)
$20.00*/extra person/night
$20.00*/per pet/night
*plus 13% tax
$30*/night for two people to use the shower in the second bedroom
TWO NIGHT MINIMUM ON EVENT WEEKENDS
No Daily Housekeeping
The love of history, romance, quiet and adventure is elevated while staying at this cabin. The log room of the cabin was built in 1846, the year the State of Texas issued a title to this ranch's first owner (a copy on display). A sample of the original interior finish (mud and straw) is also displayed. A stone kitchen and bedroom were added at later dates along with the modern bathroom. The log cabin was home to frontiersmen, but for 60 or more years it was used as a barn. Your host and family worked for three years to make this house the special place it is today.
The native stone front rock porch leads into the log cabin. The living room is furnished with an antique couch and chair placed to enjoy TV//DVD. The bedroom is furnished with a king bed. An antique armoire is provided for hanging clothes and stores extra bedding. Adjacent to the bedroom is the bathroom where you can enjoy a luxurious bath in a 7' whirlpool tub.
The kitchen has an antique wood burning stove which has been converted to two burner electric cooktop. A refrigerator, electric oven, microwave, toaster, coffeemaker and slow cooker are also provided. Dishes are in the old pie safe. Outside stairs (very steep) lead to a small loft style bedroom with two twin beds (great for children). Your hosts cook and deliver a hot breakfast each day.
The second bedroom is found across the dogtrot breezeway, and although rented as part of the cabin it is very private for the second couple in your group. Inside is a queen bed faced to enjoy the flat screen TV over the door. There is a small coffeebar with a coffeemaker and microwave. A table for two is at the foot of the bed to enjoy morning coffee. The bath has a large tiled shower and notice the antique cabinet with the sink sunk into it. There are lots of special touches in this bedroom/bath, but my favorite is all of the Mason jars that have been converted into light fixtures.
Outside is a special treat! Flowers to attract butterflies and hummingbirds are grown as seasons permit. The spacious backyard has a picnic table, grill, glider rocker and a lovely view of ranchland. Deer are often seen. A pond for fish (bass) is nearby. This is a working ranch, but you are welcome to walk trails or jog down the mile long granite gravel road. Hunting season begins the first weekend in November and continues through early January. This is a time to be very careful, so check with your host before hiking during the hunting season.
*The loft bedroom requires guests to climb a fairly steep set of steps to reach it. It is also the only bedroom that does not include an attached bathroom.*
| | Daily |
| --- | --- |
| 10/24/20 - 10/24/20 | $245 |
| 10/25/20 - 11/24/20 | $245 |
| 11/25/20 - 11/28/20 | $245 |
| 11/29/20 - 12/3/20 | $245 |
| 12/4/20 - 12/5/20 | $245 |
| 12/6/20 - 12/24/20 | $245 |
| 12/25/20 - 12/26/20 | $245 |
| 12/27/20 - 12/30/20 | $245 |
| 12/31/20 - 1/1/21 | $245 |
| 1/2/21 - 1/14/21 | $245 |
| 1/15/21 - 1/17/21 | $245 |
| 1/18/21 - 2/11/21 | $245 |
| 2/12/21 - 2/15/21 | $245 |
| 2/16/21 - 3/10/21 | $245 |
| 3/11/21 - 3/13/21 | $245 |
| 3/14/21 - 3/18/21 | $245 |
| 3/19/21 - 3/20/21 | $245 |
| 3/21/21 - 3/25/21 | $245 |
| 3/26/21 - 3/27/21 | $245 |
| 3/28/21 - 4/1/21 | $245 |
| 4/2/21 - 4/4/21 | $245 |
| 4/5/21 - 5/6/21 | $245 |
| 5/7/21 - 5/8/21 | $245 |
| 5/9/21 - 5/27/21 | $245 |
| 5/28/21 - 5/30/21 | $245 |
| 5/31/21 - 7/1/21 | $245 |
| 7/2/21 - 7/4/21 | $245 |
| 7/5/21 - 9/2/21 | $245 |
| 9/3/21 - 9/5/21 | $245 |
| 9/6/21 - 9/30/21 | $245 |
| 10/1/21 - 10/2/21 | $245 |
| 10/3/21 - 10/7/21 | $245 |
| 10/8/21 - 10/10/21 | $245 |
| 10/11/21 - 10/14/21 | $245 |
| 10/15/21 - 10/16/21 | $245 |
| 10/17/21 - 10/21/21 | $245 |
| 10/22/21 - 10/24/21 | $245 |
Fredericksburg Country Homes
Thank you for entering your review. The review will become available to the system shortly.
15
15
Overall Rating:
4.9333
4.9333
Clear Springs Log Cabin
Rating:
1
5
5
This is our second time to stay at the cabin. Hopefully we will have more visits to this beautiful cabin, which is on a ranch with real cows, goats, chickens, a donkey and a cat whose name I don't know. Our hosts were perfect. They did us a great favor by making the cabin available to tourists like us who don't know much about this interesting way of life and it's history.
Quaint and cozy
Rating:
1
5
5
We had a wonderful stay at Clear Springs. Bernice and Vernon we're very kind and hospitable. The cabin is full of really nice historical touches and you instantly feel like you're part of the family. Breakfast was delicious each day. We'll definitely be going back!
Peacefully Perfect
Rating:
1
5
5
Pictures don't do it justice. Owners were fabulous and very accomodating. Perfect location. Will come back with my girlfriends.
clear springs log cabin : a time travel experience
Rating:
1
5
5
Indigo skies laced with stars, deep shadowed silence covers the rolling hill country, an authentic log cabin filled with historic oddities - this working Texas Ranch has it all. Deers in the distance, goats and a donkey at the fence. If you don't write or paint you will want to. Breakfast is plentiful and pretty dang good. Yep we would recommend it to friends, even family and would ago back ourselves.
Awesome
Rating:
1
5
5
This was the very best ever .. it was so special for all of us . It brought back so many memories for us. We will be back . Thank y'all for helping me pull this off.
We loved it!
Rating:
1
5
5
We were in Fredericksburg for a wedding so we were not at the property all that much...but, I would have loved to stay longer and enjoy the relaxing setting. Breakfast was fabulous and the house is so unique and cozy.
Perfect respite from city & stressors in life
Rating:
1
5
5
Two sisters needing time away from eldercare found this to be the perfect place to re-energize. Not only are Bernice and Vernon truly endearing, but concerned for complete happiness of their visitors. Special treat for us was the herd of friendly goats, plus their donkey protector. Bernice taught us how to call them so we could lead outside their night pen to the open spaces of the ranch. A delicious german pancake breakfast was hand delivered by Vernon. Add to all the above are the super comfy beds & lovely bathrooms perfect for couples, families & sisters! We will definitely return!
Rating:
1
4
5
we enjoyed everything
Rating:
1
5
5
The best hide away cabin in the south and the owners are so sweet and make you feel welcome. A perfect 10 out of 10 on everything, we will be back.
It's an amazing place and beautiful piece of property! House was very cozy and rustic
Rating:
1
5
5
It's an amazing place and beautiful piece of property! House was very cozy and rustic. We will definitely be back.
Girls Trip
Rating:
1
5
5
Every year our girls group gathers to relax, visit, and enjoy each other's company. Vernon and Bernice greeted us when we arrived and were very friendly. We loved learning about the history of the place! We even encountered Mini, the goat, before going to bed one evening! Breakfast was delicious! We ended our stay with a group photo with Vernon and Bernice in front of the pond.
Rating:
1
5
5
We always love our stay at Clear Springs Log Cabin. Vernon and Bernice have become dear to our hearts - great hosts!!!
Clear Springs Cabin is a Winner !
Rating:
1
5
5
The cabin is fantastic, and we loved the history to it and the beautiful surroundings. The breakfast was great and Bernice was so sweet, .... I would recommend this property to anyone !
Warm and Inviting - The Cabin and the Hosts
Rating:
1
5
5
Not only was the cabin very warm and Inviting, the hosts have gone to great lengths to keep the fascinating history alive. We appreciated all the detailed history labels on the old walls, old pictures, etc. The beautiful little garden surrounding the cabin is undoubtedly a project of love for the hosts, as it must be time-consuming to keep up. It's serene and refreshing. And the hand delivered hot breakfast by Bernice was one of the best breakfasts we've ever had. We hope to be back soon.
Amazing. Everything we hoped.
Rating:
1
5
5
The home is amazing and perfect in every way. The family made us feel welcome from start to finish. The view back in time and into history was a wonderful experience. Laying on your back at night and looking up into the star filled sky kept us in wondert. We even caught some fish in the pond. Thank you!!!
Your request has been sent. We look forward to meeting all your vacation needs!
10% Military Discount (must present ID at check-in)
| | |
| --- | --- |
| Sleeps | 6 |
| Bedrooms | 3 |
| Bathrooms | 2 |
Gästehaus Schmidt
231 West Main Street
Fredericksburg, Texas 78624
Monday – Friday 9am to 6pm
Saturday 10am to 5pm
Sunday 10am to 4pm
Lodging & Vacation Rentals In Fredericksburg, TX
Gästehaus Schmidt offers reservation services for Texas Hill Country lodging, bed and breakfasts, and country inns. Choose from a variety of lodging options in several local towns, including Fredericksburg, Comfort, Kerrville, and Hunt, TX. All of our properties are researched and handpicked to bring you only the best accommodations
in the area.