country-quiet
Country Quiet
https://www.fbglodging.com/fredericksburg-rentals/properties/country-quiet/
Country Quiet | Fredericksburg Vacation Rental
Charming and welcoming exterior
2 comfortable rocking chairs for enjoying the outdoors
Master bedroom features a terrific king bed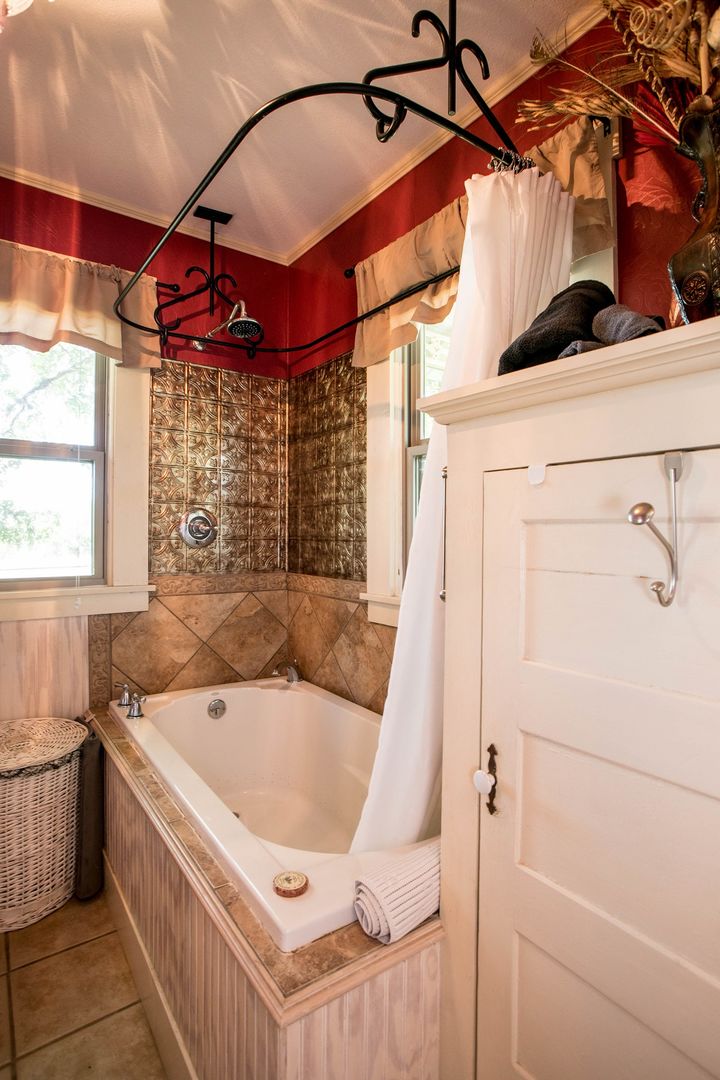 Fantastic tub/shower combo
2nd bedroom features a queen bed
Expansive full kitchen featuring a microwave, refrigerator, stove/oven, coffeemaker, and toaster
Pleasant dining for 4
Spacious and comfortable living room
Single bed on the screened porch
The screened porch also features relaxing seating
Amazing hot tub is a welcome treat after a fun-filled day
Outside, guests can enjoy a fenced backyard and two walking paths that lead to the Pedernales River
A gas grill and additional outdoor seating is shaded by a 200 year old live oak
Acres of peaceful countryside to explore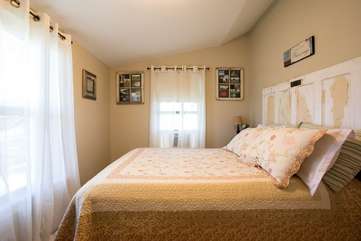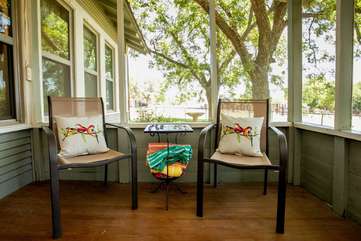 *Upon request, a variety of breakfast items are provided for one night including eggs, homemade sausage, homemade pancake mix, oatmeal, bagels with cream cheese, and homemade angel biscuits. We've unfortunately been forced to begin asking guests to request breakfast items, as some previous guests don't eat them, which forces us to throw them out. These breakfast items are no additional cost and we're happy to provide them to guests that would like them.*
*Dogs are allowed but we ask that you crate them in your absence and do not allow them on the beds or furniture.*
With the Pedernales River flowing behind this 1900s farmhouse, you will find a home filled with family memorabilia and lots of family antiques. This quiet home has a lot to offer. Come relax in the living room and listen to the soft relaxing music that awaits you when you enter. You can watch satellite TV or perhaps a movie, or maybe read all about the history of the home and the family. You may want to also enjoy what Mother Nature has given us on the screened back porch.
The large farmhouse kitchen has everything one might need when away from home. Coffee, teas, popcorn, snacks, dry cereal are just a few of the items provided. A variety of breakfast items can also be provided at no additional cost.
Please just request them when booking. Walk into the romantic, warm colors of the master bedroom. Designed with romance in mind, a luxurious king bed and many antiques await you. The second bedroom has a queen bed and has been designed with military memorabilia from the host's great aunt's son. The room is filled with things from his war days. In the bathroom, you may want to relax in the bubble tub that massage your worries away. The warm romantic colors and décor will make you fall in love with this relaxing home. It has a hairdryer, curling iron, bubble bath and much more are provided for you and your stay.
The house has a nice fenced yard with pecan trees and a special area with a hot tub for you to relax in. At night you can sit back in the swirling water watching the stars or falling in love with your partner all over again. There are trails for you to take a walk to the river. You might want to bring your fishing gear and a picnic lunch. You can enjoy grilling under the huge live oak tree that is about 200 years old. The tree is about fifteen and a half feet around at the smallest part of the trunk. The host's great-grandparents used to churn butter and wash clothes under this tree. Great-grandmother's wash pot and chair is still under the tree for you to view. You may want to sit on the swing under the tree and enjoy nature.
Country Quiet is just one mile from Lady Bird Park, the golf course, the fairgrounds and the airport.
The land, the home, and the memorabilia are the host's tie to the past.
They would like you to enjoy it during your stay.
There is a Ring video door bell on the front porch.
LOCATION - 3.7 miles south of Main Street
HOSTS - Guest house to yourselves - hosts live in a separate home on the property
SLEEPS - 5 Persons - King-size bed in master bedroom, Queen-size bed in second bedroom, day bed on screened porch
KITCHEN - Fully-equipped kitchen- - microwave, refrigerator, stove/oven, coffeemaker and toaster
BATH - Bubble tub and shower
BREAKFAST - Breakfast items are provided upon request. Items that can be left include eggs, homemade sausage, homemade pancake mix, oatmeal, bagels with cream cheese, and homemade angel biscuits
AMENITIES - Central heat/air, 32" TV (satellite), VCR/DVD, CD Player, WIRELESS INTERNET, Ceiling fans, front porch, hot tub, enclosed back porch with sitting area, fenced yard, hiking trails, Pedernales River access, fishing (bring your own equipment), barbecue pit, picnic area, swing under very old oak tree. (If you have an anniversary, birthday or something special, let your hosts know).
PETS - YES (Must be crated in owner's absence)
Pet Policy
CHILDREN - YES
SMOKING - NO
WIFI - YES
$175.00*/1 or 2 persons/night
$35.00*/extra person/night
$25.00*/pet/night
13% tax
TWO NIGHT MINIMUM ON WEEKENDS

| | Daily |
| --- | --- |
| 12/1/20 - 12/3/20 | $175 |
| 12/4/20 - 12/5/20 | $175 |
| 12/6/20 - 12/24/20 | $175 |
| 12/25/20 - 12/26/20 | $175 |
| 12/27/20 - 12/30/20 | $175 |
| 12/31/20 - 1/1/21 | $175 |
| 1/2/21 - 1/14/21 | $175 |
| 1/15/21 - 1/17/21 | $175 |
| 1/18/21 - 2/11/21 | $175 |
| 2/12/21 - 2/15/21 | $175 |
| 2/16/21 - 3/10/21 | $175 |
| 3/11/21 - 3/13/21 | $175 |
| 3/14/21 - 3/18/21 | $175 |
| 3/19/21 - 3/20/21 | $175 |
| 3/21/21 - 3/25/21 | $175 |
| 3/26/21 - 3/27/21 | $175 |
| 3/28/21 - 4/1/21 | $175 |
| 4/2/21 - 4/4/21 | $175 |
| 4/5/21 - 5/6/21 | $175 |
| 5/7/21 - 5/8/21 | $175 |
| 5/9/21 - 5/27/21 | $175 |
| 5/28/21 - 5/30/21 | $175 |
| 5/31/21 - 7/1/21 | $175 |
| 7/2/21 - 7/4/21 | $175 |
| 7/5/21 - 9/2/21 | $175 |
| 9/3/21 - 9/5/21 | $175 |
| 9/6/21 - 9/30/21 | $175 |
| 10/1/21 - 10/2/21 | $175 |
| 10/3/21 - 10/7/21 | $175 |
| 10/8/21 - 10/10/21 | $175 |
| 10/11/21 - 10/14/21 | $175 |
| 10/15/21 - 10/16/21 | $175 |
| 10/17/21 - 10/21/21 | $175 |
| 10/22/21 - 10/23/21 | $175 |
| 10/24/21 - 11/23/21 | $175 |
| 11/24/21 - 11/27/21 | $175 |
| 11/28/21 - 12/1/21 | $175 |
Fredericksburg Country Homes
Thank you for entering your review. The review will become available to the system shortly.
19
19
Overall Rating:
5
5
Best Stay ... Ever
Rating:
1
5
5
Our 52nd anniversary trip. We had no agenda, no itinerary, nothing HAD to be done at a certain time, nowhere we HAD to go … just put the brain in neutral & coast. Watching the wildlife was great -- if you go, put out some deer corn to bring these majestic creatures up close to the house! Cattle, goats, chickens, a turkey, plus an armadillo, some squirrels, and lots of birds (get some bird seed for the feeder in the back yard, too) … so relaxing to observe. Then at night, listen to the crickets chirping. Peaceful. Restful. If that\'s not enough, soak in the hot tub for a while. Love, love, LOVE this place. Counting the days until our next visit.
5
Rating:
1
5
5
Another wonderful stay. We thoroughly enjoy it every time. The place is always in perfect condition and the yummy eats are always a treat. Love the farm critters that keep us company too and especially our buddy the turkey. Thanks!
Loved our Stay
Rating:
1
5
5
We have stayed at Country Quiet several times over the past 12 years. Nelson and Sharon are wonderful hosts and their working ranch is beautiful. The home is nice and quiet, and secluded. Only a few minutes from Fredericksburg, the drive is nice and easy. Coffee in the porch watching the chickens, ducks, cows, turkey and deer was extremely relaxing. An added bonus is that the home is very pet friendly. We love it and will obviously be back again.
Wunnaful, ah Wunnaful
Rating:
1
5
5
Anyone remember the band leader, Lawrence Welk? He would have described this property as stated in the title. The hosts were so afraid that we\'d arrive before they had the house ready, but we took our time getting there, & no problems AT ALL. The home was perfect throughout. After purchasing a Sugar Britches peach cobbler for our last visit, we requested a repeat performance & were not disappointed. Superb! We HIGHLY recommend sampling some bakery items during a visit. Comfortable furnishings, so peaceful, and close to town. Definitely a 5-star guesthouse & hosts. My wife & I will be returning this summer.
BEAUTIFUL
Rating:
1
5
5
The home was very quaint and clean and simply beautiful we enjoyed our stay tremendously.
Another (almost) perfect trip
Rating:
1
5
5
As is normal, the overall visit was wonderful. The sole minor problem involved creepy-crawlers. When mentioned to the host, we found that insect spray had been applied just prior to our arrival, so the offending creatures may have simply sought refuge indoors. Otherwise, our stay was terrific. We had a cookout on the new gas grill -- burgers turned out great. We put out corn to attract deer and saw many, including a majestic 6-point buck, several does, and a few fawns. We filled the bird feeder & had quite a few birds come for a free meal, & they provided a song of thanks. We enjoyed the comfortable new chairs on the front porch. The hot tub was another notable plus. For my wife's birthday, the Sugar Britches bakery made her a peach cobbler which was absolutely DIVINE. We most definitely recommend complementing a visit with some of their products -- ANY menu selection will be a culinary delight. Also, we have already booked our next visit, our 3rd this year.
Ahh, The Country Life
Rating:
1
5
5
This was my 10th stay at Country Quiet and each stay has been better than the one before it!! Everything about it is great; a true get away from it all. I love this place. It's like going home to Granny's!! Many thanks to Sharon and Nelson for being such wonderful hosts. Beckye S
In a word, flawless
Rating:
1
5
5
This wonderful cottage rests in a peaceful environment, surrounded by wildlife. Cows to deer, trees to flowers. In the country but close to town. Lots of antiques, but has the requisute comforts & conveniences. Can't miss.
Fabulous country home only a few miles from Main Street.
Rating:
1
5
5
Wonderful property and delicious breakfast! Peaceful and beautiful and only a few miles from town.
Just absolutely perfect !!!
Rating:
1
5
5
From the beautiful sunsets, the hot tub , the short drive to Luckenbach to see Gary P. Nunn and visiting all the stores in downtown , me and my girlfriend just loved the place. Lastly we will never forget our picnic down by the river. Such beauty everywhere. Thank you for sharing your place with us, we will definitely be back!
Just 5 Stars? How \'bout 6+?
Rating:
1
5
5
Lots of new stuff since our last visit ... all for the better. Some paint, some furniture, some windows, some arrangements. You MUST stay here or you will miss out on the best place around. The attention to details by the hosts is unfathomable. Daily breakfasts are beyond delicious. We\'ve already reserved Country Quiet for our next visit & are making plans for another trip after that. It has become our second home!
Great stay!!
Rating:
1
5
5
We enjoyed our stay at the guest house, beautiful property and very cozy! The host made sure everything was perfect and the breakfast was great everyday! We will stay there again!!
Rating:
1
5
5
We have stayed here many times and are always pleased. It is well maintained and Sharon and Nelson are friendly and helpful. We will be back! Thanks
Rating:
1
5
5
This Quiet guesthouse is the best bnb I've stayed at in Fredericksburg! We enjoyed the beautiful property with plenty of wildlife and access to the Pedernales River. The home is only five minutes from town while remaining very secluded. We were happy to discover it is in driving services range, which we used to go to the 290 wineries close by. Thank you for a fantastic stay!
Rating:
1
5
5
We enjoyed our stay at the Country Quiet Guesthouse so much! The house itself is so cute, with a nice fenced yard that offers both privacy while relaxing in the hot tub and a great view of the scenery outside while sitting on the back porch. The house is beautiful, inside and out. We enjoyed exploring all of the family history inside, as well as exploring nature outside. As soon as we unpacked, we went to check out the river trails - we took the short one first, which has a nice view at the end, but if you want to get down to the water, take the longer trail. On our way, we saw multiple deer, birds, and a baby armadillo. The kitchen is fully stocked with everything you need to cook (pots, pans, dishes and basic spices), if you want to do that, and the breakfast and fresh eggs that were provided were delicious. In the evening, we enjoyed playing board games on the porch and relaxing in the hot tub. The house is just a quick drive into town, but far enough out to have a peaceful vacation. We all enjoyed our stay (Even my 15-year-old said "Mom, this is way cooler than I thought it would be. Let's come back!") and are already planning our next visit(s).
Rating:
1
5
5
The breakfast was delicious! The house is as described with a lot of memorabilia. It is so peaceful at night. We sat outside for a while and it was nice to be away from all of the noise. If you like staying in older, historic homes this place is for you!
Rating:
1
5
5
The guest house was cute and the property was beautiful and relaxing! The host provided delicious breakfasts, but also gave us our privacy. We truly enjoyed our experience here.
Rating:
1
5
5
We loved this place! It was just exactly what we wanted and needed for our family. It is rustic in the best of ways, yet has enough modern touches to be comfortable. The house has a fenced yard all the way around it so you can let the kids and/or the dogs run around knowing the can't wander off too far. You also have access to the river by walking down one of the trails. Sharon was so nice and made a delicious breakfast for us to bake and eat each day. Can't wait to go back again soon.
Rating:
1
5
5
This was a great property! We enjoyed the trails to the river and the quiet, country atmosphere. Would definitely stay here again!
Your request has been sent. We look forward to meeting all your vacation needs!
| | |
| --- | --- |
| Sleeps | 5 |
| Bedrooms | 2 |
| Bathrooms | 1 |
Gästehaus Schmidt
231 West Main Street
Fredericksburg, Texas 78624
Monday – Friday 9am to 6pm
Saturday 10am to 5pm
Sunday 10am to 4pm
Lodging & Vacation Rentals In Fredericksburg, TX
Gästehaus Schmidt offers reservation services for Texas Hill Country lodging, bed and breakfasts, and country inns. Choose from a variety of lodging options in several local towns, including Fredericksburg, Comfort, Kerrville, and Hunt, TX. All of our properties are researched and handpicked to bring you only the best accommodations
in the area.