firefly-guesthouse
Firefly Guesthouse
https://www.fbglodging.com/fredericksburg-rentals/properties/firefly-guesthouse/
Firefly Guesthouse | Fredericksburg Vacation Rental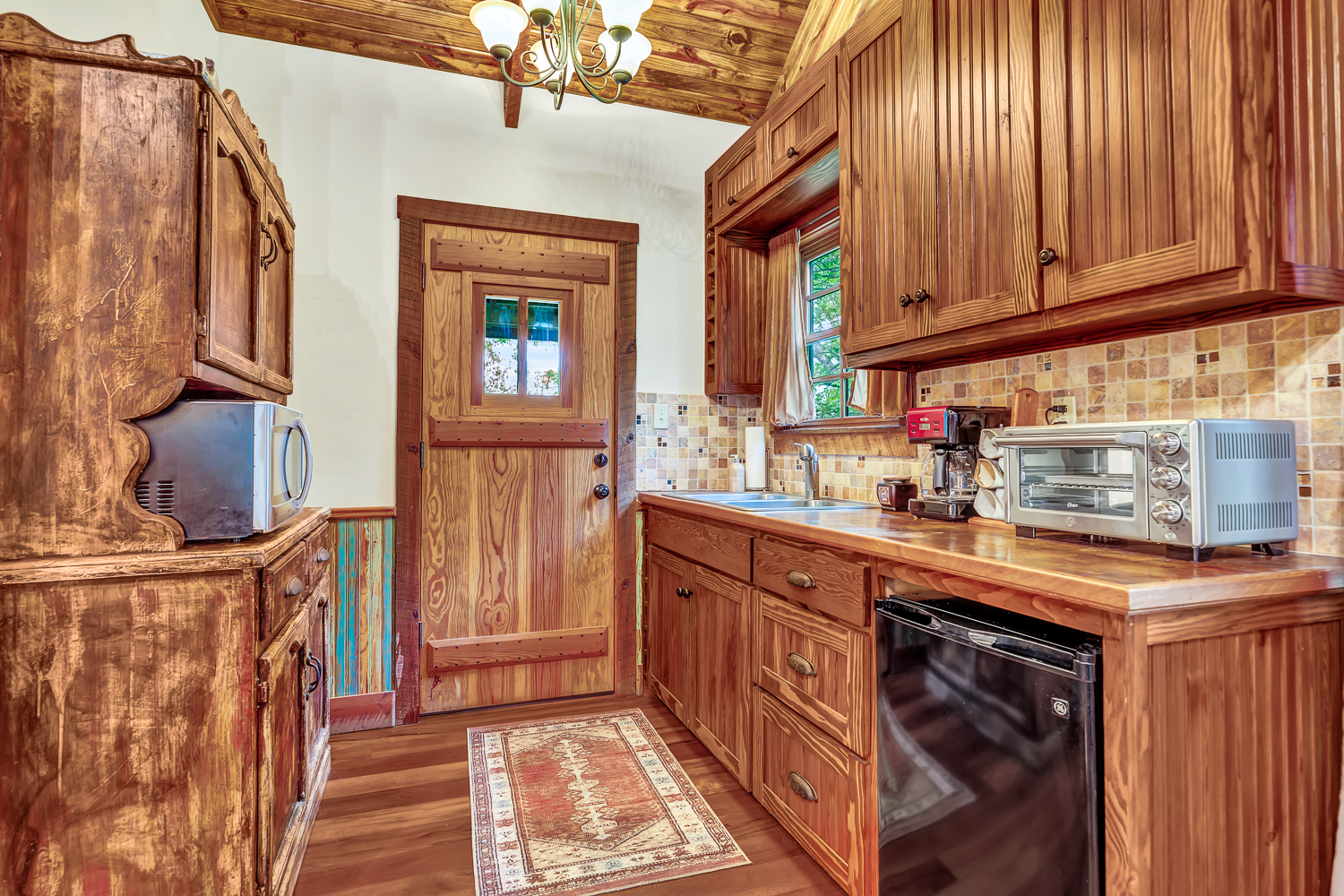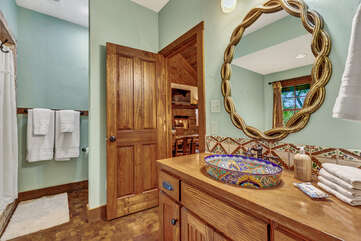 HOSTS - Private guesthouse to yourselves
SLEEPS - 2 people in a King bedroom
BATH - 1 bath with a walk-in shower for two & a deep double Jacuzzi tub
KITCHEN - Nicely-equipped kitchenette with a smaller refrigerator, microwave, coffeemaker, and toaster
AMENITIES - Gas fireplace, large flat screen Cable TV, WiFi, front porch with seating, back porch with seating overlooking Barons Creek, walking distance to Main Street shops, restaurants, museums & tasting rooms
CHILDREN - NO
WIFI - YES
SMOKING - OUTSIDE ONLY
PETS - NO
TWO NIGHT MINIMUM ON WEEKENDS & HOLIDAYS
8056000497
| | Daily |
| --- | --- |
| 9/26/21 - 9/30/21 | $159 |
| 10/1/21 - 10/2/21 | $314 |
| 10/3/21 - 10/7/21 | $159 |
| 10/8/21 - 10/8/21 | $328 |
| 10/9/21 - 10/9/21 | $342 |
| 10/10/21 - 10/10/21 | $285 |
| 10/11/21 - 10/13/21 | $159 |
| 10/14/21 - 10/14/21 | $167 |
| 10/15/21 - 10/15/21 | $356 |
| 10/16/21 - 10/16/21 | $371 |
| 10/17/21 - 10/21/21 | $159 |
| 10/22/21 - 10/22/21 | $371 |
| 10/23/21 - 10/23/21 | $356 |
| 10/24/21 - 10/27/21 | $159 |
| 10/28/21 - 10/28/21 | $167 |
| 10/29/21 - 10/29/21 | $328 |
| 10/30/21 - 10/30/21 | $314 |
| 10/31/21 - 11/3/21 | $159 |
| 11/4/21 - 11/4/21 | $175 |
| 11/5/21 - 11/6/21 | $356 |
| 11/7/21 - 11/10/21 | $159 |
| 11/11/21 - 11/11/21 | $167 |
| 11/12/21 - 11/13/21 | $342 |
| 11/14/21 - 11/18/21 | $159 |
| 11/19/21 - 11/20/21 | $342 |
| 11/21/21 - 11/21/21 | $299 |
| 11/22/21 - 11/23/21 | $285 |
| 11/24/21 - 11/24/21 | $285 |
| 11/25/21 - 11/26/21 | $299 |
| 11/27/21 - 11/27/21 | $314 |
| 11/28/21 - 11/28/21 | $167 |
| 11/29/21 - 12/2/21 | $159 |
| 12/3/21 - 12/3/21 | $328 |
| 12/4/21 - 12/4/21 | $314 |
| 12/5/21 - 12/9/21 | $159 |
| 12/10/21 - 12/11/21 | $285 |
| 12/12/21 - 12/14/21 | $159 |
| 12/15/21 - 12/16/21 | $167 |
| 12/17/21 - 12/18/21 | $299 |
| 12/19/21 - 12/23/21 | $159 |
| 12/24/21 - 12/25/21 | $269 |
| 12/26/21 - 12/30/21 | $285 |
| 12/31/21 - 1/1/22 | $285 |
| 1/2/22 - 1/6/22 | $159 |
| 1/7/22 - 1/8/22 | $269 |
| 1/9/22 - 1/13/22 | $159 |
| 1/14/22 - 1/16/22 | $285 |
| 1/17/22 - 1/20/22 | $159 |
| 1/21/22 - 1/22/22 | $269 |
| 1/23/22 - 1/27/22 | $159 |
| 1/28/22 - 1/29/22 | $269 |
| 1/30/22 - 2/3/22 | $159 |
| 2/4/22 - 2/5/22 | $269 |
| 2/6/22 - 2/10/22 | $159 |
| 2/11/22 - 2/12/22 | $269 |
| 2/13/22 - 2/17/22 | $159 |
| 2/18/22 - 2/20/22 | $285 |
| 2/21/22 - 2/24/22 | $159 |
| 2/25/22 - 2/26/22 | $269 |
| 2/27/22 - 3/3/22 | $159 |
| 3/4/22 - 3/5/22 | $285 |
| 3/6/22 - 3/10/22 | $159 |
| 3/11/22 - 3/12/22 | $285 |
| 3/13/22 - 3/17/22 | $285 |
| 3/18/22 - 3/19/22 | $285 |
| 3/20/22 - 3/24/22 | $159 |
| 3/25/22 - 3/26/22 | $285 |
| 3/27/22 - 3/31/22 | $159 |
| 4/1/22 - 4/2/22 | $285 |
| 4/3/22 - 4/7/22 | $159 |
| 4/8/22 - 4/9/22 | $285 |
| 4/10/22 - 4/14/22 | $159 |
| 4/15/22 - 4/17/22 | $285 |
| 4/18/22 - 4/21/22 | $159 |
| 4/22/22 - 4/23/22 | $285 |
| 4/24/22 - 4/28/22 | $159 |
| 4/29/22 - 4/30/22 | $285 |
| 5/1/22 - 5/5/22 | $159 |
| 5/6/22 - 5/7/22 | $285 |
| 5/8/22 - 5/12/22 | $159 |
| 5/13/22 - 5/14/22 | $285 |
| 5/15/22 - 5/19/22 | $159 |
| 5/20/22 - 5/21/22 | $285 |
| 5/22/22 - 5/26/22 | $159 |
| 5/27/22 - 5/29/22 | $285 |
| 5/30/22 - 6/2/22 | $159 |
| 6/3/22 - 6/4/22 | $269 |
| 6/5/22 - 6/9/22 | $159 |
| 6/10/22 - 6/11/22 | $269 |
| 6/12/22 - 6/16/22 | $159 |
| 6/17/22 - 6/18/22 | $269 |
| 6/19/22 - 6/23/22 | $159 |
| 6/24/22 - 6/25/22 | $269 |
| 6/26/22 - 6/30/22 | $159 |
| 7/1/22 - 7/3/22 | $285 |
| 7/4/22 - 7/7/22 | $159 |
| 7/8/22 - 7/9/22 | $269 |
| 7/10/22 - 7/14/22 | $159 |
| 7/15/22 - 7/16/22 | $269 |
| 7/17/22 - 7/21/22 | $159 |
| 7/22/22 - 7/23/22 | $269 |
| 7/24/22 - 7/28/22 | $159 |
| 7/29/22 - 7/30/22 | $269 |
| 7/31/22 - 8/4/22 | $159 |
| 8/5/22 - 8/6/22 | $269 |
| 8/7/22 - 8/11/22 | $159 |
| 8/12/22 - 8/13/22 | $269 |
| 8/14/22 - 8/18/22 | $159 |
| 8/19/22 - 8/20/22 | $269 |
| 8/21/22 - 8/25/22 | $159 |
| 8/26/22 - 8/27/22 | $269 |
| 8/28/22 - 9/1/22 | $159 |
| 9/2/22 - 9/4/22 | $285 |
| 9/5/22 - 9/8/22 | $159 |
| 9/9/22 - 9/10/22 | $269 |
| 9/11/22 - 9/15/22 | $159 |
| 9/16/22 - 9/17/22 | $269 |
| 9/18/22 - 9/22/22 | $159 |
| 9/23/22 - 9/24/22 | $269 |
| 9/25/22 - 9/26/22 | $159 |
Thank you for entering your review. The review will become available to the system shortly.
2
2
Overall Rating:
5
5
Fireflies!
Rating:
1
5
5
My wife and I enjoyed our stay at the firefly. We didn't know what to expect but we were pleasantly surprised how nice the house was and how it had everything we needed. It was clean and well maintained. We loved sitting on the back porch where at dusk there were so many fireflies. It was beautiful. There is a nice (small) creek and as we relaxed in the back porch, a family of deer strolled by. Loved it! Highly recommend.
Perfect Stay
Rating:
1
5
5
It was wonderful. Everything was perfect.
Your request has been sent. We look forward to meeting all your vacation needs!
| | |
| --- | --- |
| Sleeps | 2 |
| Bedrooms | 1 |
| Bathrooms | 1 |
Gästehaus Schmidt
231 West Main Street
Fredericksburg, Texas 78624
Monday – Friday 9am to 6pm
Saturday 10am to 5pm
Sunday 10am to 4pm
Lodging & Vacation Rentals In Fredericksburg, TX
Gästehaus Schmidt offers reservation services for Texas Hill Country lodging, bed and breakfasts, and country inns. Choose from a variety of lodging options in several local towns, including Fredericksburg, Comfort, Kerrville, and Hunt, TX. All of our properties are researched and handpicked to bring you only the best accommodations
in the area.