in-town-villas-suite-2
In Town Villas - Suite 2
https://www.fbglodging.com/fredericksburg-rentals/properties/in-town-villas-suite-2/
In Town Villas - Suite 2 | Fredericksburg Vacation Rental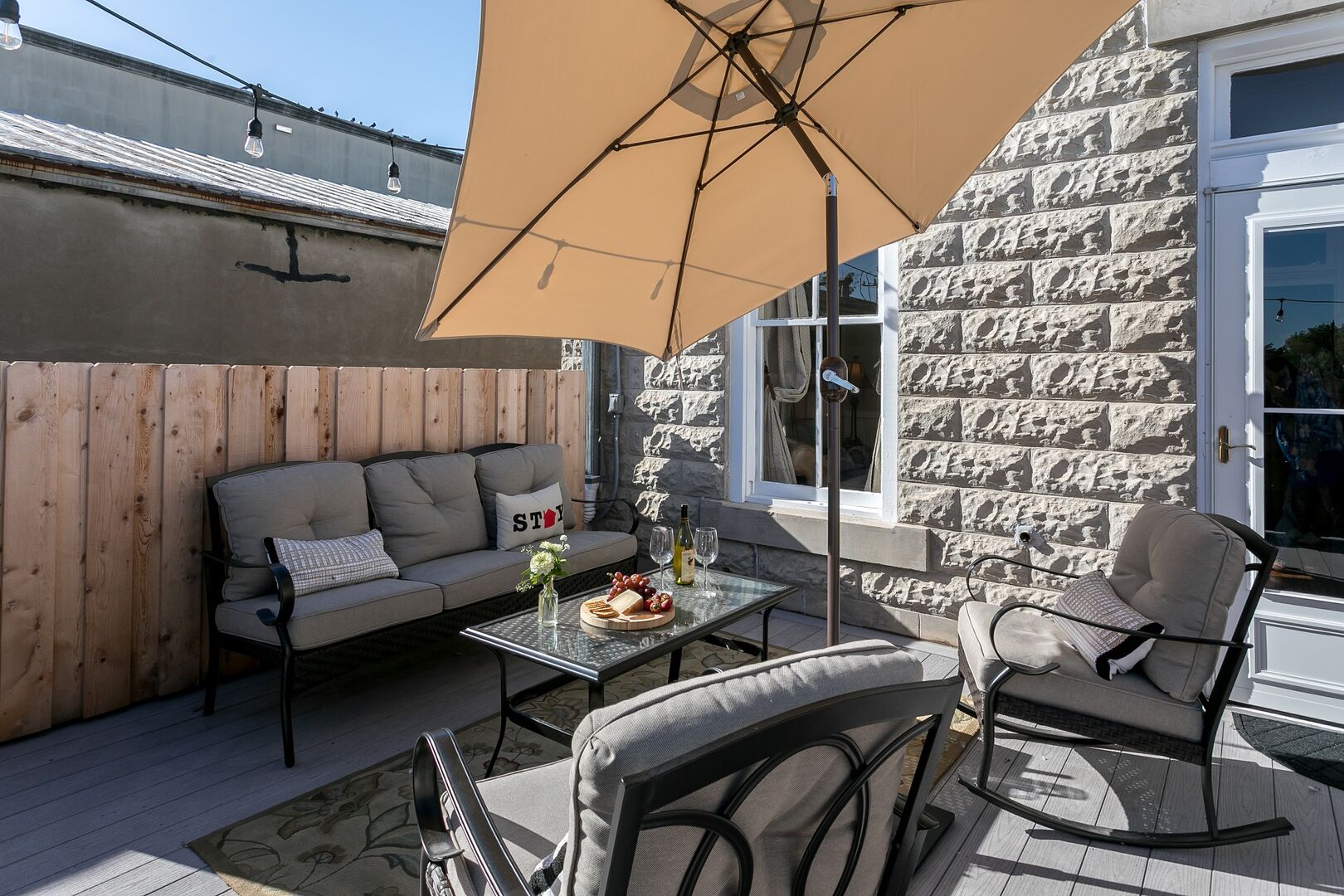 LOCATION - On Main St. in the heart of the Historic District just above the store Parts Unknown
HOST - Each suite is separate and private
SLEEPS - 2 in a King bedroom
BATH - Tub/shower combo
KITCHEN - Kitchenette w/ a Keurig
BREAKFAST - No breakfast; Coffee and teas are left in each suite
AMENITIES - 55" & 66" screen Cable TVs in room with Netflix & Roku, luxurious living room with ample comfortable seating options, WiFi, large deck with Jacuzzi & seating arrangement on Suite 2 (back suite), common/shared onsite gym with elliptical, treadmill, recumbent bike, weight machine and free weights, walking distance to shops, restaurants, art galleries & museums
PETS - NO
INFANTS & CHILDREN - NO
SMOKING - NO
WIFI - YES
TWO NIGHT MINIMUM ON WEEKENDS
No Daily Housekeeping
FBGTX-41039
8056000087
| | Daily |
| --- | --- |
| 10/20/21 - 10/20/21 | $199 |
| 10/21/21 - 10/21/21 | $325 |
| 10/22/21 - 10/23/21 | $325 |
| 10/24/21 - 10/24/21 | $325 |
| 10/25/21 - 10/27/21 | $199 |
| 10/28/21 - 10/28/21 | $325 |
| 10/29/21 - 10/30/21 | $325 |
| 10/31/21 - 10/31/21 | $325 |
| 11/1/21 - 11/3/21 | $199 |
| 11/4/21 - 11/4/21 | $325 |
| 11/5/21 - 11/6/21 | $325 |
| 11/7/21 - 11/7/21 | $325 |
| 11/8/21 - 11/10/21 | $199 |
| 11/11/21 - 11/11/21 | $325 |
| 11/12/21 - 11/13/21 | $325 |
| 11/14/21 - 11/14/21 | $325 |
| 11/15/21 - 11/17/21 | $199 |
| 11/18/21 - 11/18/21 | $325 |
| 11/19/21 - 11/20/21 | $325 |
| 11/21/21 - 11/23/21 | $325 |
| 11/24/21 - 11/27/21 | $325 |
| 11/28/21 - 11/28/21 | $325 |
| 11/29/21 - 12/1/21 | $199 |
| 12/2/21 - 12/2/21 | $325 |
| 12/3/21 - 12/4/21 | $325 |
| 12/5/21 - 12/5/21 | $325 |
| 12/6/21 - 12/8/21 | $199 |
| 12/9/21 - 12/9/21 | $325 |
| 12/10/21 - 12/11/21 | $325 |
| 12/12/21 - 12/12/21 | $325 |
| 12/13/21 - 12/15/21 | $199 |
| 12/16/21 - 12/16/21 | $325 |
| 12/17/21 - 12/18/21 | $325 |
| 12/19/21 - 12/19/21 | $325 |
| 12/20/21 - 12/22/21 | $199 |
| 12/23/21 - 12/25/21 | $325 |
| 12/26/21 - 12/30/21 | $325 |
| 12/31/21 - 1/1/22 | $325 |
| 1/2/22 - 1/2/22 | $325 |
| 1/3/22 - 1/5/22 | $199 |
| 1/6/22 - 1/9/22 | $325 |
| 1/10/22 - 1/12/22 | $199 |
| 1/13/22 - 1/13/22 | $325 |
| 1/14/22 - 1/16/22 | $325 |
| 1/17/22 - 1/19/22 | $199 |
| 1/20/22 - 1/23/22 | $325 |
| 1/24/22 - 1/26/22 | $199 |
| 1/27/22 - 1/30/22 | $325 |
| 1/31/22 - 2/2/22 | $199 |
| 2/3/22 - 2/6/22 | $325 |
| 2/7/22 - 2/9/22 | $199 |
| 2/10/22 - 2/13/22 | $325 |
| 2/14/22 - 2/16/22 | $199 |
| 2/17/22 - 2/17/22 | $325 |
| 2/18/22 - 2/20/22 | $325 |
| 2/21/22 - 2/23/22 | $199 |
| 2/24/22 - 2/27/22 | $325 |
| 2/28/22 - 3/2/22 | $199 |
| 3/3/22 - 3/3/22 | $325 |
| 3/4/22 - 3/5/22 | $325 |
| 3/6/22 - 3/6/22 | $325 |
| 3/7/22 - 3/9/22 | $199 |
| 3/10/22 - 3/10/22 | $325 |
| 3/11/22 - 3/12/22 | $325 |
| 3/13/22 - 3/17/22 | $325 |
| 3/18/22 - 3/19/22 | $325 |
| 3/20/22 - 3/24/22 | $199 |
| 3/25/22 - 3/26/22 | $325 |
| 3/27/22 - 3/27/22 | $325 |
| 3/28/22 - 3/30/22 | $199 |
| 3/31/22 - 3/31/22 | $325 |
| 4/1/22 - 4/2/22 | $325 |
| 4/3/22 - 4/3/22 | $325 |
| 4/4/22 - 4/6/22 | $199 |
| 4/7/22 - 4/7/22 | $325 |
| 4/8/22 - 4/9/22 | $325 |
| 4/10/22 - 4/10/22 | $325 |
| 4/11/22 - 4/13/22 | $199 |
| 4/14/22 - 4/14/22 | $325 |
| 4/15/22 - 4/17/22 | $325 |
| 4/18/22 - 4/20/22 | $199 |
| 4/21/22 - 4/21/22 | $325 |
| 4/22/22 - 4/23/22 | $325 |
| 4/24/22 - 4/24/22 | $325 |
| 4/25/22 - 4/27/22 | $199 |
| 4/28/22 - 4/28/22 | $325 |
| 4/29/22 - 4/30/22 | $325 |
| 5/1/22 - 5/1/22 | $325 |
| 5/2/22 - 5/4/22 | $199 |
| 5/5/22 - 5/5/22 | $325 |
| 5/6/22 - 5/7/22 | $325 |
| 5/8/22 - 5/8/22 | $325 |
| 5/9/22 - 5/11/22 | $199 |
| 5/12/22 - 5/12/22 | $325 |
| 5/13/22 - 5/14/22 | $325 |
| 5/15/22 - 5/15/22 | $325 |
| 5/16/22 - 5/18/22 | $199 |
| 5/19/22 - 5/19/22 | $325 |
| 5/20/22 - 5/21/22 | $325 |
| 5/22/22 - 5/22/22 | $325 |
| 5/23/22 - 5/25/22 | $199 |
| 5/26/22 - 5/26/22 | $325 |
| 5/27/22 - 5/29/22 | $325 |
| 5/30/22 - 6/1/22 | $199 |
| 6/2/22 - 6/5/22 | $325 |
| 6/6/22 - 6/8/22 | $199 |
| 6/9/22 - 6/12/22 | $325 |
| 6/13/22 - 6/15/22 | $199 |
| 6/16/22 - 6/19/22 | $325 |
| 6/20/22 - 6/22/22 | $199 |
| 6/23/22 - 6/26/22 | $325 |
| 6/27/22 - 6/29/22 | $199 |
| 6/30/22 - 6/30/22 | $325 |
| 7/1/22 - 7/3/22 | $325 |
| 7/4/22 - 7/6/22 | $199 |
| 7/7/22 - 7/10/22 | $325 |
| 7/11/22 - 7/13/22 | $199 |
| 7/14/22 - 7/17/22 | $325 |
| 7/18/22 - 7/20/22 | $199 |
| 7/21/22 - 7/24/22 | $325 |
| 7/25/22 - 7/27/22 | $199 |
| 7/28/22 - 7/31/22 | $325 |
| 8/1/22 - 8/3/22 | $199 |
| 8/4/22 - 8/7/22 | $325 |
| 8/8/22 - 8/10/22 | $199 |
| 8/11/22 - 8/14/22 | $325 |
| 8/15/22 - 8/17/22 | $199 |
| 8/18/22 - 8/21/22 | $325 |
| 8/22/22 - 8/24/22 | $199 |
| 8/25/22 - 8/28/22 | $325 |
| 8/29/22 - 8/31/22 | $199 |
| 9/1/22 - 9/1/22 | $325 |
| 9/2/22 - 9/4/22 | $325 |
| 9/5/22 - 9/7/22 | $199 |
| 9/8/22 - 9/11/22 | $325 |
| 9/12/22 - 9/14/22 | $199 |
| 9/15/22 - 9/18/22 | $325 |
| 9/19/22 - 9/21/22 | $199 |
| 9/22/22 - 9/25/22 | $325 |
| 9/26/22 - 9/28/22 | $199 |
| 9/29/22 - 9/29/22 | $325 |
| 9/30/22 - 10/1/22 | $325 |
| 10/2/22 - 10/2/22 | $325 |
| 10/3/22 - 10/5/22 | $199 |
| 10/6/22 - 10/6/22 | $325 |
| 10/7/22 - 10/10/22 | $325 |
| 10/11/22 - 10/12/22 | $199 |
| 10/13/22 - 10/13/22 | $325 |
| 10/14/22 - 10/15/22 | $325 |
| 10/16/22 - 10/16/22 | $325 |
| 10/17/22 - 10/19/22 | $199 |
Thank you for entering your review. The review will become available to the system shortly.
2
2
Overall Rating:
5
5
Worth It
Rating:
1
5
5
Super convenient location, the rooms/partners are beautifully restored and decorated. Classy place! We will most definitely be back!
5
Rating:
1
5
5
Perfect place right in the middle of town!
Your request has been sent. We look forward to meeting all your vacation needs!
| | |
| --- | --- |
| Sleeps | 2 |
| Bedrooms | 1 |
| Bathrooms | 1 |
Gästehaus Schmidt
231 West Main Street
Fredericksburg, Texas 78624
Monday – Friday 9am to 6pm
Saturday 10am to 5pm
Sunday 10am to 4pm
Lodging & Vacation Rentals In Fredericksburg, TX
Gästehaus Schmidt offers reservation services for Texas Hill Country lodging, bed and breakfasts, and country inns. Choose from a variety of lodging options in several local towns, including Fredericksburg, Comfort, Kerrville, and Hunt, TX. All of our properties are researched and handpicked to bring you only the best accommodations
in the area.