in-town-villas-suite-2
In Town Villas - Suite 2
https://www.fbglodging.com/fredericksburg-rentals/properties/in-town-villas-suite-2/
In Town Villas - Suite 2 | Fredericksburg Vacation Rental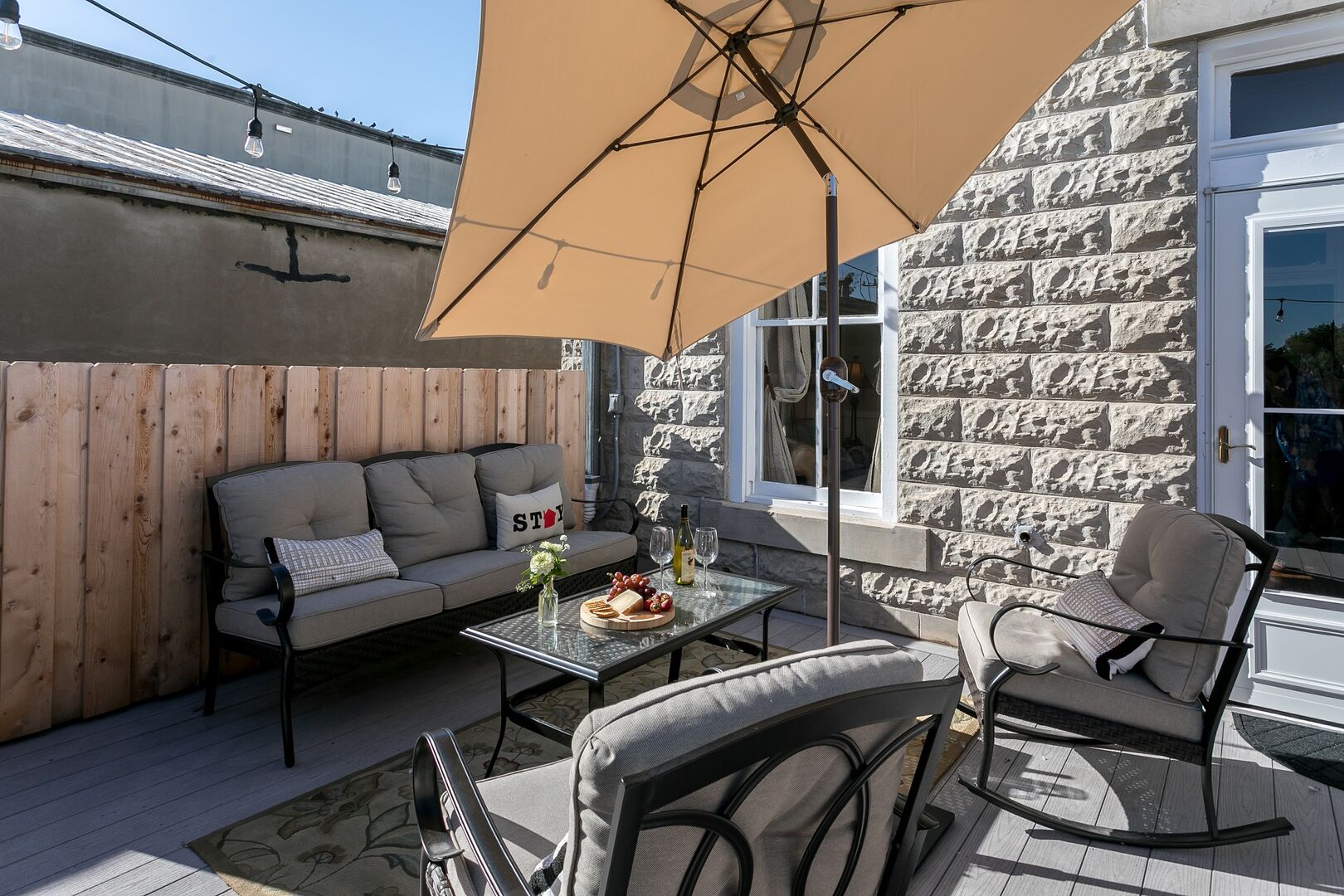 LOCATION - On Main St. in the heart of the Historic District just above the store Parts Unknown
HOST - Each suite is separate and private
SLEEPS - 2 in a King bedroom
BATH - Tub/shower combo
KITCHEN - Kitchenette w/ a Keurig
BREAKFAST - No breakfast; Coffee and teas are left in each suite
AMENITIES - 55" & 66" screen Cable TVs in room with Netflix & Roku, luxurious living room with ample comfortable seating options, WiFi, large deck with Jacuzzi & seating arrangement on Suite 2 (back suite), walking distance to shops, restaurants, art galleries & museums
PETS - NO
INFANTS & CHILDREN - NO
SMOKING - NO
WIFI - YES
SUITE 2 (BACK SUITE)
$300.00*/1-2 person/night (Holidays and Special Events)
$275.00*/1-2 persons/night (Fri-Sat)
$235.00*/1-2 persons/night (Sun-Thurs)
$50.00* cleaning fee
*plus 13% hotel/motel tax
TWO NIGHT MINIMUM ON WEEKENDS
No Daily Housekeeping
FBGTX-41039
| | Daily |
| --- | --- |
| 7/10/20 - 7/11/20 | $275 |
| 7/12/20 - 7/16/20 | $235 |
| 7/17/20 - 7/18/20 | $275 |
| 7/19/20 - 7/23/20 | $235 |
| 7/24/20 - 7/25/20 | $275 |
| 7/26/20 - 7/30/20 | $235 |
| 7/31/20 - 8/1/20 | $275 |
| 8/2/20 - 8/6/20 | $235 |
| 8/7/20 - 8/8/20 | $275 |
| 8/9/20 - 8/13/20 | $235 |
| 8/14/20 - 8/15/20 | $275 |
| 8/16/20 - 8/20/20 | $235 |
| 8/21/20 - 8/22/20 | $275 |
| 8/23/20 - 8/27/20 | $235 |
| 8/28/20 - 8/29/20 | $275 |
| 8/30/20 - 9/3/20 | $235 |
| 9/4/20 - 9/6/20 | $300 |
| 9/7/20 - 9/10/20 | $235 |
| 9/11/20 - 9/12/20 | $275 |
| 9/13/20 - 9/17/20 | $235 |
| 9/18/20 - 9/19/20 | $275 |
| 9/20/20 - 9/24/20 | $235 |
| 9/25/20 - 9/26/20 | $275 |
| 9/27/20 - 10/1/20 | $235 |
| 10/2/20 - 10/3/20 | $300 |
| 10/4/20 - 10/8/20 | $235 |
| 10/9/20 - 10/12/20 | $300 |
| 10/13/20 - 10/15/20 | $235 |
| 10/16/20 - 10/17/20 | $300 |
| 10/18/20 - 10/22/20 | $235 |
| 10/23/20 - 10/24/20 | $300 |
| 10/25/20 - 10/29/20 | $235 |
| 10/30/20 - 10/31/20 | $275 |
| 11/1/20 - 11/5/20 | $235 |
| 11/6/20 - 11/7/20 | $275 |
| 11/8/20 - 11/12/20 | $235 |
| 11/13/20 - 11/14/20 | $275 |
| 11/15/20 - 11/19/20 | $235 |
| 11/20/20 - 11/21/20 | $275 |
| 11/22/20 - 11/24/20 | $235 |
| 11/25/20 - 11/28/20 | $300 |
| 11/29/20 - 12/3/20 | $235 |
| 12/4/20 - 12/5/20 | $300 |
| 12/6/20 - 12/10/20 | $235 |
| 12/11/20 - 12/12/20 | $275 |
| 12/13/20 - 12/17/20 | $235 |
| 12/18/20 - 12/19/20 | $275 |
| 12/20/20 - 12/24/20 | $235 |
| 12/25/20 - 12/25/20 | $275 |
| 12/26/20 - 12/26/20 | $300 |
| 12/27/20 - 12/30/20 | $300 |
| 12/31/20 - 1/1/21 | $300 |
| 1/2/21 - 1/2/21 | $275 |
| 1/3/21 - 1/7/21 | $235 |
| 1/8/21 - 1/9/21 | $275 |
| 1/10/21 - 1/14/21 | $235 |
| 1/15/21 - 1/17/21 | $300 |
| 1/18/21 - 1/21/21 | $235 |
| 1/22/21 - 1/23/21 | $275 |
| 1/24/21 - 1/28/21 | $235 |
| 1/29/21 - 1/30/21 | $275 |
| 1/31/21 - 2/4/21 | $235 |
| 2/5/21 - 2/6/21 | $275 |
| 2/7/21 - 2/11/21 | $235 |
| 2/12/21 - 2/15/21 | $300 |
| 2/16/21 - 2/18/21 | $235 |
| 2/19/21 - 2/20/21 | $275 |
| 2/21/21 - 2/25/21 | $235 |
| 2/26/21 - 2/27/21 | $275 |
| 2/28/21 - 3/4/21 | $235 |
| 3/5/21 - 3/6/21 | $275 |
| 3/7/21 - 3/10/21 | $235 |
| 3/11/21 - 3/13/21 | $300 |
| 3/14/21 - 3/18/21 | $300 |
| 3/19/21 - 3/20/21 | $300 |
| 3/21/21 - 3/25/21 | $300 |
| 3/26/21 - 3/27/21 | $300 |
| 3/28/21 - 4/1/21 | $235 |
| 4/2/21 - 4/4/21 | $300 |
| 4/5/21 - 4/8/21 | $235 |
| 4/9/21 - 4/10/21 | $275 |
| 4/11/21 - 4/15/21 | $235 |
| 4/16/21 - 4/17/21 | $275 |
| 4/18/21 - 4/22/21 | $235 |
| 4/23/21 - 4/24/21 | $275 |
| 4/25/21 - 4/29/21 | $235 |
| 4/30/21 - 5/1/21 | $275 |
| 5/2/21 - 5/6/21 | $235 |
| 5/7/21 - 5/8/21 | $300 |
| 5/9/21 - 5/13/21 | $235 |
| 5/14/21 - 5/15/21 | $275 |
| 5/16/21 - 5/20/21 | $235 |
| 5/21/21 - 5/22/21 | $275 |
| 5/23/21 - 5/27/21 | $235 |
| 5/28/21 - 5/30/21 | $300 |
| 5/31/21 - 6/3/21 | $235 |
| 6/4/21 - 6/5/21 | $275 |
| 6/6/21 - 6/10/21 | $235 |
| 6/11/21 - 6/12/21 | $275 |
| 6/13/21 - 6/17/21 | $235 |
| 6/18/21 - 6/19/21 | $275 |
| 6/20/21 - 6/24/21 | $235 |
| 6/25/21 - 6/26/21 | $275 |
| 6/27/21 - 7/1/21 | $235 |
| 7/2/21 - 7/4/21 | $300 |
| 7/5/21 - 7/8/21 | $235 |
| 7/9/21 - 7/10/21 | $275 |
Thank you for entering your review. The review will become available to the system shortly.
2
2
Overall Rating:
5
5
Worth It
Rating:
1
5
5
Super convenient location, the rooms/partners are beautifully restored and decorated. Classy place! We will most definitely be back!
5
Rating:
1
5
5
Perfect place right in the middle of town!
Your request has been sent. We look forward to meeting all your vacation needs!
| | |
| --- | --- |
| Sleeps | 2 |
| Bedrooms | 1 |
| Bathrooms | 1 |