the-someday-house
The Someday House
https://www.fbglodging.com/fredericksburg-rentals/properties/the-someday-house/
The Someday House | Fredericksburg Vacation Rental
Bright and inviting exterior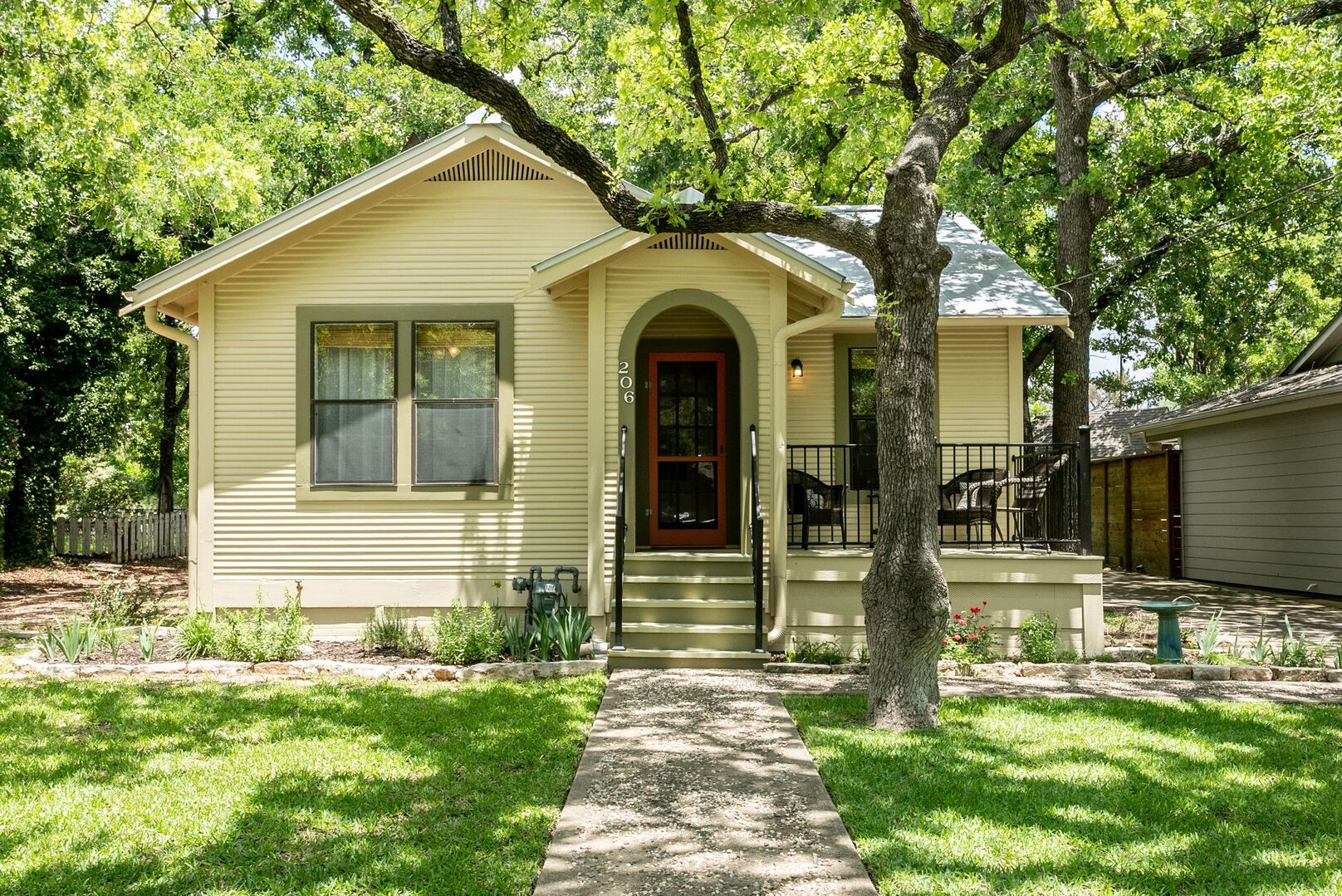 Great front porch with seating
Spacious and comfortable living area
Master bedroom featuring a terrific king bed
Full bathroom that includes a fabulous walk-in shower
Second bedroom with queen bed
Wonderful nicely-equipped kitchen with ample natural light
Great backyard and deck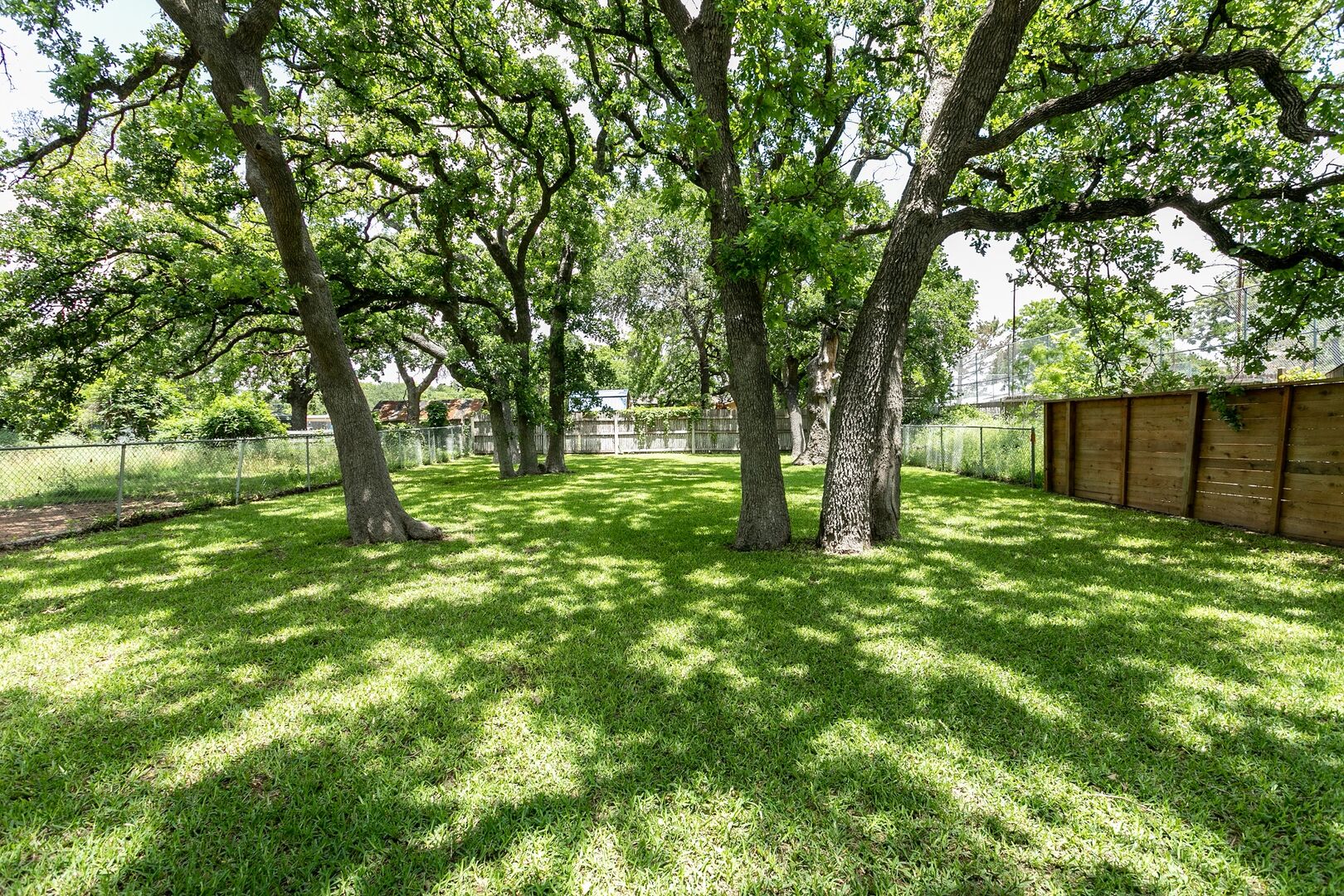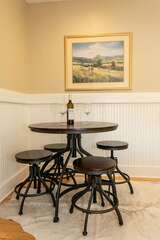 LOCATION - 8 blocks north of Main Street
HOSTS - No host on premises- home all to yourself
SLEEPS - 4 persons- Two bedrooms; one with a king bed and the other has a queen bed
BATH - 1 Bathroom with a walk-in shower
KITCHEN - Fully-equipped kitchen
BREAKFAST - No Breakfast; snacks, coffee and teas are left
AMENITIES - Central heat/air, flat screen television in living room, cable TV, DVD, WiFi, front porch with seating, large back yard with seating, off-street parking
CHILDREN - YES (12+)
INFANTS - NO
PETS - NO
SMOKING - OUTSIDE ONLY
WIFI - YES
WEEKDAYS EXCLUDING HOLIDAYS AND EVENTS
$169.00*/1-4 persons/night
WEEKENDS EXCLUDING HOLIDAYS AND EVENTS
$199.00*/1-4 persons/night
HOLIDAYS AND EVENTS
$229.00*/1-4 persons/night
TWO NIGHT MINIMUM ON WEEKENDS
FBGTX-28001
| | Daily |
| --- | --- |
| 7/10/20 - 7/11/20 | $199 |
| 7/12/20 - 7/16/20 | $169 |
| 7/17/20 - 7/18/20 | $199 |
| 7/19/20 - 7/23/20 | $169 |
| 7/24/20 - 7/25/20 | $199 |
| 7/26/20 - 7/30/20 | $169 |
| 7/31/20 - 8/1/20 | $199 |
| 8/2/20 - 8/6/20 | $169 |
| 8/7/20 - 8/8/20 | $199 |
| 8/9/20 - 8/13/20 | $169 |
| 8/14/20 - 8/15/20 | $199 |
| 8/16/20 - 8/20/20 | $169 |
| 8/21/20 - 8/22/20 | $199 |
| 8/23/20 - 8/27/20 | $169 |
| 8/28/20 - 8/29/20 | $199 |
| 8/30/20 - 9/3/20 | $169 |
| 9/4/20 - 9/6/20 | $229 |
| 9/7/20 - 9/10/20 | $169 |
| 9/11/20 - 9/12/20 | $199 |
| 9/13/20 - 9/17/20 | $169 |
| 9/18/20 - 9/19/20 | $199 |
| 9/20/20 - 9/24/20 | $169 |
| 9/25/20 - 9/26/20 | $199 |
| 9/27/20 - 10/1/20 | $169 |
| 10/2/20 - 10/3/20 | $229 |
| 10/4/20 - 10/8/20 | $169 |
| 10/9/20 - 10/12/20 | $229 |
| 10/13/20 - 10/15/20 | $169 |
| 10/16/20 - 10/17/20 | $229 |
| 10/18/20 - 10/22/20 | $169 |
| 10/23/20 - 10/24/20 | $229 |
| 10/25/20 - 10/29/20 | $169 |
| 10/30/20 - 10/31/20 | $199 |
| 11/1/20 - 11/5/20 | $169 |
| 11/6/20 - 11/7/20 | $199 |
| 11/8/20 - 11/12/20 | $169 |
| 11/13/20 - 11/14/20 | $199 |
| 11/15/20 - 11/19/20 | $169 |
| 11/20/20 - 11/21/20 | $199 |
| 11/22/20 - 11/24/20 | $169 |
| 11/25/20 - 11/28/20 | $229 |
| 11/29/20 - 12/3/20 | $169 |
| 12/4/20 - 12/5/20 | $229 |
| 12/6/20 - 12/10/20 | $169 |
| 12/11/20 - 12/12/20 | $199 |
| 12/13/20 - 12/17/20 | $169 |
| 12/18/20 - 12/19/20 | $199 |
| 12/20/20 - 12/24/20 | $169 |
| 12/25/20 - 12/25/20 | $199 |
| 12/26/20 - 12/26/20 | $229 |
| 12/27/20 - 12/30/20 | $229 |
| 12/31/20 - 1/1/21 | $229 |
| 1/2/21 - 1/2/21 | $199 |
| 1/3/21 - 1/7/21 | $169 |
| 1/8/21 - 1/9/21 | $199 |
| 1/10/21 - 1/14/21 | $169 |
| 1/15/21 - 1/17/21 | $229 |
| 1/18/21 - 1/21/21 | $169 |
| 1/22/21 - 1/23/21 | $199 |
| 1/24/21 - 1/28/21 | $169 |
| 1/29/21 - 1/30/21 | $199 |
| 1/31/21 - 2/4/21 | $169 |
| 2/5/21 - 2/6/21 | $199 |
| 2/7/21 - 2/11/21 | $169 |
| 2/12/21 - 2/15/21 | $229 |
| 2/16/21 - 2/18/21 | $169 |
| 2/19/21 - 2/20/21 | $199 |
| 2/21/21 - 2/25/21 | $169 |
| 2/26/21 - 2/27/21 | $199 |
| 2/28/21 - 3/4/21 | $169 |
| 3/5/21 - 3/6/21 | $199 |
| 3/7/21 - 3/10/21 | $169 |
| 3/11/21 - 3/13/21 | $229 |
| 3/14/21 - 3/18/21 | $229 |
| 3/19/21 - 3/20/21 | $229 |
| 3/21/21 - 3/25/21 | $229 |
| 3/26/21 - 3/27/21 | $229 |
| 3/28/21 - 4/1/21 | $169 |
| 4/2/21 - 4/4/21 | $229 |
| 4/5/21 - 4/8/21 | $169 |
| 4/9/21 - 4/10/21 | $199 |
| 4/11/21 - 4/15/21 | $169 |
| 4/16/21 - 4/17/21 | $199 |
| 4/18/21 - 4/22/21 | $169 |
| 4/23/21 - 4/24/21 | $199 |
| 4/25/21 - 4/29/21 | $169 |
| 4/30/21 - 5/1/21 | $199 |
| 5/2/21 - 5/6/21 | $169 |
| 5/7/21 - 5/8/21 | $229 |
| 5/9/21 - 5/13/21 | $169 |
| 5/14/21 - 5/15/21 | $199 |
| 5/16/21 - 5/20/21 | $169 |
| 5/21/21 - 5/22/21 | $199 |
| 5/23/21 - 5/27/21 | $169 |
| 5/28/21 - 5/30/21 | $229 |
| 5/31/21 - 6/3/21 | $169 |
| 6/4/21 - 6/5/21 | $199 |
| 6/6/21 - 6/10/21 | $169 |
| 6/11/21 - 6/12/21 | $199 |
| 6/13/21 - 6/17/21 | $169 |
| 6/18/21 - 6/19/21 | $199 |
| 6/20/21 - 6/24/21 | $169 |
| 6/25/21 - 6/26/21 | $199 |
| 6/27/21 - 7/1/21 | $169 |
| 7/2/21 - 7/4/21 | $229 |
| 7/5/21 - 7/8/21 | $169 |
| 7/9/21 - 7/10/21 | $199 |
Thank you for entering your review. The review will become available to the system shortly.
3
3
Overall Rating:
5
5
Someday House
Rating:
1
5
5
Loved how the house was decorated! Very comfy. We will definitely stay there again. Office personnel very nice.
Perfect Property
Rating:
1
5
5
Great home, super cute with very comfortable beds! The Someday House will definitely be my stay every time I am in Fredericksburg.
Perfect house!
Rating:
1
5
5
The house was perfect for our stay. It was immaculately clean and the furnishings we stylish and comfortable. The bed was awesome and super comfortable! I highly recommend this house!
Your request has been sent. We look forward to meeting all your vacation needs!
| | |
| --- | --- |
| Sleeps | 4 |
| Bedrooms | 2 |
| Bathrooms | 1 |