the-someday-house
The Someday House
https://www.fbglodging.com/fredericksburg-rentals/properties/the-someday-house/
The Someday House | Fredericksburg Vacation Rental
Bright and inviting exterior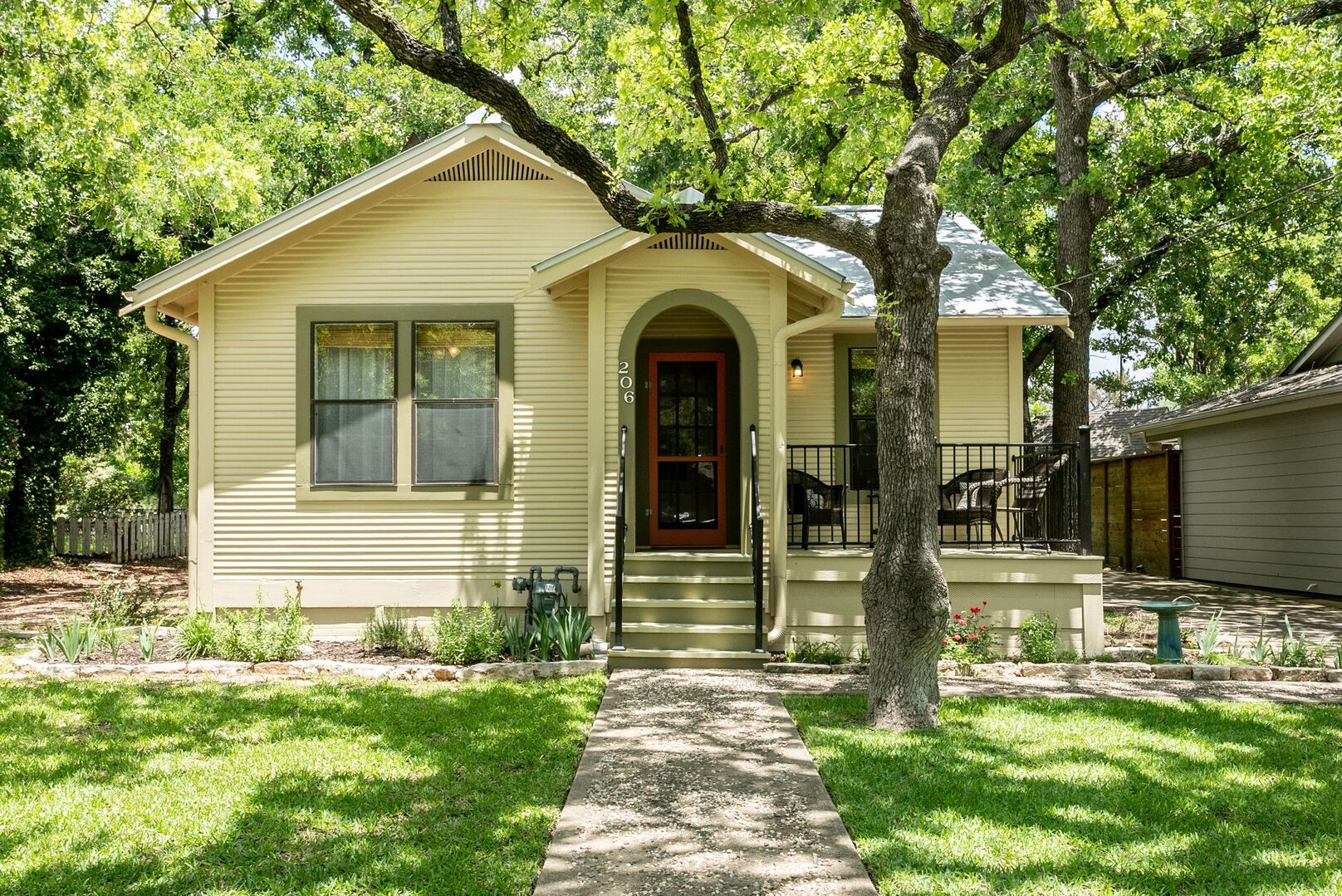 Great front porch with seating
Spacious and comfortable living area
Master bedroom featuring a terrific king bed
Full bathroom that includes a fabulous walk-in shower
Second bedroom with queen bed
Wonderful nicely-equipped kitchen with ample natural light
Great backyard and deck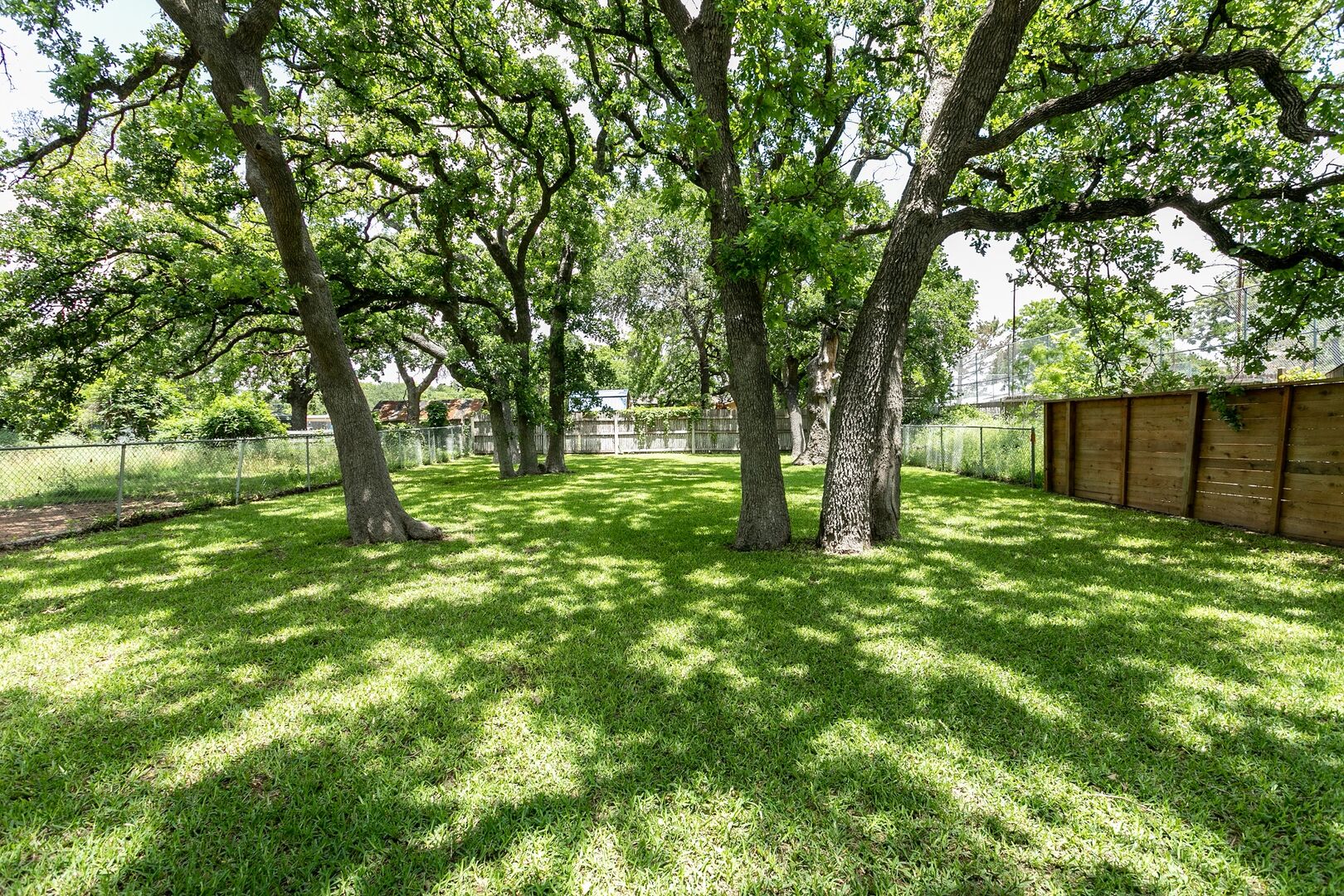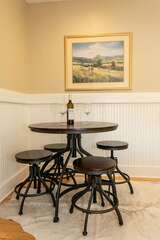 LOCATION - 8 blocks north of Main Street
HOSTS - No host on premises- home all to yourself
SLEEPS - 4 persons- Two bedrooms; one with a king bed and the other has a queen bed
BATH - 1 Bathroom with a walk-in shower
KITCHEN - Fully-equipped kitchen
BREAKFAST - No Breakfast; snacks, coffee and teas are left
AMENITIES - Central heat/air, flat screen television in living room, cable TV, DVD, WiFi, front porch with seating, large back yard with seating, off-street parking
CHILDREN - YES (12+)
INFANTS - NO
PETS - NO
SMOKING - OUTSIDE ONLY
WIFI - YES
WEEKDAYS EXCLUDING HOLIDAYS AND EVENTS
$169.00*/1-4 persons/night
WEEKENDS EXCLUDING HOLIDAYS AND EVENTS
$199.00*/1-4 persons/night
HOLIDAYS AND EVENTS
$229.00*/1-4 persons/night
TWO NIGHT MINIMUM ON WEEKENDS
FBGTX-28001
| | Daily |
| --- | --- |
| 9/26/20 - 9/26/20 | $199 |
| 9/27/20 - 10/1/20 | $169 |
| 10/2/20 - 10/3/20 | $229 |
| 10/4/20 - 10/8/20 | $169 |
| 10/9/20 - 10/11/20 | $229 |
| 10/12/20 - 10/15/20 | $169 |
| 10/16/20 - 10/17/20 | $229 |
| 10/18/20 - 10/22/20 | $169 |
| 10/23/20 - 10/24/20 | $229 |
| 10/25/20 - 10/29/20 | $169 |
| 10/30/20 - 10/31/20 | $199 |
| 11/1/20 - 11/5/20 | $169 |
| 11/6/20 - 11/7/20 | $199 |
| 11/8/20 - 11/12/20 | $169 |
| 11/13/20 - 11/14/20 | $199 |
| 11/15/20 - 11/19/20 | $169 |
| 11/20/20 - 11/21/20 | $199 |
| 11/22/20 - 11/24/20 | $169 |
| 11/25/20 - 11/28/20 | $229 |
| 11/29/20 - 12/3/20 | $169 |
| 12/4/20 - 12/5/20 | $229 |
| 12/6/20 - 12/10/20 | $169 |
| 12/11/20 - 12/12/20 | $199 |
| 12/13/20 - 12/17/20 | $169 |
| 12/18/20 - 12/19/20 | $199 |
| 12/20/20 - 12/24/20 | $169 |
| 12/25/20 - 12/25/20 | $199 |
| 12/26/20 - 12/26/20 | $229 |
| 12/27/20 - 12/30/20 | $229 |
| 12/31/20 - 1/1/21 | $229 |
| 1/2/21 - 1/2/21 | $199 |
| 1/3/21 - 1/7/21 | $169 |
| 1/8/21 - 1/9/21 | $199 |
| 1/10/21 - 1/14/21 | $169 |
| 1/15/21 - 1/17/21 | $229 |
| 1/18/21 - 1/21/21 | $169 |
| 1/22/21 - 1/23/21 | $199 |
| 1/24/21 - 1/28/21 | $169 |
| 1/29/21 - 1/30/21 | $199 |
| 1/31/21 - 2/4/21 | $169 |
| 2/5/21 - 2/6/21 | $199 |
| 2/7/21 - 2/11/21 | $169 |
| 2/12/21 - 2/15/21 | $229 |
| 2/16/21 - 2/18/21 | $169 |
| 2/19/21 - 2/20/21 | $199 |
| 2/21/21 - 2/25/21 | $169 |
| 2/26/21 - 2/27/21 | $199 |
| 2/28/21 - 3/4/21 | $169 |
| 3/5/21 - 3/6/21 | $199 |
| 3/7/21 - 3/10/21 | $169 |
| 3/11/21 - 3/13/21 | $229 |
| 3/14/21 - 3/18/21 | $229 |
| 3/19/21 - 3/20/21 | $229 |
| 3/21/21 - 3/25/21 | $229 |
| 3/26/21 - 3/27/21 | $229 |
| 3/28/21 - 4/1/21 | $169 |
| 4/2/21 - 4/4/21 | $229 |
| 4/5/21 - 4/8/21 | $169 |
| 4/9/21 - 4/10/21 | $199 |
| 4/11/21 - 4/15/21 | $169 |
| 4/16/21 - 4/17/21 | $199 |
| 4/18/21 - 4/22/21 | $169 |
| 4/23/21 - 4/24/21 | $199 |
| 4/25/21 - 4/29/21 | $169 |
| 4/30/21 - 5/1/21 | $199 |
| 5/2/21 - 5/6/21 | $169 |
| 5/7/21 - 5/8/21 | $229 |
| 5/9/21 - 5/13/21 | $169 |
| 5/14/21 - 5/15/21 | $199 |
| 5/16/21 - 5/20/21 | $169 |
| 5/21/21 - 5/22/21 | $199 |
| 5/23/21 - 5/27/21 | $169 |
| 5/28/21 - 5/30/21 | $229 |
| 5/31/21 - 6/3/21 | $169 |
| 6/4/21 - 6/5/21 | $199 |
| 6/6/21 - 6/10/21 | $169 |
| 6/11/21 - 6/12/21 | $199 |
| 6/13/21 - 6/17/21 | $169 |
| 6/18/21 - 6/19/21 | $199 |
| 6/20/21 - 6/24/21 | $169 |
| 6/25/21 - 6/26/21 | $199 |
| 6/27/21 - 7/1/21 | $169 |
| 7/2/21 - 7/4/21 | $229 |
| 7/5/21 - 7/8/21 | $169 |
| 7/9/21 - 7/10/21 | $199 |
| 7/11/21 - 7/15/21 | $169 |
| 7/16/21 - 7/17/21 | $199 |
| 7/18/21 - 7/22/21 | $169 |
| 7/23/21 - 7/24/21 | $199 |
| 7/25/21 - 7/29/21 | $169 |
| 7/30/21 - 7/31/21 | $199 |
| 8/1/21 - 8/5/21 | $169 |
| 8/6/21 - 8/7/21 | $199 |
| 8/8/21 - 8/12/21 | $169 |
| 8/13/21 - 8/14/21 | $199 |
| 8/15/21 - 8/19/21 | $169 |
| 8/20/21 - 8/21/21 | $199 |
| 8/22/21 - 8/26/21 | $169 |
| 8/27/21 - 8/28/21 | $199 |
| 8/29/21 - 9/2/21 | $169 |
| 9/3/21 - 9/5/21 | $229 |
| 9/6/21 - 9/9/21 | $169 |
| 9/10/21 - 9/11/21 | $199 |
| 9/12/21 - 9/16/21 | $169 |
| 9/17/21 - 9/18/21 | $199 |
| 9/19/21 - 9/23/21 | $169 |
| 9/24/21 - 9/26/21 | $199 |
Thank you for entering your review. The review will become available to the system shortly.
3
3
Overall Rating:
5
5
Someday House
Rating:
1
5
5
Loved how the house was decorated! Very comfy. We will definitely stay there again. Office personnel very nice.
Perfect Property
Rating:
1
5
5
Great home, super cute with very comfortable beds! The Someday House will definitely be my stay every time I am in Fredericksburg.
Perfect house!
Rating:
1
5
5
The house was perfect for our stay. It was immaculately clean and the furnishings we stylish and comfortable. The bed was awesome and super comfortable! I highly recommend this house!
Your request has been sent. We look forward to meeting all your vacation needs!
| | |
| --- | --- |
| Sleeps | 4 |
| Bedrooms | 2 |
| Bathrooms | 1 |
Gästehaus Schmidt
231 West Main Street
Fredericksburg, Texas 78624
Monday – Friday 9am to 6pm
Saturday 10am to 5pm
Sunday 10am to 4pm
Lodging & Vacation Rentals In Fredericksburg, TX
Gästehaus Schmidt offers reservation services for Texas Hill Country lodging, bed and breakfasts, and country inns. Choose from a variety of lodging options in several local towns, including Fredericksburg, Comfort, Kerrville, and Hunt, TX. All of our properties are researched and handpicked to bring you only the best accommodations
in the area.