the-sunflower-haus
The Sunflower Haus (Formerly Sweet Tea)
https://www.fbglodging.com/fredericksburg-rentals/properties/the-sunflower-haus/
The Sunflower Haus (Formerly Sweet Tea) | Fredericksburg Vacation Rental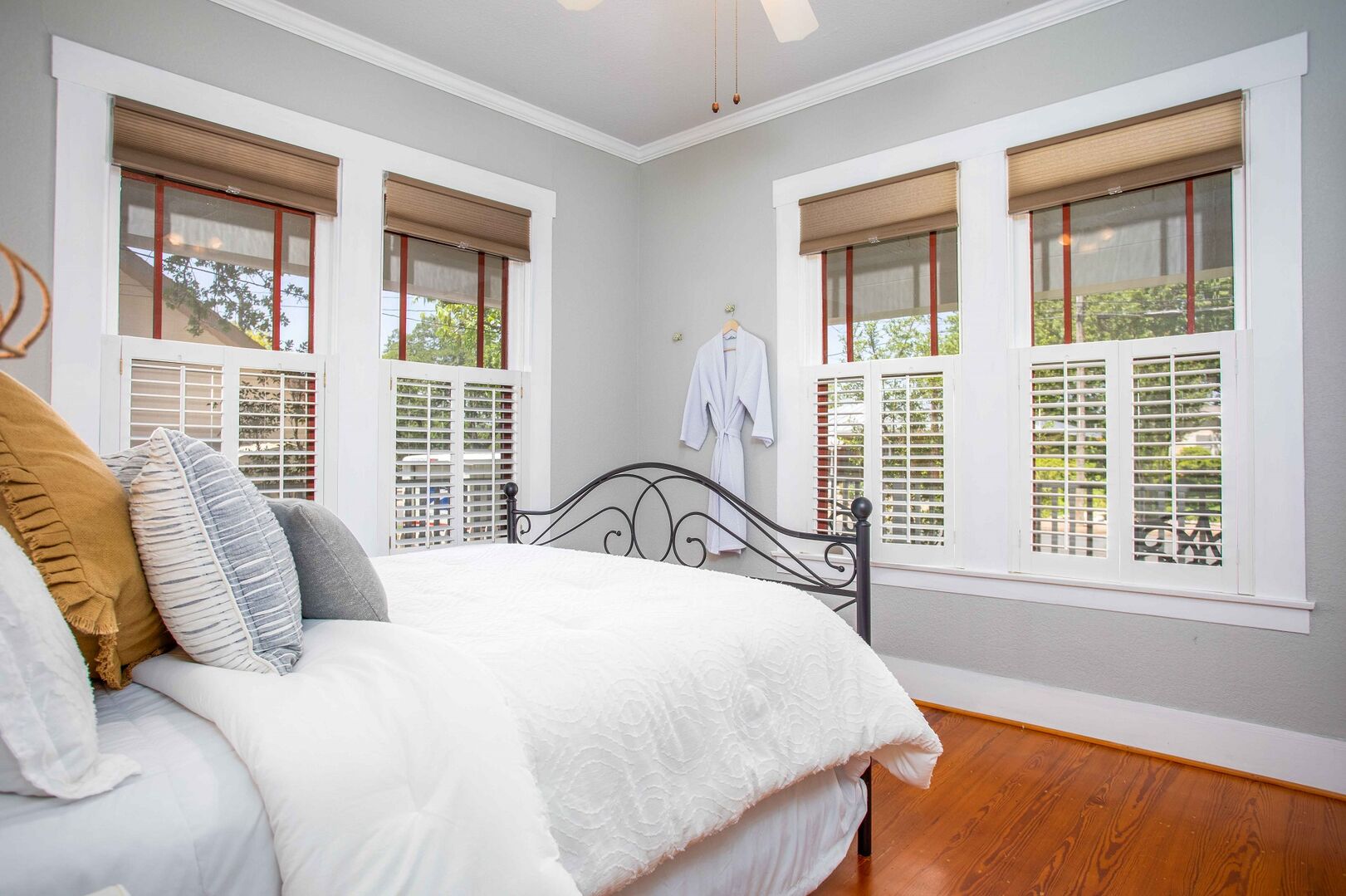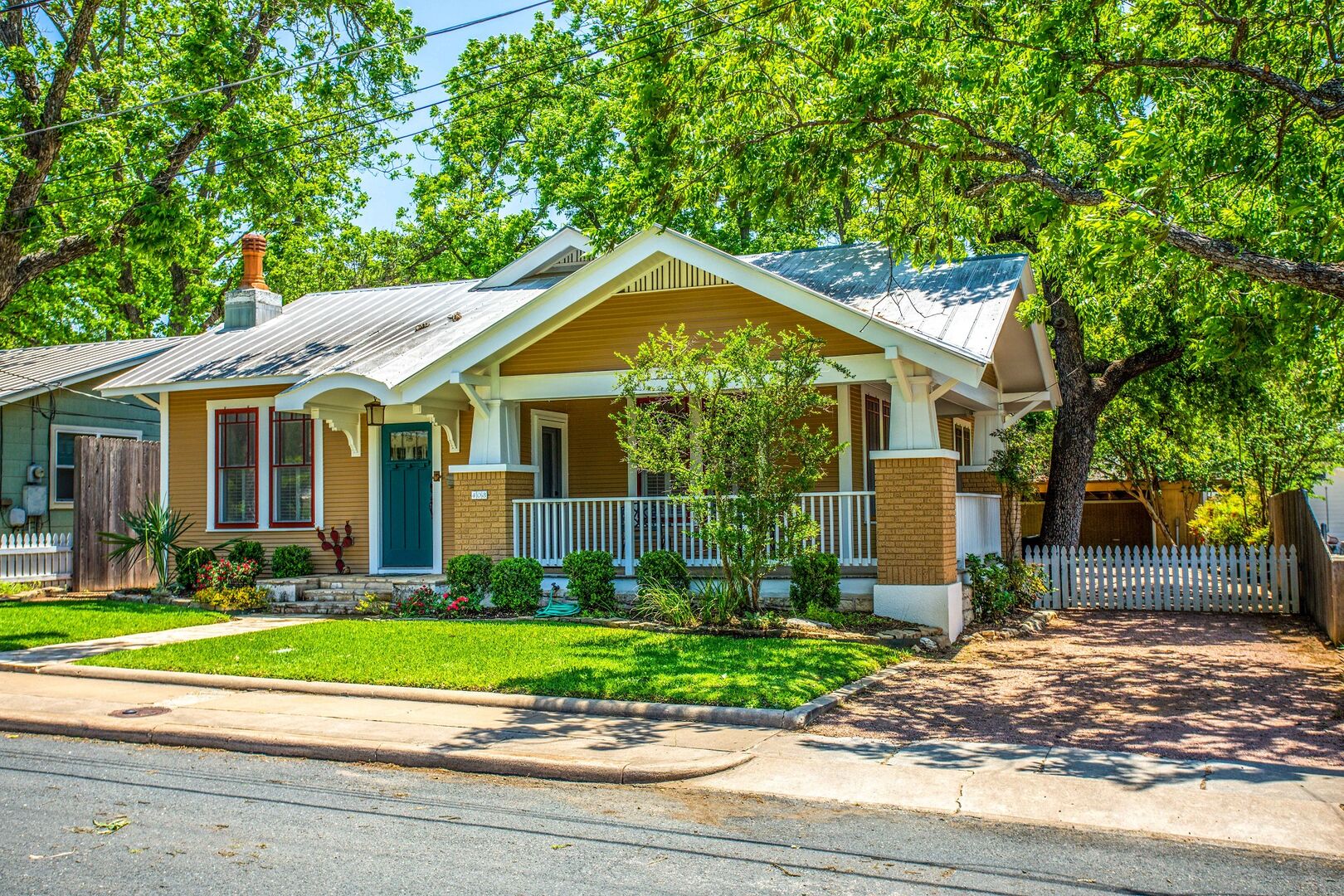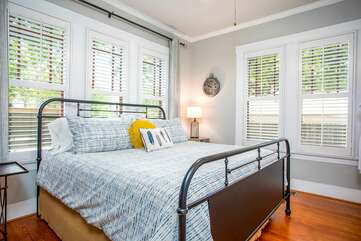 LOCATION – 3 blocks north of Main Street

HOSTS – Home to Yourselves

SLEEPS – Up to 7 people in two bedrooms; 1 bedroom has 1 king bed & day bed, a queen bed in second bedroom & queen sleeper sofa in living area

BATH – 2 full baths; one with a walk-in shower & a second bath with a tub & shower combo

KITCHEN – Fully equipped kitchen with a Keurig coffeemaker

BREAKFAST – No breakfast provided

AMENITIES – SMART TV with basic television programming, WiFi, indoor fireplace, front porch with seating, outdoor covered deck with seating & dining area, outdoor wood burning firepit

CHILDREN – YES

SMOKING – NO

PETS – NO

WIFI – YES

TWO NIGHT MINIMUM

No Daily Housekeeping
| | Daily |
| --- | --- |
| 5/17/22 - 5/19/22 | $199 |
| 5/20/22 - 5/21/22 | $299 |
| 5/22/22 - 5/26/22 | $199 |
| 5/27/22 - 5/29/22 | $369 |
| 5/30/22 - 6/2/22 | $199 |
| 6/3/22 - 6/4/22 | $349 |
| 6/5/22 - 6/9/22 | $199 |
| 6/10/22 - 6/11/22 | $349 |
| 6/12/22 - 6/16/22 | $199 |
| 6/17/22 - 6/18/22 | $349 |
| 6/19/22 - 6/23/22 | $199 |
| 6/24/22 - 6/25/22 | $349 |
| 6/26/22 - 6/30/22 | $199 |
| 7/1/22 - 7/3/22 | $369 |
| 7/4/22 - 7/7/22 | $199 |
| 7/8/22 - 7/9/22 | $349 |
| 7/10/22 - 7/14/22 | $199 |
| 7/15/22 - 7/16/22 | $349 |
| 7/17/22 - 7/21/22 | $199 |
| 7/22/22 - 7/23/22 | $349 |
| 7/24/22 - 7/28/22 | $199 |
| 7/29/22 - 7/30/22 | $349 |
| 7/31/22 - 8/4/22 | $199 |
| 8/5/22 - 8/6/22 | $349 |
| 8/7/22 - 8/11/22 | $199 |
| 8/12/22 - 8/13/22 | $349 |
| 8/14/22 - 8/18/22 | $199 |
| 8/19/22 - 8/20/22 | $349 |
| 8/21/22 - 8/25/22 | $199 |
| 8/26/22 - 8/27/22 | $349 |
| 8/28/22 - 9/1/22 | $199 |
| 9/2/22 - 9/4/22 | $369 |
| 9/5/22 - 9/8/22 | $199 |
| 9/9/22 - 9/10/22 | $349 |
| 9/11/22 - 9/15/22 | $199 |
| 9/16/22 - 9/17/22 | $349 |
| 9/18/22 - 9/22/22 | $199 |
| 9/23/22 - 9/24/22 | $349 |
| 9/25/22 - 9/29/22 | $199 |
| 9/30/22 - 10/1/22 | $469 |
| 10/2/22 - 10/6/22 | $199 |
| 10/7/22 - 10/10/22 | $369 |
| 10/11/22 - 10/13/22 | $199 |
| 10/14/22 - 10/15/22 | $369 |
| 10/16/22 - 10/20/22 | $199 |
| 10/21/22 - 10/22/22 | $369 |
| 10/23/22 - 10/27/22 | $199 |
| 10/28/22 - 10/29/22 | $369 |
| 10/30/22 - 11/3/22 | $199 |
| 11/4/22 - 11/5/22 | $369 |
| 11/6/22 - 11/10/22 | $199 |
| 11/11/22 - 11/13/22 | $369 |
| 11/14/22 - 11/17/22 | $199 |
| 11/18/22 - 11/19/22 | $369 |
| 11/20/22 - 11/22/22 | $369 |
| 11/23/22 - 11/26/22 | $369 |
| 11/27/22 - 12/1/22 | $199 |
| 12/2/22 - 12/3/22 | $369 |
| 12/4/22 - 12/8/22 | $199 |
| 12/9/22 - 12/10/22 | $369 |
| 12/11/22 - 12/15/22 | $199 |
| 12/16/22 - 12/17/22 | $369 |
| 12/18/22 - 12/22/22 | $199 |
| 12/23/22 - 12/24/22 | $369 |
| 12/25/22 - 12/29/22 | $369 |
| 12/30/22 - 12/31/22 | $369 |
| 1/1/23 - 1/5/23 | $199 |
| 1/6/23 - 1/7/23 | $349 |
| 1/8/23 - 1/12/23 | $199 |
| 1/13/23 - 1/15/23 | $369 |
| 1/16/23 - 1/19/23 | $199 |
| 1/20/23 - 1/21/23 | $349 |
| 1/22/23 - 1/26/23 | $199 |
| 1/27/23 - 1/28/23 | $349 |
| 1/29/23 - 2/2/23 | $199 |
| 2/3/23 - 2/4/23 | $349 |
| 2/5/23 - 2/9/23 | $199 |
| 2/10/23 - 2/11/23 | $349 |
| 2/12/23 - 2/16/23 | $199 |
| 2/17/23 - 2/19/23 | $369 |
| 2/20/23 - 2/23/23 | $199 |
| 2/24/23 - 2/25/23 | $349 |
| 2/26/23 - 3/2/23 | $199 |
| 3/3/23 - 3/4/23 | $369 |
| 3/5/23 - 3/9/23 | $369 |
| 3/10/23 - 3/11/23 | $369 |
| 3/12/23 - 3/16/23 | $369 |
| 3/17/23 - 3/18/23 | $369 |
| 3/19/23 - 3/23/23 | $199 |
| 3/24/23 - 3/25/23 | $369 |
| 3/26/23 - 3/30/23 | $199 |
| 3/31/23 - 4/1/23 | $369 |
| 4/2/23 - 4/6/23 | $199 |
| 4/7/23 - 4/8/23 | $369 |
| 4/9/23 - 4/13/23 | $199 |
| 4/14/23 - 4/15/23 | $369 |
| 4/16/23 - 4/20/23 | $199 |
| 4/21/23 - 4/22/23 | $369 |
| 4/23/23 - 4/27/23 | $199 |
| 4/28/23 - 4/29/23 | $369 |
| 4/30/23 - 5/4/23 | $199 |
| 5/5/23 - 5/6/23 | $369 |
| 5/7/23 - 5/11/23 | $199 |
| 5/12/23 - 5/13/23 | $369 |
| 5/14/23 - 5/17/23 | $199 |
Thank you for entering your review. The review will become available to the system shortly.
2
2
Overall Rating:
5
5
Sun Flower House
Rating:
1
5
5
Beautiful, comfortable and convenient!
Would 100% recommend to friends for future stays!
Rating:
1
5
5
This house was perfect for our stay. The location is great. It's a short walk to main. It had everything we needed including plenty of toiletries. The beds and pillows were comfortable which is huge for me. I've stayed at many rental houses in FB and this was by far the best. It's just so charming. Thanks for the stay!
Your request has been sent. We look forward to meeting all your vacation needs!
| | |
| --- | --- |
| Sleeps | 7 |
| Bedrooms | 2 |
| Bathrooms | 2 |
Gästehaus Schmidt
231 West Main Street
Fredericksburg, Texas 78624
Monday – Friday 9am to 6pm
Saturday 10am to 5pm
Sunday 10am to 4pm
Lodging & Vacation Rentals In Fredericksburg, TX
Gästehaus Schmidt offers reservation services for Texas Hill Country lodging, bed and breakfasts, and country inns. Choose from a variety of lodging options in several local towns, including Fredericksburg, Comfort, Kerrville, and Hunt, TX. All of our properties are researched and handpicked to bring you only the best accommodations
in the area.